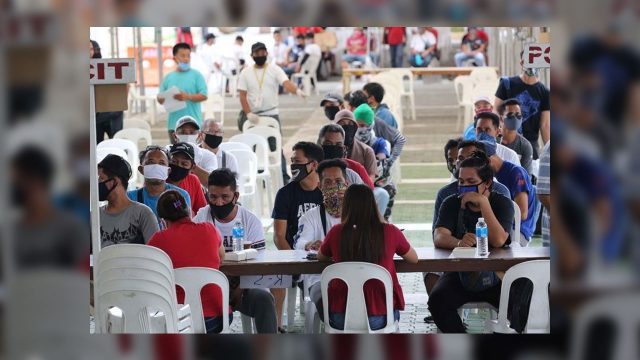 AID that the government extends to its most vulnerable communities fell in 2021, even as households continue to suffer from impaired incomes due to the pandemic, the World Bank said.
According to a survey conducted by the bank in April, individuals who received assistance from the government declined compared to the respondents who said they did in a September survey.
The latest survey had 200 respondents, 180 of which also participated in the earlier survey.
The bank said stimulus packages rolled out by the government were larger last year, including P275 billion under the Bayanihan to Heal as One Act (Bayanihan I) approved in March 2020 and a P160-billion Bayanihan II passed in September.
The social spending programs under these two stimulus packages included P200 billion in cash aid for poor families and a P50-billion wage subsidy program for workers affected by the pandemic.
This year, however, the government only released roughly P13 billion to aid to low-income households in areas under hard lockdowns this month, and P23 billion in cash aid in April when quarantine measures were once more tightened.
The bank said cities and municipal governments were the top source of assistance, followed by barangays, the National Government, provincial governments, and private institutions.
The World Bank survey found that poor communities continued to struggle with their finances this year, with 98% of respondents citing income as their major problem during the prolonged pandemic.
In the September round, the equivalent total was 78%.
Other pressing concerns of the low-income communities were insufficient food as well as lack of access to financial services and establishments for their essential needs.
"On a positive note, communities reported an improvement in access to health facilities for COVID-19 cases, with only 11% reporting lack of access compared to the 19% during the first round of the survey," the bank said.
Of the vulnerable groups, senior citizens, victims of natural disasters, and indigenous people were most likely to need assistance.
"The second round of the High Frequency Social Monitoring of COVID-19 Impacts Community Survey showed the pandemic's lingering effects on the economic conditions of poor communities, specifically from loss of jobs and income opportunities. It also demonstrated the obvious that with less stringent mobility and quarantine protocols, economic activity will improve," the World Bank said.
While the mass vaccination program has started rolling out, it said the safety and efficacy of vaccines remain major concerns that may set back plans to inoculate the majority of the population.
"The World Bank is also supporting the government in its COVID-19 response and recovery intervention by providing the much-needed resources for strengthening emergency COVID 19 healthcare response, including the provision of vaccines and expanding testing and laboratory facilities at the national and sub-national public health laboratories," it said. — Beatrice M. Laforga