Bayanihan III budgets P10B for displaced OFWs' temporary jobs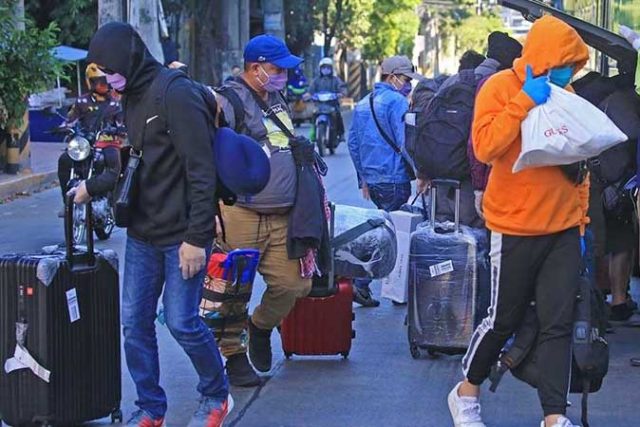 THE PROPOSED third stimulus package will allocate P10 billion to provide temporary employment to repatriated overseas Filipino workers (OFWs) and additional funds for the testing of returned workers and those leaving to work overseas.
The substitute bill for the Bayanihan to Arise as One Act tasks the Department of Labor and Employment with finding temporary employment for displaced OFWs.
The measure likewise allocates P400 million for swab tests for migrant workers.
"To help facilitate the safe return to their place of residence or their immediate deployment for overseas employment, seafarers and OFWs shall be entitled to free swabbing and reverse transcription-polymerase chain reaction (RT-PCR)," according to the bill.
A study by the International Organization for Migration released last week indicates that 83% of OFWs remain unemployed three months after repatriation. They also face financial difficulties with 59% of them not receiving separation pay and 17% not receiving their final salary.
Help for displaced OFWs is welcome and should be expanded, UnionBank of the Philippines, Inc. Chief Economist Ruben Carlo O. Asuncion said.
"I think if the fiscal support can be increased further and distributed effectively, then this would certainly alleviate the plight of our 'modern day heroes.' They have helped the economy throughout the years, and I think it's just appropriate to help them in their most difficult times," Mr. Asuncion said in an e-mail.
Asian Institute of Management Economist John Paolo R. Rivera said OFWs should be given higher priority for vaccination to ensure they are not turned away when they trave. They are currently classified as A4, or among the essential categories.
"From an economic perspective, waiting for the A1, A2, A3 to believe in COVID vaccination has social costs. Vaccine hesitancy of those in the priority list deprives those who are willing to be vaccinated peace of mind, safety, security, even employment — case in point, our OFWs who produce remittances," Mr. Rivera said in a Viber message. He added that prioritizing OFWs will increase their likelihood of deployment.
Health Undersecretary Maria Rosario S. Vergeire said on Monday that about 4 million doses have been administered. Meanwhile, around 950,000 individuals have completed two doses, equivalent to 0.88% of the population, according to a Johns Hopkins University database.
The proposed Bayanihan to Arise as One Act, known informally as Bayanihan III, will appropriate P405.6 billion to pump-prime the recovery with support for families and businesses. It has been approved by the House Committee on Economic Affairs and Social Services. — Luz Wendy T. Noble