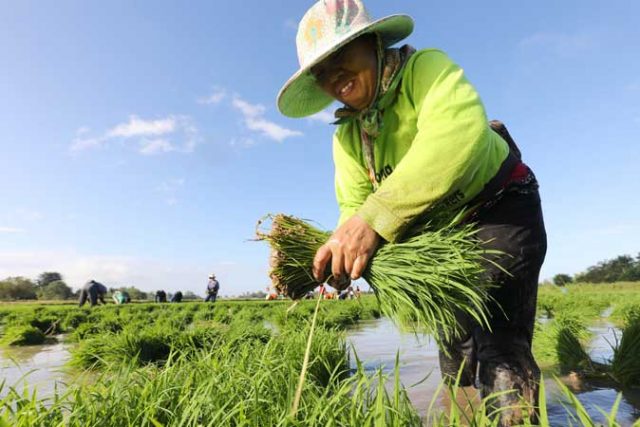 FIVE SENATORS filed a draft resolution seeking the withdrawal of an executive order lowering the tariff rates on imported rice for one year.
Senators Francis N. Pangilinan, Franklin M. Drilon, Maria Lourdes Nancy S. Binay, Leila M. de Lima, and Risa N. Hontiveros-Baraquel filed Senate Resolution No. 726 urging President Rodrigo R. Duterte to withdraw Executive Order (EO) No. 135.
"There is no reasonable and sufficient basis to reduce the tariff rates on rice and it will only (pose an additional) burden (on) our rice farmers, further increase our import dependency, and cost the government millions in foregone revenue," according to the resolution.
The President's spokesman Herminio L. Roque, Jr. said in a statement on Saturday that President Rodrigo R. Duterte signed EO No. 135, cutting the most-favored nation (MFN) tariff to 35% for one year, at par with grain imported from ASEAN. The previous rate for imports from non-ASEAN trading partners was 40% for shipments within the minimum access volume (MAV) quota and 50% beyond the quota.
Mr. Roque said the reduction is "to diversify the country's market sources, augment rice supply, (keep) prices affordable, and reduce pressure on inflation."
The government stands to lose at least P60 million in revenue per year if MFN tariffs are reduced to 35%, the senators said in the resolution, citing the Tariff Commission.
They also noted the estimate of the Federation of Free Farmers (FFF) that the tariff reduction could cost the government around P548 million in foregone revenue.
They also noted that the FFF questions the basis for lowering rice tariffs, after the Agriculture Secretary called the rice supply "ample" following a record harvest in 2020. 
The farmers' group also said that aside from Vietnam and other Southeast Asian nations, the country has been consistently importing from nine other countries, including MFNs like India, Pakistan, and more recently China.
The reduction in tariff will reduce the funding for the Rice Competitiveness Enhancement Fund (RCEF), which assists farmers in modernizing their farms and improving their planting know-how. RCEF receives P10 billion a year from rice import tariffs. — Vann Marlo M. Villegas