EastWest Bank's net earnings down 10% in the first quarter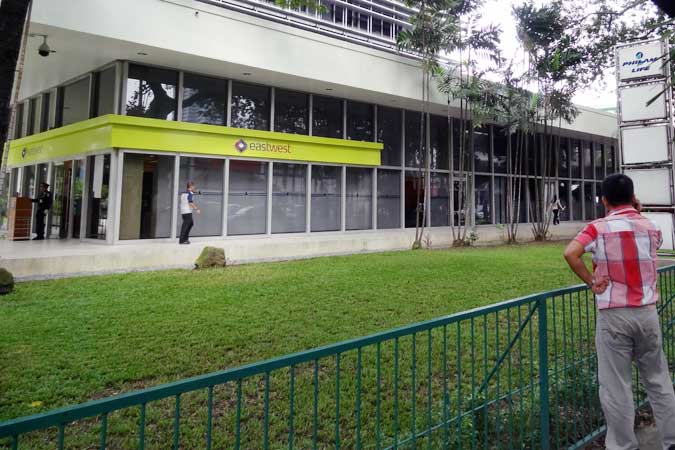 EAST WEST Banking Corp. (EastWest Bank) saw its net income drop by 10% in the first quarter due to lower interest earnings and trading gains, as well as increased expenses.
The bank said in a disclosure to the local bourse on Thursday that its net profit stood at P2 billion in the first three months of the year, declining from the P2.3 billion it booked in the same period in 2020.
This translated into a return of equity of 14.4%, down from 18% last year. Return on assets also dropped to 2.1% from 2.3%.
"The lower income was primarily driven by net interest income (NII), lower trading gains, and higher taxes. NII, the difference between interest income and interest expense, was lower due to lower volume of loans and fixed income securities," EastWest Bank said in a statement.
"In 2020, banks were beset by higher provisions and substantial drop in loan growth; this was offset by higher net interest margins and higher trading gains," EastWest Bank Chief Executive Officer Antonio C. Moncupa, Jr. was quoted as saying.
"For 2021, it seems that it will be lower provisions which will offset the drop in net interest margins and lower trading gains. Fortunately, EastWest as with the rest of the banks, have growing capital buffers which should allow the industry to remain resilient and help the economy recover once the virus is subdued," Mr. Moncupa added.
The lender's quarterly report showed its net interest income was at P5.91 billion in the first quarter, dropping by 11% from the P6.64 billion seen in the comparable year-ago period.
Loans and receivables went down by 11% to P232.1 billion, which the bank said was "mainly due to maturities and lower overall demand as businesses and households held off borrowing." Consumer loans declined by 12% to P176.9 billion, while corporate loans dropped 10% to P56.8 billion.
It noted that the interest rate cap on credit cards imposed by the Bangko Sentral ng Pilipinas (BSP) also contributed to the decline in its NII and caused its net interest margin to drop to 7.5% from 8.1%.
Meanwhile, EastWest Bank's securities trading and foreign exchange gains stood at P854.1 million in the first quarter, "still higher than normal levels but 52% lower than Q1 2020."
"The bank expects trading gains to normalize moving forward due to the steady level of interest rates. Last year, there was a sharp increase in trading gains because of the significant drop in interest rates as the BSP loosened monetary policy in response to the pandemic," it said.
Total operating income was at P7.83 billion, 18% lower than the P9.57 billion seen in the same period in 2020.
Meanwhile, operating expenses excluding provisions for loan losses decreased by 7% to P4.2 billion.
This brought its cost-to-income ratio to 53.9%, up from 47.6% last year.
EastWest Bank said the improvement in its deposit mix in favor of low-cost current account, savings account or CASA deposits, as well the lower loan loss provisions due to base effects, helped offset the decline in its net interest income.
Deposits with the bank increased by 5% to P308.3 billion, with CASA deposits increasing by 9% to P215.8 billion. The CASA ratio improved to 70% from the previous year's 67%. Time deposits dropped by 4% to P92.5 billion.
Meanwhile, its loan loss provisions declined to P723.1 million from P2.44 billion last year.
"Most of the pandemic-induced provisions have been booked in 2020. Unless the virus takes a turn for the worse and significantly infects more Filipinos, provisions for loan losses should be lower in 2021," EastWest Chief Lending Officer, Jacqueline S. Fernandez added.
On the other hand, EastWest Bank's capital adequacy ratio (CAR) and common equity Tier 1 (CET1) ratios improved to 14.4% and 13.2%, respectively, as of March, from 12.5% and 11.3% last year.
This, as its capital grew by 12% to P57.2 billion from P51.2 billion.
Meanwhile, total assets ended at P385.7 billion as of March, almost flat from the P384.1 billion seen a year ago.
The bank had a total of 392 branches as of March 31, with 213 of these stores in Metro Manila. Its automated teller machine (ATM) network was at 587, composed of 401 on-site ATMs and 186 off-site ATMs.
EastWest Bank shares closed at P9.40 apiece on Thursday, up by four centavos or by 0.43% from the previous day.