Drawing their way to the top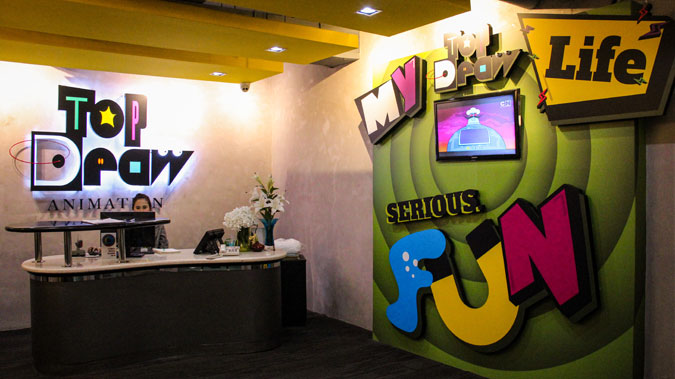 By Zsarlene B. Chua, Reporter
WITHIN SEVERAL floors and across several rooms in the former Philippine Stock Exchange building in Ortigas sits an animation studio that has done work for many series including all the seasons of My Little Pony: Friendship is Magic (and part of Hasbro's 2017 film My Little Pony: The Movie) and the revamped Tom and Jerry series from season 2 onwards. Now that the company is celebrating its 20th year in the business, Top Draw Animation is setting its sights towards bigger projects for bigger studios — and that means the US.
"We cut our teeth on American products and America are the leaders. No matter what you think, the big networks with the big shows, they are in America," Wayne Dearing, managing director of Top Draw, said during a presentation at its offices on Jan. 30.
Top Draw's main markets are Canada, America, and France with a little bit of Italy and Australia thrown in, but recently, the company purposely found itself doing animation for the big American entertainment companies: Disney, Netflix, and DreamWorks to name a few. Today this makes up 70% of its business when three years ago it made up just 10 to 15%.
And working for the US companies, Mr. Dearing said, is like a "comfortable home."
"I started running Hanna-Barbera in 1978 so America is very much where we're invested and a lot of our people in the studio here came from FilCartoons, which I originally came to the Philippines to run," Mr. Dearing said.
Hanna-Barbera was a California-based animation studio founded in 1957 by William Hanna and Joseph Barbera, the creators of Tom and Jerry. FilCartoons was a subsidiary based in the Philippines, founded in 1987, which did animation work for series such as The New Adventures of Captain Planet and The Addams Family (1992), among others. FilCartoons closed its doors in 2001.
It was also at FilCartoons where Mr. Dearing, an Australian, met his wife, Stella Dearing, a Filipina who is now the Senior Executive Vice-President of the company.
Mr. Dearing said that all this experience adds up to 42 years of animation work. In 1999 he decided to set up his own studio, a 47-square meter affair, in a building along C. Raymundo in Pasig City.
"We could have gone broke anytime. I spent my last $5,000 buying around-the-world tickets and came back with Static Shock," Mr. Dearing said, adding that they animated one-and-a-half hours of the show to prove themselves.
Static Shock, a 2000 animated series by Milestone Media and DC Comics about an African-American boy superhero with electromagnetic powers, aired on Kids' WB (Warner Brothers) channel.
"They paid $250,000 per half hour and that was in 1978," Mr. Dearing said. The amount was enough for the company to go on for half a year.
In contrast, he said that today companies pay animation studios "anywhere from half of that amount to 20% of that amount."
In 2016, Top Draw was acquired by Grom Holdings Inc., a Florida-based company whose subsidiary, Grom Social, runs a social networking app for children.
THE ANIMATORS
In those 20 years, Top Draw Animation has shifted from traditional hand-drawn animation to digital animation using Flash and Harmony. Lean Lagonera, one of Top Draw's animation directors, was one of those who had to make the shift. He started with FilCartoons and has clocked in over a decade with Top Draw.
"It used to take us a few months to a year to animate a half-hour show when we used to hand-draw them because there's a lot of processes. Now, it takes us so much less time," he told BusinessWorld. But despite digital taking less time, Mr. Lagonera said that he prefers hand-drawn animation because it can closely resemble natural movements are unlike digital animation — though if animators work hard enough, he said, they can get almost the same effect.
(Side note: Mr. Lagonera has been working on the My Little Pony series since it started and is, until now, baffled by how ardent fans of the series are, especially the "Bronies" or adult male fans.)
With Mr. Dearing and some of his employees' history with Hanna-Barbera and FilCartoons, he said that when they were contacted to do the new Tom and Jerry Show in 2014, he said it felt like he was coming home.
"The first season at the time Tom and Jerry didn't look like Tom and Jerry. So when we got involved (in the second season), it started to look like Tom and Jerry again," he said.
Sabrina Maybituin, another animation director for Top Draw, did work for the Tom and Jerry 2014 series and told BusinessWorld that because she grew up watching the show, she wanted to make it feel like the original.
"That's my childhood and I wanted to animate it the way I remember watching it," she said.
"Tom and Jerry was a repeat so there's very little that's actually groundbreaking new, but the traditions of animation are really important so we can apply those traditions to everything we do," Mr. Dearing said.
Animation, he said, is timeless.
"It's the same sensibilities throughout. I think what it shows is animation doesn't get affected by time the way live-action does. If you watch a '70s live-action show, the clothes look funny, the cars look funny… [with animation] other than the technology or the process and the 'imperfections of the process'… you can go and watch it still," he said.
"It's pure entertainment in its most pure form," he added.
THE TOP DRAW 2020 VISION
Asked about the continued longevity of the company, Mr. Dearing said that it all boils down to their business sense.
"This year is a year of consolidation and recalibration, so based on our performance, this year should springboard us into growing our US market more next year. So you know, anywhere between 20% to 50% could be a reasonable aspiration to grow in revenue terms," he said.
Mr. Dearing noted that in 2013 they had a huge spike in revenues and attributed it to the entry of new players like Netflix and other streaming services.
"We work with perennial clients. [Our clients] are prolific. We didn't get any more clients — our clients just doubled their work!," he said. Currently, the company does over 10 projects at one time with a group of 25 animation directors and hundreds of animators.
The company also continues to hold training courses to develop more animators. He said they are spending millions of pesos a year training aspiring animators for free in exchange for their working with the company for two years.
"And that's the challenge. If you ask what the challenge is, it's with the kids. We can employ artists but they don't have the discipline of using their art because they are on these computers and they don't exercise their talents. So our job, when we're training these people, is to get them to really develop their own potential for us," he said.
They employ some 500 animators, many of whom came from their training program including Ms. Maybituin.
Companies, Mr. Dearing said, keep doing business with Top Draw because "we keep delivering [quality content].
"This is a creative medium and so things don't always go according to plan. If something falls apart, it's the strengths of the partnerships that make us successful and that's the value I think we get," he added.