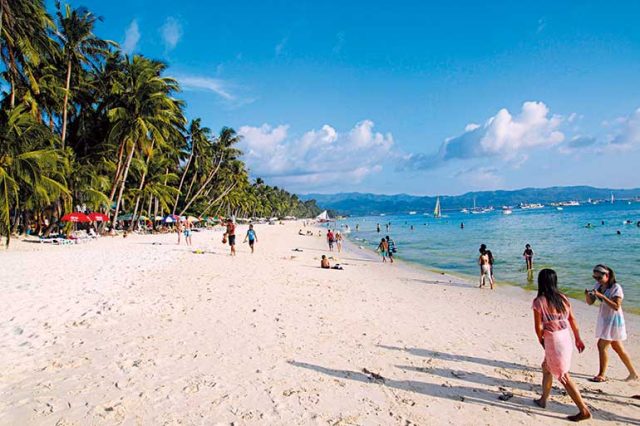 The Department of Tourism (DoT) said it will propose shorter quarantine periods for visitors and lobby for the vaccination of tourism workers to further open up the tourism market in the midst of the pandemic.
In an online forum organized by the Manila Overseas Press Club on Friday, Tourism secretary Bernadette Romulo-Puyat said the "appetite for travel among Filipinos… is very strong, but we're focusing on what travelers' preferences are."
Ms. Romulo-Puyat cited a survey indicating that 96% of prospective travelers want to sty in hotels with certified disinfection and health and safety protocols.
The DoT is seeking the inclusion of all tour guides and tour operators in the A1 vaccination priority category after an endorsement by the Department of Health (DoH) last month of A1 status for workers in quarantine hotels. Their previous priority classification was A4.
Ms. Romulo-Puyat also acknowledged the Crimson Hotel's donation of about 5,000 doses of the Astrazeneca vaccine for Boracay.
The tourism department also proposed a "green lane" last month for fully-vaccinated travelers, which it is currently discussing with the Inter-Agency Task Force on Emerging Infectious Diseases (IATF).
Ms. Romulo-Puyat said the green lane will effectively reduce quarantine time for fully-vaccinated travelers "to start foreign travel going," noting the example of Hong Kong, which reduced its quarantine to seven days from 21 for travelers from New Zealand, Australia, and Singapore.
The DoT is also working with the Department of Information and Communications Technology and the DoH to consider deploying a QR code to help authentcate vaccine certificates.
Ms. Romulo-Puyat said that while the DoT was given P6 billion to lend out to Micro, Small and Medium Enterprises (MSMEs), she noted that the Land Bank of the Philippines (LANDBANK) expanded its I-Rescue program, available to large-scale businesses such as hotels. Borrowers can take out loans for up to 85% of what they need to stay in operation. The terms are 5% interest payable between three and 10 years.
She said under Republic Act 11469 or the Bayanihan to Heal as One Act, the DoT was given P3.1 billion to disburse as cash aid for displaced tourism workers.
As of May 26, "(payments) for 367,328 workers amounting to P1.8 billion were remitted and released to the various payment centers," while 203,334 tourism workers have been approved for aid and are awaiting the disbursement of to P1.1 billion, Ms. Romulo-Puyat stated.
She said the funds are insufficient and will only cover 600,000 tourism workers, or 13.5% of the tourism work force. — Bianca Angelica D. Añago