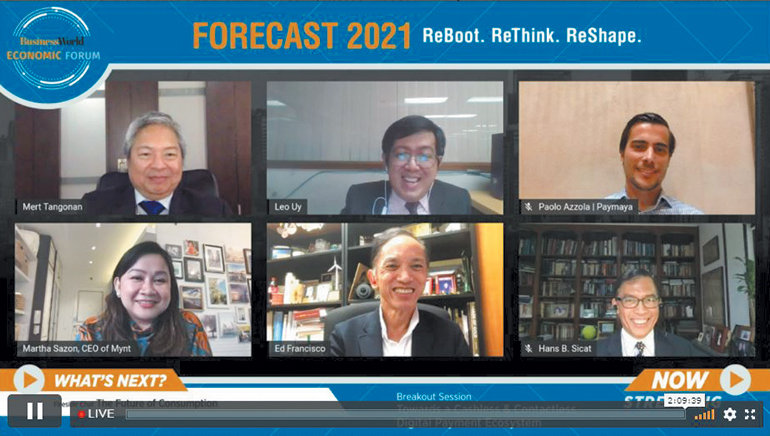 Recent transformations across industries explored in breakout sessions
By Adrian Paul B. Conoza, Special Features Writer
The impacts of the coronavirus disease 2019 (COVID-19) pandemic has spread across many industries and demographics. At the same time, it has brought about accelerated disruptions that are expected to benefit many in the long term. These disruptions were further explored in the eight breakout sessions of the BusinessWorld Virtual Economic Forum last Nov. 25 and 26.
Bright spots for travel, tourism
Travel and tourism sectors were massively hit by the pandemic, resulting in halted operations and reduced workforces. Nonetheless, a panel representing the concerned sectors finds 'bright spots' on which travel and tourism can start bouncing back.
Tiffany Misrahi, vice-president of policy at the World Travel & Tourism Council, sees a sustainable future for the two sectors, pointing to the rehabilitation of Boracay Island as an example. "There's going to be demand for more remote, off-the-beaten-path destinations. The pandemic has also got everyone thinking about outdoors and the environment," Ms. Misrahi added.
Alex B. Cabrera, chairman and senior partner of PwC Philippines, added that concentrating on partnerships and promoting the innate traits of the country will help boost the reopening of tourism and travel. "The natural assets of the Philippines should be more promoted and invested in. What has already been promoted is the Filipino people, [whose] traits have attracted a lot of tourists," he said.
Bernadette Romulo Puyat, Secretary of the Department of Tourism, finds that reopening tourism involves a careful process. "[T]he strict implementation of health guidelines will serve to encourage tourists," she said. "We do not take the reopening of tourism lightly. [We should reopen] only when destinations are ready."
For the travel industry, meanwhile, AirAsia Philippines CEO Ricky P. Isla also hopes for comprehensive measures to boost a reboot in travel. "There's still a lot of things we should collaborate on to boost air traffic. More health guidelines for hotels and restaurants for tourists to regain confidence in traveling," Mr. Isla said.
Boosting e-commerce, logistics
The pandemic has both accelerated and challenged e-commerce and logistics, yet representatives from these industries find their businesses continuing to boost and innovate in the new normal.
Ray N. Alimurung, CEO of Lazada Philippines noticed the numerous impacts it was able to deliver in an accelerating e-commerce trend in the past few months, noting that the surge in online shopping "has driven large capacity to the market". For him, Lazada's move to a 'customer first' mindset will influence its direction moving forward.
Observing developments in last-mile logistics, Martin Cu, country head of Ninja Van Philippines, looks forward to their sector encountering increased client base, innovating delivery process, elevating sustainable safety protocols, and providing online sellers with effective business solutions. He looks forward to logistics player helping small businesses. "It's important that we find ways for growth on behalf of our SMEs," he said.
Ramakrishna Maganti, senior vice-president for marketing and innovation of Holcim Philippines, stressed how beneficial it was for their firm to take the opportunity at hand to embrace digitalization, which they applied in bridging customers through their own purchasing and tracking portal. "We're looking forward to 2021 to be a more exciting year for us as far as digitalization is concerned," Mr. Maganti said.
Meeting young generations
In reaching out to the Gen Z and millennials in the new normal, businesses should take note of their current 'pulse' and meeting them there.
Gary C. de Ocampo, CEO of the Insights Division of Kantar Philippines, recognized that the Gen Z is being shaped by the pandemic and he sees this segment dictating how businesses move forward. "The Gen Z does not expect brands to be invisible. They expect brands to be involved in the national conversation," Mr. de Ocampo said.
Pauline G. Fermin, managing director of Acumen Strategic Consulting, Inc., recognized the value of the Gen Z in directing the actions of businesses. "As decision-makers in the workplace, Gen Z will be the prime movers of digital transformation and the champions of agility as a culture," Ms. Fermin said, encouraging organizations to let this segment lead them to rethink and reshape their future.
Elly V. Puyat, CEO of Ogilvy & Mather Philippines, emphasized authenticity and clarity in how businesses reach the younger consumers. "Even in this situation, you have to be clear what your brand personality is, and apply it to the current environment," she said. "It's not so much about the message, but how you convey it and deliver it to your audience."
Prioritizing cybersecurity
As many workforces have transitioned to remote work, cybersecurity threats should not be taken for granted by any organization.
Raymund E. Liboro, commissioner and chairman of the National Privacy Commission, urged businesses as they reboot to put privacy "at the cornerstone" as this enables trust between users. "We can prevent cybersecurity and privacy issues by building business resilience," he added.
Andres Jomas Capellan, security services sales leader at IBM Philippines, recognized the need for businesses to elevate their response to cyberthreats amid the pandemic. "For systems to be prevented from getting hacked, make sure the [tools used] are safe at development phase and tested at the early onset," Mr. Capellan advised.
On the other hand, Angel T. Redoble, first vice-president and chief information security officer of ePLDT Group, PLDT Group, and Smart Communications, added that a need arises for cybersecurity people who can provide necessary end-to-end management. He also advised users to be vigilant as they work online. "If you're connected, be paranoid. If you are not paranoid enough, you'll be a victim," he said.
Mobility reimagined
The pandemic has been pushing reimagination for many aspects of our lives, including mobility. Executives and thought leaders shared their visions of how transforming transportation and connectivity.
Christophe Vicic, country head of JLL Philippines, Inc., pointed out that transit-oriented developments will be part of solving transportation and connectivity issues in the country. Such developments will involve potential solutions such as dual-location strategies and flexible workspace solutions for occupiers, as well as improving sidewalk use and creating new bike lanes for landlords.
Regarding connectivity, Alfredo S. Panlilio, president and CEO of Smart Communications, Inc. and chief revenue officer of PLDT, Inc., shared that the crisis opens up opportunities to improve the digital ecosystem, with consumers using more digital for education, work, and other functions. "Connectivity is critical in crossing the digital divide," he added.
On the other hand, Dr. Ting Wu, partner at McKinsey & Company, China, sees transportation and connectivity intertwining, thus necessitating solutions that simultaneously meet these concerns in a 'next normal' characterized by customers becoming more digital and sustainable and businesses aiming for zero emissions while still ensuring profitability. "Transportation and connectivity should go hand-in-hand in value creation," Dr. Wu said.
Agriculture and food security
One of the issues the pandemic further stressed is food security. For an agriculture-rich country like the Philippines, the sector must be constantly supported to help the country become more food-secure.
Yet, for Shahidur Rashid, director for South Asia at International Food Policy Research Institute, addressing a declining agriculture trend needs a deeper solution. "We have to think about a cultural transformation when we talk about food transformation," Mr. Rashid said.
Furthermore, Paul Teng, senior fellow and adviser in food security at S. Rajaratnam School of International Studies, stressed that farmers are "at the center of how we can boost the agriculture sector."
"We have to change the paradigm from being reactive to being preemptive," he added.
Tamara Palis-Duran, assistant representative for Programmes at Food and Agriculture Organization of the United Nations, also sees meeting farmers' needs as an important solution. "To reach farmers, we have to improve the extension system, improve information and communication to convince non-tech-savvy farmers to try out new technologies, and improve infrastructure support."
Sustaining the digital shift
Digital transformation is a vital shift that the pandemic has either caused or encouraged in various sectors. Experts in this field see the need to sustain the changes that have been initiated.
Khor Chern Chuen, chief operating officer of SAP Southeast Asia, recognized the ripeness for digitalization in Southeast Asia, observing great penetration of internet, mobile, and connectivity in the region, including the Philippines. "Filipino companies are not afraid to launch digital transformation projects during downturn," he further observed.
Dorjee Sun, CEO of Perlin.net and co-founder of International Chamber of Commerce AOKpass, added that the pandemic has served as another evolutionary step towards digitalization. "What COVID has done is disrupting the bastions of paper to move to digital," Mr. Sun noted.
Eduardo V. Bringas, deputy director-general of Anti-Red Tape Authority, shared that before digitalization is pushed through, there should be streamlining first. While technologies are there, he added, partnerships between sectors is important to harness them effectively.
Enabling cash-lite economy
Another acceleration that has occurred amid the pandemic is that of cashless and contactless payments, which players and experts in the sector are very optimistic about.
Mamerto E. Tangonan, a digital payments expert who joined a project that helped the country's transition to e-payments, recognized that "the country is on its way towards a cashless and contactless payments ecosystem."
To push further forward a cash-lite Philippine economy, he recommends expanding digital payments services through interoperable bills payments and account-to-account payments for digital commerce transactions; expanding the market for digital payments; and consistently applying the National Retail Payments System framework.
Eduardo V. Francisco, president of BDO Capital & Investment, highlighted the need to strengthen the country's connectivity as banks and financial services experienced a spike in digital payments adoption, which might disadvantage limited connectivity capacities. "We [providers] need the telcos and broadband services to really improve their services. Otherwise, we're getting disadvantaged," he said.
Another concern, noted by Hans B. Sicat, country manager of all-digital bank ING Philippines, is that of rolling out the national ID system to make digital transactions more efficient, removing the need for additional know-your-customer measures. "If the national ID is rolled out, it would be better for all of us, given that there would be a central repository of information," Mr. Sicat said.
Martha M. Sazon, president and CEO of GCash, added that driving users to adopt the use of smartphones for e-wallets and democratizing financial services are also crucial factors. "If you obsess about the what the population really needs and you give it to them, they will really come," Ms. Sazon said.
Paolo Azzola, COO of PayMaya Philippines, shared that improving volume and value in e-payments also involves meeting the needs of communities and empowering merchant bases. "If you do not have a merchant base outlet that believes in financial inclusion and digital adoption the same as the consumer base does, then we're back at square one," Mr. Azzola said.