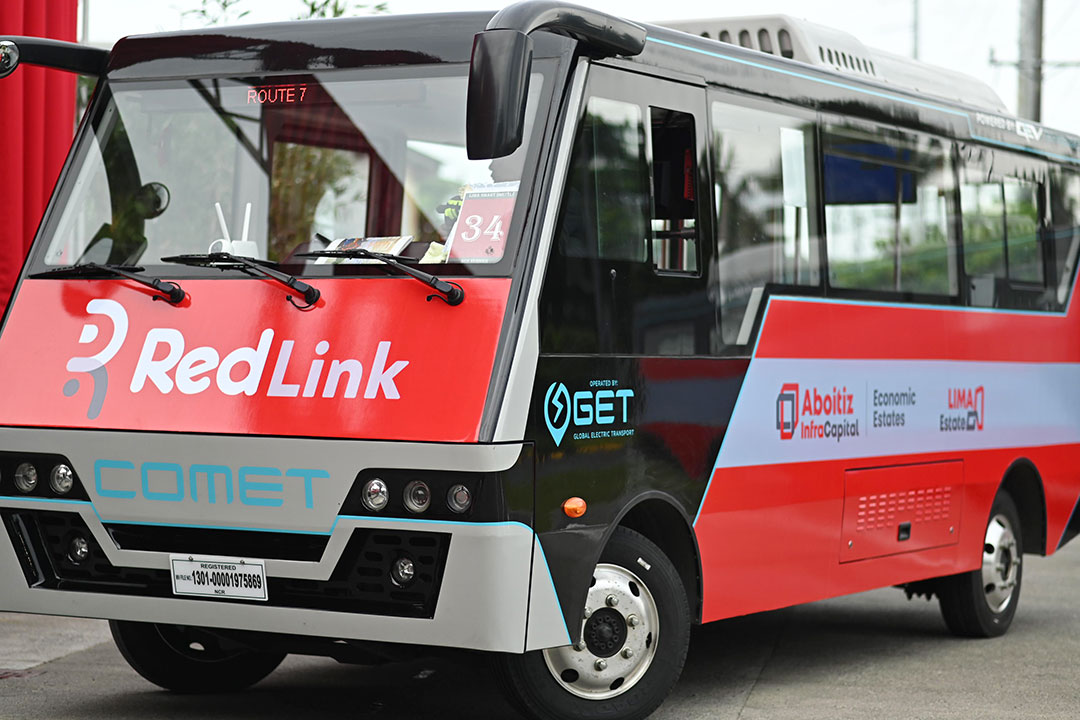 ABOITIZ InfraCapital, Inc. (AIC) has launched a fleet of electric vehicles (EVs) for the locators and visitors within its LIMA Estate in Malvar, Batangas that it plans to replicate in its other economic estates by next year.
"The way we look at things is we wanted the same types of initiatives across all our projects. Typically, we'll start in LIMA because it's the most advanced and the largest," Rafael P. Fernandez de Mesa, head of AIC Economic Estates and president of LIMA Land, Inc., told reporters during the "Red Link and Red Pass" launch on Tuesday.
The company partnered with EV manufacturer Global Electric Transport for the deployment of the fleet.
Under the Red Link system, the company rolled out an initial seven EVs that are deployed within seven routes in LIMA Estate.
Each electric minibus has a seating capacity of 18 but has a maximum capacity of up to 30. Overall, the system has an initial capacity of 2,500 passengers per day.
Mr. de Mesa said the company is assessing the number of electric minibuses to add as the population within the estate is expected to grow.
"Today we have 66,000 employees working inside. There's also 25 ongoing construction [projects], so the population is expected to grow probably a hundred thousand within the next five years or so," he said.
The 800-hectare LIMA Estate is a registered ecozone with the Philippine Economic Zone Authority. It has more than 160 locators.
Mr. de Mesa said the company is seeking to implement the EV fleet system in other economic estates.
"For other estates, we're now studying it, so realistically [we will roll out] probably sometime next year," he said.
AIC, the infrastructure arm of the Aboitiz group, also has economic estates in Cebu province, namely: the Mactan Economic Zone 2 Estate in Lapu-Lapu and the West Cebu Estate in Balamban.
"Our expectation is to improve the lifestyle and the user experience for the users to continue to stay. As you can see here, it's a comfortable ride," Mr. de Mesa said, citing the EVs' air conditioning and Wi-Fi.
"It's ultimately meant to better serve our customers and to contribute to our goal of moving in the direction of [our] net zero target," he said. — Sheldeen Joy Talavera