Construction industry's recovery seen to continue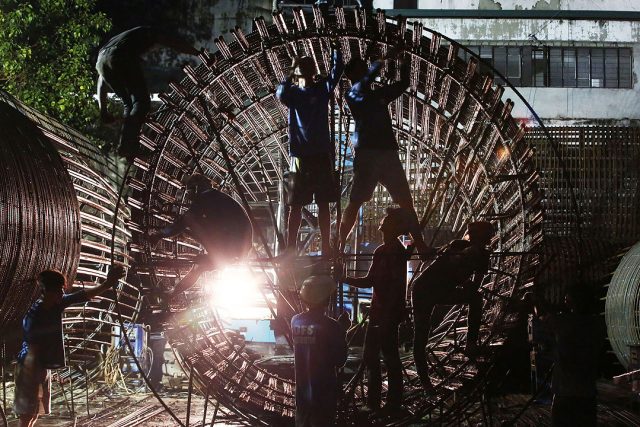 By Arjay L. Balinbin, Senior Reporter
THE PHILIPPINES' construction industry will continue to recover in the coming quarters as pandemic-related restrictions are eased, but rising fuel prices, which result in higher construction costs, will remain the main challenge, analysts said.
"We can expect the performance of construction companies to further recover in the next few quarters, as more economic activities are allowed. Nevertheless, the main challenge is the period of hyperinflation due to the rising fuel prices and driving construction costs higher," Claro dG. Cordero, Jr., director and head of research at Cushman & Wakefield, told BusinessWorld in an e-mailed reply to questions on May 26.
"As construction cost further increases, it will similarly drive property prices up which may eventually disincentivize retail homebuyers (due to affordability issue) and, if left uncontrollable, may be the reason for new homeowners and developers to defer new constructions in the long-run," he added.
As of May 24, year-to-date adjustments of oil prices are at a net increase of P25.55 per liter for gasoline and P29.10 per liter for diesel.
Listed construction companies reported mixed results in the first quarter, but are optimistic about their continued recovery. Megawide Construction Corp.'s construction segment revenue reached P3.79 billion, 11% or P371 million above from year-ago levels.
"The construction segment has maintained its momentum in delivering projects on time despite quarantine measures at the start of the year," the company said in its first-quarter report.
Meanwhile, EEI Corp.'s revenue from its domestic construction activities decreased by 17% to P2.8 billion caused by the delays in the company's infrastructure projects.
EEI noted that it continued to obtain new contracts and work on its existing pipeline of projects.
"The group's unworked portion of existing contracts by the end of the first quarter of 2022 stood at P52.9 billion. This amount is at a healthy level and is expected to keep the group and its employees busy for the next three years," the company said in its first-quarter report.
"EEI is also well-positioned to win more contracts as it continues to bid for industrial and building projects, as well as mega infrastructure projects through the government's Build, Build, Build Program."
Megawide said in a statement to BusinessWorld on May 27 that there has been a "steady contribution from the construction segment since the restrictions eased" in the fourth quarter of 2020.
"Barring any major resurgence of the coronavirus that will restrict mobility anew, we expect the segment to sustain the momentum," a company representative said.
According to Rizal Commercial Banking Corp. Chief Economist Michael L. Ricafort, some of the major economic drivers for the rest of 2022 that could support the further increase in construction activities include measures to further reopen the economy towards greater normalcy though in a gradual manner, increased government spending especially on infrastructure, and the Corporate Recovery and Tax Incentives for Enterprises Act, or CREATE law.
"Reform measures that would ease limits on foreign ownership would help attract/encourage the entry of more foreign investment such as the amendments to the Public Services Act, Retail Trade Liberalization Act, Foreign Investment Act, among others, thereby would lead to the creation of more jobs and other business/economic opportunities that would also help the economy recover from the pandemic and would lead to more construction activities," he said in an e-mailed reply to questions.
In a separate e-mail, Joey Roi H. Bondoc, associate director for research at Colliers Philippines, said: "[We are] projecting recovery in the construction sector. The pandemic resulted in disruptions in the construction sector and we saw delays in the delivery of office and residential towers. A number of developers also delayed launching new projects as they took a wait-and-see position months before the May 9 national elections."
"In the office market, we are projecting the completion of about 1.94 million square meters of new office space from 2022 to 2024 or about 647,400 square meters per year. In 2020, we recorded only about 428,000 square meters delivered in the market," he added.
He said Colliers Philippines sees the same trend for the residential market. In Metro Manila condominium market, Colliers recorded the delivery of 3,370 units in 2020 and 8,730 units in 2021. "We project a huge rebound this year as we expect the completion of 10,500 units."
In key markets outside Metro Manila, Colliers projects the completion of about 201,200 square meters of office space in Cebu from 2022 to 2024, with much of the upcoming supply coming from the Cebu Business and IT Parks.
"In Pampanga, national developers also continue to build office buildings in Clark and San Fernando and we see the delivery of 152,900 square meters of office space during the same period," Mr. Bondoc said.
As for the horizontal market, Colliers sees a sustained take-up of house-and-lot, and lot-only units outside of Metro Manila. "We expect developers to capture demand over the next 12 months and we see ramped up completion beyond 2022," Mr. Bondoc said.
"In our view, the construction sector's recovery will also hinge on the implementation of pro-property reforms such as infrastructure implementation and decentralization which should result in the creation of more economic centers outside Metro Manila. We also see a sustained economic growth supporting the construction sector's rebound."