CREIT climbs 11%, closes at P2.84 on market debut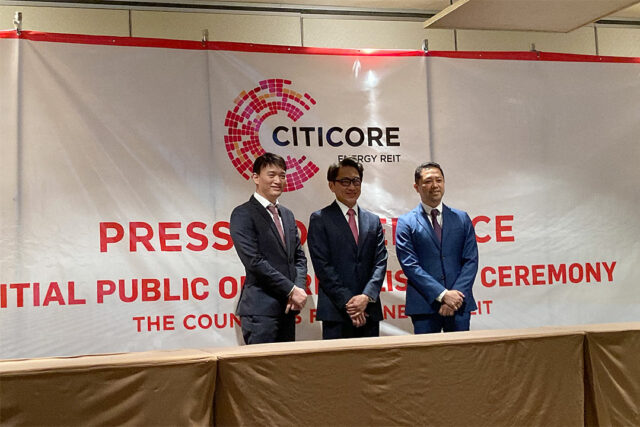 By Keren Concepcion G. Valmonte, Reporter
CITICORE Energy REIT Corp. (CREIT) finishes 11.37% higher on its first day at the Philippine Stock Exchange (PSE), closing at P2.84 apiece from its IPO price of P2.55.
The company's shares opened 9.02% higher to P2.78 per share.
"The issue climbed to as high as P2.94 during the first few minutes of trading, but eventually retraced and moved sideways above the P2.78 area," Timson Securities, Inc. Trader Darren Blaine T. Pangan said in a Viber message on Tuesday.
"Market participants may have decided to buy shares of CREIT amid the attractive dividend yields as well as the success of the previous REITs in the local scene," he added.
In a text message, COL Financial Group, Inc. First Vice-President April Lynn C. Lee-Tan added that the stock performed well "most likely because of [the] good outlook of solar [firms] and high yield."
The company is projected to have a dividend yield of 7% this year based on projected earnings and 7.4% by 2023.
"CREIT had a stellar debut today with many investors banking on its dependable income, stemming from guaranteed lease revenues from its properties plus a variable lease accruing to the firm based on 50% of the incremental revenue in excess of the agreed base revenue of each of the lessees," Regina Capital Development Corp. Head of Sales Luis A. Limlingan said in a separate Viber message on Tuesday.
PSE President and Chief Executive Officer Ramon S. Monzon said over 19,400 investors participated in CREIT's P6.4-billion initial public offering (IPO). The company deferred its listing to Feb. 22 from Feb. 17 due to "voluminous transactions arising from the huge number of retail and individual investors."
CREIT sold 2.509 billion shares for P2.55 apiece. It sold 1.05 billion primary common shares, while sponsor Citicore Renewable Energy Corp. (CREC) sold 1.13 billion secondary shares and an overallotment of 327.27 million shares.
CREIT plans to use net proceeds from the IPO to purchase properties in Bulacan and South Cotabato.
These will be added to the company's renewable energy property portfolio, which includes the Clark property, Armenia property, Toledo property, Dalayap property, and the Silay property. The five properties are being leased to solar power plant operators under the Citicore group.
Sponsor CREC has 1,500 megawatts (MW) of pipeline projects to be built within the next five years, which will be infused into CREIT "in batches."
In a press briefing on Tuesday, CREIT President and Chief Executive Officer Oliver Y. Tan said CREC is "studying probably the first batch of around 120 MW to be infused as early as first quarter next year."
"It really took us several challenges, several sleepless and tireless nights just to make this happen because the structure of the REIT (real estate investment trust) law in the Philippines is really geared to real estate so we only really needed to make so many workarounds just to make the structure to be able to work," CREIT Chairman Edgar V. Saavedra said during the hybrid briefing.
CREIT is the first energy-themed REIT to list at the PSE. The company is the sixth REIT firm to brave the stock market, trailing five REITs with office and mixed-use assets in their portfolios.
"Everyone who wants to participate in the REIT finds our REIT law limiting [because] when the Congress enacted that REIT law, it was primarily for property REIT, for the typical office REIT," Mr. Tan told BusinessWorld at Shangri-La The Fort in Bonifacio Global City.
"So outside of that typical [model], like us, where our revenue really is from the sale of electricity, so because of the limitation of the REIT [law], a REIT company cannot recognize revenue outside of rental income. That's why we had to structure it such that the power company is selling electricity and paying lease to the REIT company to qualify, among others," he added in a mix of English and Filipino.
The company engaged BDO Capital and Investment Corp., PNB Capital and Investment Corp., Investment & Capital Corporation of the Philippines, Unicapital, Inc., CLSA Ltd., and CIMB Investment Bank Bhd as its underwriting syndicate.
By the end of the trading day on Tuesday, a total of 521.43 million CREIT shares worth P1.48 billion were traded. It currently has a free float level of 38.33% and a market capitalization of P16.69 billion.
According to Finance Secretary Carlos G. Dominguez III, CREIT's listing raises the total market capitalization of REITs at the stock exchange "to nearly P300 billion."
"The Philippine REITs now constitute 1.4% of our GDP (gross domestic product). This is just the beginning. This powerful financial instrument holds much promise to help boost our economic recovery," Mr. Dominguez said during the listing ceremony.
CREC'S CAPITAL SPENDING
Meanwhile, CREC has earmarked P3 billion this year for its existing projects' capital expenditure (capex) and up to P70 billion in the next five years for projects in its pipeline.
"For this year, we are targeting around P3 billion [for capex]," Mr.  Tan, who also heads CREC, said in the press briefing.
He said this year's budget is intended for: Citicore Power, Inc.'s 25-megawatt-peak solar farm expansion in Silay City; the construction of the second phase of its 72-MW Arayat-Mexico power plant with AC Energy Corp; the installation of 6.64 MW solar rooftop systems in Bataan; and the completion of three projects in Batangas.
In 2021, the company spent P4 billion for capex projects. Its biggest budget of P10 billion was allotted in 2015 when it was racing to qualify for perks under the feed-in tariff system.
CREC is eying a P70-billion capex spread in the next five years to add 1,500 MW of renewable energy to its portfolio. — with M.C. Lucenio