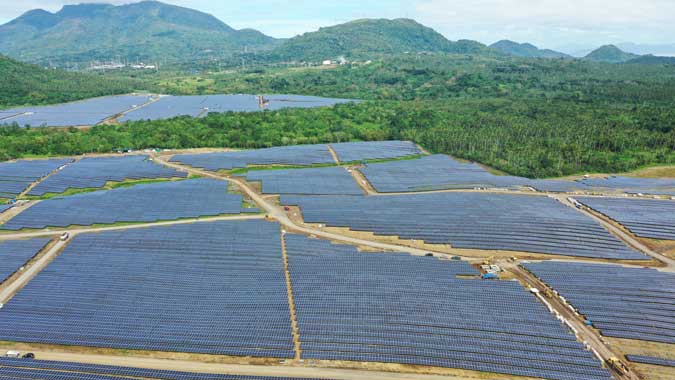 AC Energy Corp. said on Tuesday that its 120-megawatt (MW) solar farm in Alaminos, Laguna started commercial operations and is now supplying renewable energy to the grid.
The Ayala-led listed firm touts "GigaSol Alaminos" as the second largest plant of its kind in the country, adding that it can power around 80,000 homes while avoiding 111,034.37 metric tons of carbon dioxide equivalent of greenhouse gases.
"We are pleased to add much needed capacity to the grid as electricity supply remains tight," AC Energy President and Chief Executive Officer John Eric T. Francia said.
AC Energy also said it partnered up with building and housing solutions provider Green Antz Builders Inc. to collect 32,540 kilograms of plastic from the packaging materials of the solar panels. The plastic waste was subsequently upcycled into eco-bricks and incorporated into building facilities within the plant.
GigaSol Alaminos has a tree nursery that targets to produce 120,000 seedlings in three years. It is surrounded by Ayala Land, Inc.'s Carbon Forest, a woodland reserve that acts as a "carbon trap."
"AC Energy's robust line up of projects allows it to play an integral role in the green-led recovery, which is especially critical as the economy gradually reopens and demand for power picks up," Mr. Francia said.
AC Energy aspires to become the largest listed renewables platform in the region as it has targeted to reach an attributable capacity of 5,000 MW by 2025.
As of May, the company's power assets in the Philippines had a net attributable capacity of 1,200 MW, of which more than half or 56% come from renewable sources.
AC Energy shares at the local bourse improved 1.19% or 10 centavos to finish at P8.50 apiece on Tuesday. — Angelica Y. Yang