Apex Mining income surges as gold prices rise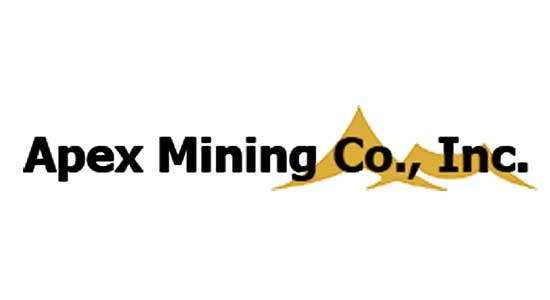 APEX MINING Co., Inc. posted a 401% increase in attributable net income to P1.53 billion last year on the back of higher gold prices and better revenues, it told the stock exchange on Tuesday.
"We were able to optimize the high prices of gold with higher ore grades and higher recovery," Apex Mining President and Chief Executive Officer Luis R. Sarmiento said in the disclosure.
In 2019, the listed mining company recorded P305.16 million in net income attributable to parent equity holders.
Revenues of Apex Mining in 2020 reached P6.32 billion, a 27.4% increase from the P4.96 billion it had the previous year, carried by improved gold sales and higher prices.
For 2020, the company said it sold 66,576 ounces of gold, a 2.8% improvement from the 64,763 ounces the year earlier.
It added that the average realized price of gold last year was at $1,798 per ounce, higher by 29.5% than $1,389 per ounce in 2019.
"The higher ore grades, averaging 3.61 grams of gold per tonne, coupled with higher recovery at 87.63% contributed to the higher gold sales," the company said.
Meanwhile, the company's silver sales fell 1.2% to 365,212 ounces in 2020 from 369,616 ounces the year earlier.
Apex Mining's milling throughput reached 664,363 tons in 2020, 6.7% lower than the 711,787 tons the previous year.
"The continuing investments in capital expenditures — amounting to P1.6 billion in 2020 — brought noncash charges for depreciation and amortization to P674 million. These investments were in relation to the continuing development of the mines in preparation for higher grade and larger tonnage operations," the company said.
Apex Mining noted that the Sangilo mine of its wholly owned subsidiary Itogon-Suyoc Resources, Inc. started commercial operations on July 31 last year.
However, its production remains a challenge as a result of quarantine restrictions caused by the coronavirus disease 2019 (COVID-19) pandemic, which has affected the movement of manpower and supplies.
The company added that exploration and resource validation work in the Suyoc mine in Mankayan, Benguet continues.
On Tuesday, shares of Apex Mining at the stock exchange improved 3.73% or six centavos to end at P1.67 apiece. — Revin Mikhael D. Ochave