Twenty Filipino companies make it to FT ranking of fastest-growing companies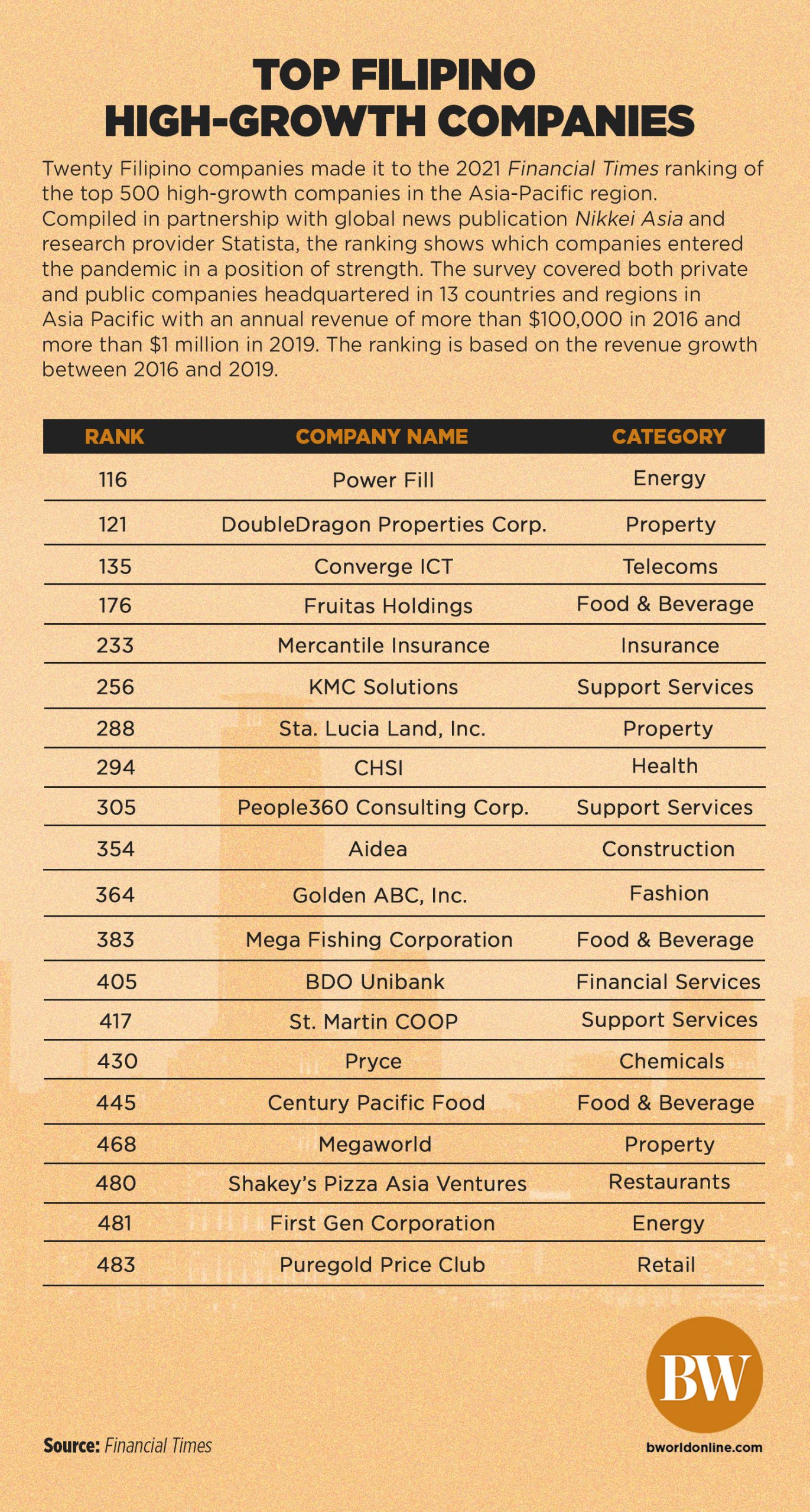 Twenty Filipino companies made it to the 2021 Financial Times ranking of the top 500 high-growth companies in the Asia-Pacific region. 
Compiled in partnership with global news publication Nikkei Asia and research provider Statista, the ranking, published in April, shows which companies entered the pandemic in a position of strength. The survey covered both private and public companies headquartered in 13 countries and regions in Asia Pacific with an annual revenue of more than $100,000 in 2016 and more than $1 million in 2019. The ranking is based on the revenue growth between 2016 and 2019.
Power Fill Holdings Inc., a gas station franchise, was the highest-ranking Filipino company at 116, reporting a compound annual growth rate (CAGR) of 78.6% and $42.55 million in revenue in 2019. It has over 50 branches in Luzon, with its newest station opening in Floridablanca, Pampanga, last month. 
Following Power Fill are DoubleDragon Properties Corp. with a CAGR of 75.9% and $399.20 million in revenue, and Converge ICT Solutions Inc., with a CAGR of 69% and $180.58 million in revenue, both for the year 2019.
Property, support services, and food and beverage were the most represented sectors in the Philippines, with three entrants each.
Four Filipino companies, Pryce Corporation, Century Pacific Food, Inc., Shakey's Pizza Asia Ventures Inc., and Puregold Price Club, Inc., also made it to the 2020 list. 
The Philippine-based companies that made the Financial Times list, with their respective rankings, is as follows:
116 Power Fill Holdings Inc. (Energy), a gas station franchise established in Malolos, Bulacan in 2009, with plans to expand to more than 200 stations in the next two to five years
121 DoubleDragon Properties Corp. (Property), a real estate firm led by the founders of Mang Inasal and Jollibee, and one of the top 5 listed companies on the Philippine Stock Exchange in terms of market capitalization
135 Converge ICT Solutions, Inc. (Telecoms), a fiber internet and digital consumer-centric service provider, with a clientele in Metro Manila and all across Central Luzon provinces such as Pampanga, Tarlac, Bulacan, and Bataan
176 Fruitas Holdings, Inc. (Food & Beverage), a food products company with brands such as Fruitas, Johnn Lemon, Tea Rex, Halo Halo Islands, and Babot's Farm
233 The Mercantile Insurance Co., Inc. (Insurance), a non-life insurer and a subsidiary of the conglomerate Camerton Holdings, with accreditations from both public and private entities like the Department of Energy and Aboitiz Land
256 KMC Solutions (Support Services), a coworking space provider with 54 floors across 23 buildings in the Philippines
 288 Sta. Lucia Land Inc. (Property), the golf course and real estate developer behind Sta. Lucia Mall in Cainta, Rizal
294 Center for Health Services, Inc. (Health),  a health systems delivery corporation that counts San Miguel Corporation as its biggest occupational healthcare client
305 People360 Consulting Corporation (Support Services), the only safety organization with four accreditations from the Department of Labor and Employment (namely, heavy equipment testing and certification, safety consultancy, safety training, and work environment measurement
354 Aidea Inc. (Construction), a design and technology solutions provider recognized as one of the country's largest design practices by The BCI Asia Top 10 Awards, an annual building industry award
364 GOLDEN ABC, Inc. (Fashion), a fashion enterprise that is home to retail brands like Penshoppe, OXGN, Regatta, ForMe, Memo, and BOCU
383 Mega Global Corporation (Food & Beverage), the largest fishing fleet and canning operations in the Philippines, with canned products such as Mega Sardines and Mega Prime Canned Vegetables in its roster
405 BDO Unibank, Inc. (Financial Services), a full-service universal bank and the country's largest bank in terms of consolidated resources, customer loans, deposits, assets under management and capital, branches, and automated teller machines networks as of December 31, 2020
417 St. Martin of Tours Credit and Development Cooperative (Support Services), a 50-year, church-based credit union cooperative with 12 full-serviced branches serving Central Luzon communities 
430 Pryce Corporation (Chemicals), a property holding and real estate development company with two subsidiaries: Pryce Gases, Inc. (PGI), a liquefied petroleum gas importer and distributor, and Pryce Pharmaceuticals, Inc. (PPhI), a wholesaler and distributor of private branded multi-vitamins and over-the-counter generic drugs
445 Century Pacific Food, Inc. (Food & Beverage), a subsidiary of Century Pacific Group, Inc., with more than 200 products and 19 brands, including Birch Tree Full Cream Milk Powder and Century Tuna 
468 Megaworld Corporation (Property), developer of mixed-use, planned communities incorporating residential, commercial, educational, and leisure components
480 Shakey's Pizza Asia Ventures Inc. (Restaurants), the exclusive franchise and operator of Shakey's restaurants in that Philippines
481 First Gen Corporation (Energy), a provider of clean and renewable power in the Philippines, and a subsidiary of First Philippine Holdings Corporation 
483 Puregold Price Club, Inc. (Retail), wholesale and retail store operator with a total of 434 stores across country as of 2019 
BROAD MIX OF SECTORS
As reported by Nikkei Asia, the search was extensive but the ranking was not complete, as some companies either declined to make their figures public or did not participate. China, due to logistical difficulties and problems comparing accounting, is also not represented. 
According to the Financial Times, technology is the sector with the biggest presence in the ranking, with a quarter of all companies falling into this category. It is followed by support services and industrial goods, each accounting for just over 4% of those businesses listed. 
The top three companies in the 2021 list are Carro, a Singapore-based car marketplace; Kioson, an online-to-offline e-commerce company from Indonesia; and SCI Ecommerce, an e-commerce solution provider also based in Singapore. All three had CAGRs of over 300%. 
Japan is the country with the most companies on the list (116), followed by last year's leader India (95), and Singapore (72). — Patricia B. Mirasol