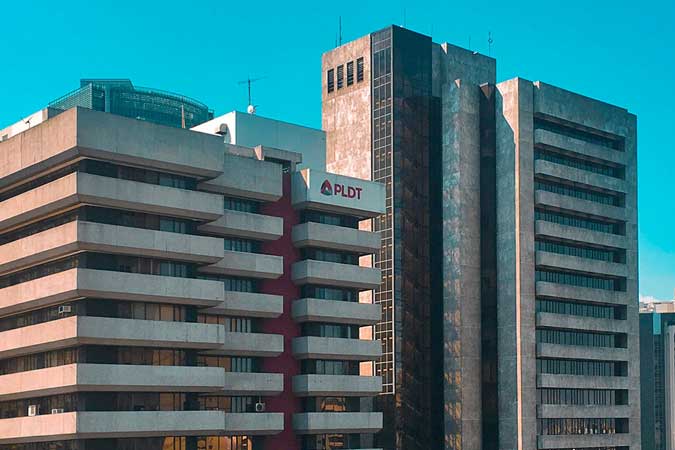 INVESTORS loaded up on PLDT, Inc. shares on bargain hunting and expectations of sustained growth amid the ongoing lockdown restrictions that led to an increase in demand for data services.
A total of P541-million worth of 432,340 shares were exchanged from April 5 to 8, data from the Philippine Stock Exchange showed, making it the eighth-most actively traded stock in the bourse last week.
Shares of the telco company rose 2.8% to P1,255 apiece on Thursday compared with the closing price of P1,221 on March 31. For the year, its stock price has fallen 7.9%.
Financial markets were closed last Friday in observance of the Day of Valor.
"[A]t P1,221 (per share), PLDT was trading at a price-to-earnings ratio of 10.89 times which is below its 2016 – 2020 average of 14.63 times, implying that the share is undervalued," Philstocks Financial, Inc. Senior Research Analyst Japhet Louis O. Tantiangco said in an e-mail.
Mr. Tantiangco also noted the company's good financial performance last year, in contrast to those of other firms amid the pandemic-induced economic recession.
"The telecommunication firm's service revenues climbed 7.6% year on year to P173.6 billion. This comes on the back of strong data service revenues from both its wireless and fixed-line segment," he said.
PLDT's gross revenue rose 7% to P181 billion last year. Likewise, its telco core income and attributable net income picked up by 3.7% and 7.8%, respectively, to P28.09 billion and P24.28 billion.
"Assuming that demand for data services would be strong for the whole year, together with further improvements in PLDT's overall cost efficiency, we may see its telco core income grow by around 8% for 2021," Mr. Tantiangco said.
For Mercantile Securities Corp. Analyst Jeff Radley C. See, PLDT "might maintain the bottom line growth or even surpass it depending on the expansion they have for 2021," he said in a separate e-mail.
The company is hoping to exceed its core profit guidance of P29-30 billion for this year despite the "worrisome" economic outlook, PLDT Chairman and Chief Executive Officer Manuel V. Pangilinan said at a briefing on March 4.
PLDT plans to spend between P88 billion and P92 billion this year, mainly to support the exponential rise in mobile data traffic. From 2011 to 2020, its consolidated capital expenditure investments reached P286.4 billion.
Philstocks' Mr. Tantiangco noted that aside from rising demand for telco services, PLDT will also benefit once right-of-way (ROW) issues are solved.
"Resolving the ROW issues would allow PLDT to further expand its network infrastructure and improve its services," he said.
In a news release last Tuesday, Aileen D. Regio, first vice-president and head of PLDT's Regulatory and Strategic Affairs, said the company will be "relentless" in securing government issuances that "will provide a more permanent solution" to ROW issues as it will help speed up the company's rollout and maintenance of its fiber infrastructure.
This is in line with Department Order No. 29 issued by Department of Public Works and Highways Secretary Mark A. Villar that will "facilitate the erection of infrastructure that will allow speedy expansion of telecommunication services and facilities while ensuring public safety, availability of government's ROW, and the structural integrity of roads and bridges."
The order will cease application three years after its launch on March 23.
Philstocks' Mr. Tantiangco placed PLDT's initial support and initial resistance at P1,190 and P1,300, respectively.
Mercantile Securities' Mr. See said PLDT might move in a range between P1,200 and P1,300.
Hastings Holdings, Inc., a unit of PLDT Beneficial Trust Fund subsidiary MediaQuest Holdings, Inc., has a stake in BusinessWorld through the Philippine Star Group, which it controls. — Marissa Mae M. Ramos