Home
Editors' Picks
Civil society groups plan to sue government agencies over 'inaction' on list...
Civil society groups plan to sue government agencies over 'inaction' on list of single-use plastic goods that should be banned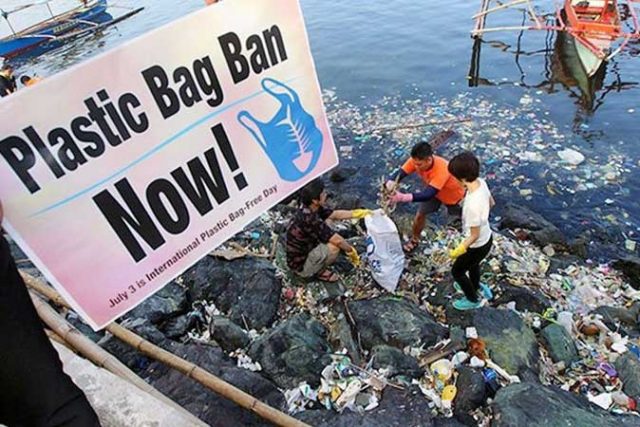 CIVIL SOCIETY groups and other stakeholders on Sunday said they intend to press charges against the National Solid Waste Management Commission (NSWMC) and other government agencies for failing to prepare the list of single-use plastic products that should be banned in line with the Ecological Solid Waste Management Act of 2000.
In a statement on Sunday, Oceana Philippines said the groups sent notices to file legal cases to NSWMC; the Departments of Trade, Science and Technology, Health, Public Works, and Agriculture; and the Metropolitan Manila Development Authority, among others.
Oceana is one of the groups planning to take legal action against the government agencies for taking so long to come up with the list of products and packaging which are deemed harmful to the environment.
"We can no longer bear the inaction of the NSWMC which has failed to implement its mandated task to prepare a list of NEAPP (Non-Environmentally Acceptable Products and Packaging). Their lack of concern for 20 long years is far too deplorable and inexcusable. The groups believe it was time to interpose and take the necessary action on this issue," Oceana Vice President Gloria Estenzo-Ramos said.
The marine conservation group added that stakeholders took the first step to legally compel the commission and several agencies due to their alleged "apathy to the heavy burden of mounting plastic pollution."
In February, the environment department approved a resolution classifying plastic straws and coffee stirrers under the NEAPP, citing that these "may be banned soon."
NSWMC Alternate Chair and Environment Undersecretary Benny D. Antiporda said these are the first products which received the NEAP classification.
According to the Ecological Solid Waste Management Act or Republic Act 9003, the NSWMC is required to prepare a list of NEAPP within a year after the law takes effect and provide annual updates.
All items listed as NEAPP should not be produced, distributed, and used.   
BusinessWorld sought NSWMC for comments but has yet to receive a reply as of press time.
On June 2, House Deputy Speaker and Antique Representative Loren B. Legarda filed a resolution seeking a probe on the NSWMC for its "failure to act on its ministerial function" in preparing the NEAPP since the solid waste management law was enacted, despite its legal obligations and budgetary support of P1.3 billion in 2017.
"This massive delay in implementation has exacerbated the plastic pollution crisis in the country to the point where we have become known as among the top marine plastic debris polluters in the world with the largest source of single-use plastics leaking into the ocean," Ms. Legarda's House resolution read.
The Philippines has produced 2.7 million metric tons of plastic waste, with more than half a million metric tons that leaked to the ocean, according to a 2015 study conducted by non-profit organization Ocean Conservancy.
Based on a 2019 waste assessment brand audit report of the Global Alliance for Incinerators Alternatives, the country generated 164 million pieces of sachets, 48 million shopping bags, and 45.2 million pieces of labo bags or the thin, transparent type. — Angelica Y. Yang