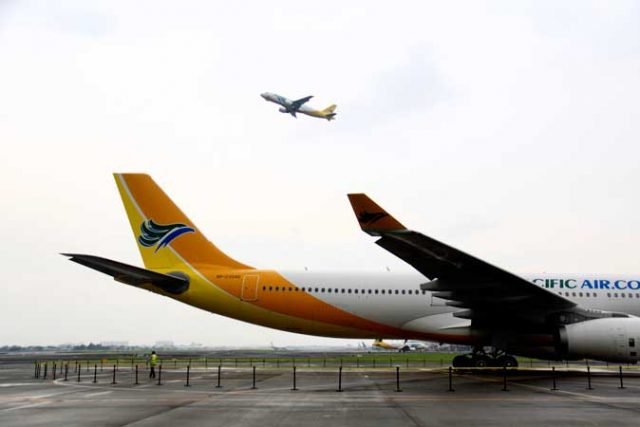 BUDGET carrier Cebu Pacific said Monday its flights between Manila and Boracay will now be five times daily, while flights to Bohol will also operate daily.
The additional flights to Boracay and Bohol, which started on Monday, should "support recovery efforts," the budget carrier said in an e-mailed statement.
In a statement to BusinessWorld on Tuesday, the airline said: "We gradually increased our flights to Boracay weekly — from only two times daily on June 4, three times daily on June 7, four times daily on June 11, and now five times daily beginning yesterday, June 21."
"Bohol was at four times weekly in the second week of June and now it's already one time daily," it added.
Cebu Pacific said it currently operates the "widest network" in the country covering 32 destinations, on top of its six international destinations.
Candice A. Iyog, Cebu Pacific vice-president for marketing and customer service, said: "With the arrival of more vaccines and the pace at which vaccines are being rolled out, we are hopeful that in due time, our networks will recover to pre-pandemic levels."
"We remain cautiously optimistic as we prepare for the bounce back and will do everything that is within our control to support and aid that," she added.
The International Air Transport Association (IATA) said recently that "over the last months, the recovery of air passenger demand has been mainly driven by domestic markets that have mostly remained unaffected by travel restrictions."
"In the meantime, international travel was restricted by most countries and governments are only starting to relax those restrictions as they vaccinate their populations and stabilize the epidemiological situation," it added.
Cebu Pacific, operated by Cebu Air, Inc., said it had flown six million coronavirus vaccine doses from China as of June 17, "on top of more than 1.4 million doses carried to 15 Philippine provinces."
The number of flights Cebu Pacific had in 2020 was 71% lower at 41,804. The number of passengers it carried last year also dropped 78% to five million.
Cebu Air shares closed 2.90% higher at P53.20 apiece on Tuesday. — Arjay L. Balinbin