Foundations of the hybrid office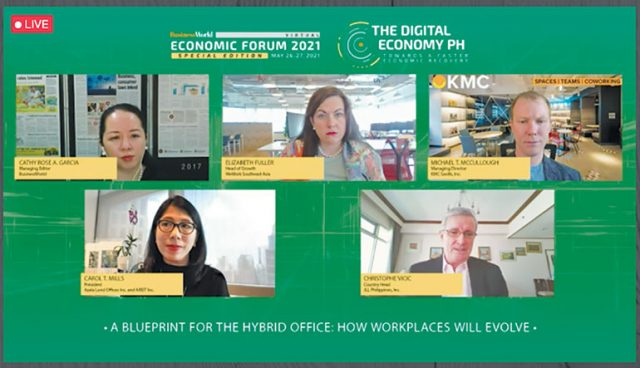 By Chelsey Keith P. Ignacio
With the various work arrangements and conditions being experienced by employees during the COVID-19 pandemic, there would be new expectations and demands towards the workplace. For some leaders from the real estate industry, the office will evolve to be hybrid — a model that gives employees the option to work from home, in the office, or even anywhere.
During a panel discussion at the second day of the BusinessWorld Virtual Economic Forum 2021 Special Edition, the speakers highlighted the priorities that organizations must consider in building a hybrid office.
Flexible work, collaborative workplace
Based on the panel discussion, the incorporation of hybridity in the workplace responds to employees' preference for flexibility and collaboration. The work-from-home arrangement became evidently common.
Nevertheless, offices remain essential for workers, according to Elizabeth Fuller, head of growth at WeWork Southeast Asia.
Citing a global survey done by WeWork, Ms. Fuller noted that 76% of respondents (68 business leaders representing over five million employees) recognize the significance of the office for collaboration.
According to the respective surveys conducted by Salesforce and WeWork, Ms. Fuller said that 90% of millennials prioritize their freedom to work [from anywhere they want] over their salary. She added that the generation who prefers to go to the office the most is the Gen Z.
"I think it's important what your office is like — the environment, access, and flexibility you have," she stressed.
Ms. Fuller also said that "companies will be hungry for flexible and scalable solutions to support their growth in both medium and long term."
"We're in an uncertain and evolving economic landscape, and the only certainty is flexibility," Ms. Fuller said.
Meanwhile, Michael McCullough, managing director of KMC Savills, Inc., said that due to the pandemic, there is a clear shift in office demand.
He also observed that the strict lockdown in the country led to difficult working conditions. Operating remotely caused challenges in managing routine, finding motivation, and having relaxation.
"The hybrid workplace — or the office of the future — is going to be all about the employee experience," Mr. McCullough said.
He noted that companies should provide flexibility and spaces for collaboration in establishing hybridity at work.
"Flexible workspaces have enabled businesses to operate and retain important personnel throughout the pandemic," he said.


The KMC executive also shared that the benefit of being allowed to work from home became a standard in recruitment. "Having a flexible schedule is now the bare minimum a company will be able to offer their employees," he said.
He also believes that the office would not disappear. "It's definitely going to be a place to collaborate," he said.
Sharing the same insight is Christophe Vicic, country manager of JLL Philippines. "The office will be a social hub and a place for collaboration," he said.
He noted that there is a quick and drastic shift towards the future office, which is the work-from-anywhere ecosystem.
"[The future office is] not about the physical office location, even it's work from anywhere. It's about the human experience, the employee experience, more collaboration space, amenities, more social learning, and fewer individual spaces," he explained.
Mr. Vicic said that real estate providers, real estate advisors, and organizations must invest in the future workplace.
"Organizations need to redefine the new purpose of the workplace, embrace maximum flexibility, and shift workplace allocation to enable new ways of working," he said.
He added that hybrid work is here to stay. "The principal reason is it's about the people, the employees who have clearly tasted a different way of working."
Safe and healthy workspaces
Carol Mills, president of Ayala Land Offices, Inc. and AREIT, Inc., agrees that the future office is about flexibility. Yet, she emphasized the importance of safety and health in the workplace.
"In whatever form, location, or delivery our clients choose, they can be assured that we are very mindful of safety in our properties," Ms. Mills said. "Office buildings have to be cleaner. [We are] more deliberate in providing clean and healthy environment for the occupants."
She added that they also go beyond physical safety to total well-being. "Our office buildings are located within Ayala Land mixed-use developments where one can [experience] that harmonious live, work, play environment within minutes of reach."
Ms. Mills stressed that working is not just about getting things done or jumping from one virtual meeting to another. "Employees need a community where they can harness their talents and will allow them to be inspired and take part in the richness of life."
"Our goal is to offer that complete ecosystem, cultivate opportunities, and provide a healthy state of total well-being for the working population," she added.