Tracking the path towards a digital economy


Digitalization, related trends explored in BusinessWorld virtual forum
By Adrian Paul B. Conoza, Special Features Writer
Along the journey of organizations to adapt to the changes brought by the coronavirus disease 2019 (COVID-19) pandemic, one significant course of action that is regarded as necessary towards economic recovery is digitalization. In fact, the Philippines Digital Economy Report 2020 by the World Bank and the National Economic and Development Authority revealed that an opportunity already lies for the Philippine economy to hasten its recovery and build up its resilience by further embracing digital technologies.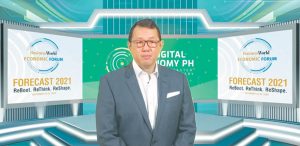 This discourse was continued during the special edition of the BusinessWorld Virtual Economic Forum, which was held last May 26 and 27. Themed "The Digital Economy PH: Towards a Faster Economic Recovery", the online forum further explored the vision of a digital economy in the country and the initial steps that must be taken to realize such goal, along with underlying issues that must be resolved.
As BusinessWorld President and Chief Executive Officer (CEO) Miguel G. Belmonte shared in his opening remarks on the forum's first day, the special edition of the forum picks up from the conversations from last year's first BusinessWorld Virtual Economic Forum, which largely tackled digitalization. "[This year's forum] would be a very good venue to tackle digital transformation as an urgent component in accelerating the country's recovery and creating a stronger, more resilient, and sustainable economy," Mr. Belmonte said.
Meanwhile, Lucien C. Dy Tioco, BusinessWorld's executive vice-president, pointed out on the forum's second day the need to fully accept and understand the changes that have recently taken place. "We were all anticipating to move forward without really understanding what has changed, its effects, and how to effectively solve it," Mr. Dy Tioco said in his welcome address on Day 2, adding that the pandemic is teaching organizations to manage how the future should take shape by finding solutions to current problems.
The way forward
Starting off the forum with his keynote address, Fernando Zobel de Ayala, president and CEO of Ayala Corp., stressed that digital transformation, as the "the way forward towards a resilient, progressive, and equitable country", goes beyond developing or pushing the latest technologies and so must take into consideration other factors.
"Meaningful and genuine digital transformation is deeply understanding our stakeholders' needs and aspirations, and integrating technology to provide them with relevant and inclusive solutions," Mr. Zobel de Ayala said.
While he observed that digitalization has made a tremendous impact on several sectors such as financial services, healthcare, and e-commerce, to name a few, Mr. Zobel de Ayala further stressed that the Philippines faces a "persistent challenge to ensure widespread and equitable access to digital infrastructure and the Internet."
He said that a digitally developed economy should be built on reliable infrastructure, a national ID system, digital records and online access to services, and cybersecurity.
Among organizations, the Ayala Corp. president and CEO said that digital transformation should be accompanied by highly regarding the "fundamental components" of such shift which are the stakeholders.
"Specifically, institutions should be deliberate in deeply understanding stakeholder pain points and aspirations. There should also be a commitment to address underserved needs, most especially the inequalities the pandemic exacerbated," he said, adding that holistic stakeholder understanding requires mining insight from both big data and small data.
Mr. Zobel de Ayala also emphasized that managing the complexities of the future of work lies in promoting greater flexibility and choice, where the main principle is to work where one is most effective for the job at hand.
The first day of the two-day forum continued with panel discussions on how digital transformation can enable a 'better normal' and how the digital divide in the country — a pressing issue in building a digital economy — should be bridged.
These were coupled with fireside chats on topics such as "Building the Foundation of Digital Resilience", "Digitalizing the Philippine Economy Now", as well as the Digital Payments Transformation Roadmap 2020-2023 of the Bangko Sentral ng Pilipinas.
Along the digital track
The forum's second day took a deep dive into the trends that go along with building a digital economy, led by keynotes from Bernadette Nacario, country director of Google Philippines; and Kais Marzouki, chairman and CEO of Nestlé Philippines.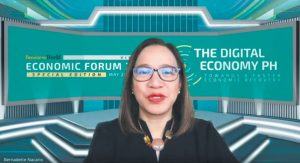 Discussing the topic "The Emerging New Economy: New Skills, Jobs and Business Tools", Ms. Nacario of Google Philippines highlighted the opportunities that have opened up through digital transformation.
Citing the "e-Conomy SEA 2020" report of Google, Temasek, and Bain & Company, Ms. Nacario noted that many Filipinos went online "searching for solutions to their sudden new challenges"; while e-commerce has driven significant growth in the country at 55%, largely offsetting declines in travel and transport.
The overall Philippine 'e-conomy', she added, is expected to reach $28 billion in value in 2025, reaccelerating to a compounded annual growth rate of roughly 30%.
"The future is indeed bright. Yearly, our growing digital economy presents ripe opportunities for Filipinos," Ms. Nacario said.
Barriers, however, still exist. Among these include challenges around talent, which the Google Philippines country director observes as "a key blocker that all sectors need to keep working on".
To optimize such opportunities and address such barriers, she continued, Google is committed to invest in digital skills and education, as well as to provide tools and platforms for businesses. "Together with our partners from the public and private sectors, we will continue closing the gap in digital opportunity," she said.
Meanwhile, in his keynote on the readiness of the Philippine economy to transition from a brown to green economy, Mr. Marzouki of Nestlé Philippines noted that businesses are called upon by the pandemic to reflect and to act on their collective impact on the environment by transitioning from a fossil fuel-dependent brown economy to a sustainable green economy.
"In a green economy," Mr. Marzouki explained, "growth in employment and income are driven by public and private investments into such economic activities; infrastructure and assets that allow reduced carbon emission and pollution; enhanced energy and resource efficiency, and prevention of the loss of biodiversity and ecosystem services."
While getting to a green economy takes much more time as it involves a whole-of-society approach, Mr. Marzouki said that a "window of opportunity" is now open "to make brave new choices that will allow the country to grow economically within sound ecological boundaries."
Panel discussions on the second day gathered thoughts on how a hybrid mode of work is shaping today's workplaces, as well as on how an omnichannel experience is being realized in retail.
The fireside chats gathered insights on how organizations can build their brands through sustainability and purpose, as well as on how digital tools can be utilized by micro, small, and medium enterprises for them to survive and thrive amid the global crisis.
Wilfredo G. Reyes, BusinessWorld's editor-in-chief, wrapped up the virtual forum, in his closing remarks. "The COVID-19 crisis made us a little bit more adept at promptly improving the way we do things even if this takes a complete overhaul. We need to mesh digital more into our strategies and not to treat it as something completely separate," he said.
BusinessWorld Virtual Economic Forum 2021 Special Edition was presented by BusinessWorld Publishing Corp.; with co-presenter GCash; gold sponsors Cisco, Globe, Meralco, Radius Telecoms, and San Miguel Corp.; silver sponsors Ayala Group of Companies, BPI-Philam, FWD Life Insurance, Toyota, UnionBank, and Vista Land; bronze sponsors BDO, BPI, First Gen Corp., J&T Express, Mabuhay Energy Corp., PAGCOR, PayMaya, Pacific Cross, PLDT, Smart, SGV & Co, and SM Investments Corp.; partner organizations Asia Society – Philippines, British Chamber of Commerce Philippines, French Chamber of Commerce and Industry in the Philippines, Financial Executives Institute of the Philippines, Management Association of the Philippines, Philippine Chamber of Commerce and Industry, and Philippine Franchise Association; official TV partner OneNews; and media partner The Philippine STAR.