Bolts improve to 2-0 in Philippine Cup with victory over San Miguel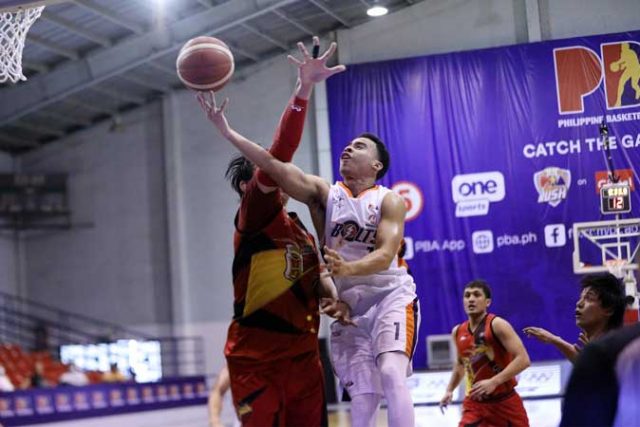 THE Meralco Bolts improved to 2-0 in the (Philippine Basketball Association) PBA Philippine Cup after defeating the San Miguel Beermen, 93-87, in the opening game on Sunday at the Ynares Sports Arena in Pasig City.
Meralco used a strong third-quarter push to create a separation from the Beermen from which the latter could not recover from.
San Miguel started the contest strong, racing to an early 9-2 lead in the first four minutes.
The Bolts, however, managed to charge back in the next six seven minutes, coming within a point, 19-18.
The Beermen created some distance anew for the rest of the period to hold a 25-18 advantage.
In the second quarter, the jostling continued with the teams fighting to a 37-all count at the 3:45 mark of the period before Meralco went on to outscore San Miguel, 5-4, to take a 42-41 advantage at the half time break.
The Bolts picked up where they left off to start the third canto, connecting on back-to-back triples, care of Nards Pinto and Mac Belo, to raise their lead to six points, 48-42, in the opening two minutes.
They get to sustain the spirited start, extending their lead to 15 points, 74-59, heading into the fourth period.
In the payoff quarter, sensing the game was slipping away from them, the Beermen came out with more fire.
Led by Terrence Romeo, San Miguel cut its deficit to just six points, 77-71, with 9:12 to play.
Unfortunately for the Beermen, less than a minute later Mr. Romeo would suffer what was feared to be an MCL injury.
Thereafter, Aaron Black helped give Meralco more cushion with back-to-back three-pointers for an 85-77 advantage at the 3:47 mark.
San Miguel still tried to claw its way back but could only come the nearest at five points, 88-83, with a minute to play.
Chris Newsome paced the Bolts in the win with 17 points to go along with six assists. Mr. Black, named best player of the game after, meanwhile, wound up with 14 points, going 3-of-5 from beyond the arc.
Reynel Hugnatan had 13 points for Meralco.
"We did not have a good start but by the second half, we got to play our game better and our conditioning gave us an advantage to pull away," said Meralco coach Norman Black after their win.
San Miguel, meanwhile, was led by Mr. Romeo with 18 points before he got hurt. CJ Perez and Mo Tautuaa had 17 each.
Six-time Philippine Basketball Association most valuable player June Mar Fajardo returned from injury for the Beermen, finishing with five points and five rebounds in 18 minutes of play. — Michael Angelo S. Murillo