Beauty waits for no virus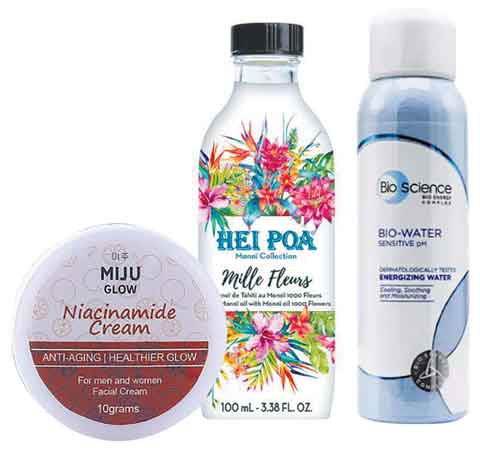 By Zsarlerne B. Chua
Reporter
IT'S BEEN two weeks since the official start of the community quarantine (I understand that there are people who have stayed at home longer than that), and it is important to take this time to take care of one's self — and that includes skincare. Here are some of the products I've been using during (and even before) quarantine. Maybe after this is all over, you can also try them out for yourselves.
HEI POA MILLE FLEURS MONOI OIL (P695/100 ML)
Monoi Oil is basically coconut oil combined with the extract from Tahitian gardenia flowers. This is a multi-purpose oil used by the Polynesians in their hair and skincare — to moisturize their skin and strengthen their hair.
This was one of the new brands to hit Beauty Bar in late February and the Mille Fleurs variant not only includes gardenia flowers but also a host of others like White water lily, Roselle, and Ylang-ylang, so it smells really floral. For people who don't like heavily fragranced oils, this may not be for you.
I use the oil mainly to keep my hair ends moisturized since I am not able to go out for a haircut, I need to maintain my hair as much as I can on my own before it gets too damaged. Once a week, I also use it as an overnight hair treatment before I shampoo.
I understand that there are those who use the product as a body oil or face oil but coconut oil never got along well with my skin, clogging my pores, so I use it for my hair.
In the month I've been using it, I noticed that my hair breaks less and looks shinier — but I've noticed the same thing when using regular coconut oil.
Do note though that this oil is basically coconut oil with fragrance, so if you don't dislike the smell of pure coconut oil (my family hates it when I use pure coconut oil), it's cheaper to use it than Monoi oil.
Hei Poa is available in Beauty Bar stores.
CELETEQUE HYDRATION ULTRA MOISTURIZING ESSENCE WITH HYALURONIC ACID (P499/50ML)
This is the latest addition to Celeteque's Hydration line which includes a cleanser, toner, light moisturizer, and cream. It is said to provide hydration for tired skin and gives up to 48 hours "intense moisturization."
I like Celeteque's Hydration line because it works for my often dry and tired skin, and when I was starting out crafting my skincare routine, Celeteque's affordable items were part of it, especially the cleanser, toner, and the light moisturizer (the last one I had to ditch because I soon realized that I needed more moisture on my skin). That's why I was excited to get the essence, because I use essences to boost my creams.
I like this because, one, it has no fragrance, and, two, it has a thick enough consistency that one or two pumps go a long way. It also gives me enough moisture so that I can use less heavy creams and go for my night creams with active ingredients like niacinamide or vitamin e without layering another cream on top.
I've been using this consistently at night for more than a month now and I'm happy a bottle is more than enough for a month in quarantine.
Celeteque is available online via Celeteque.com, Watsons stores, and other online stores.
BIOSCIENCE BIO-WATER ENERGIZING WATER (P599/100 ML)
This facial mist is said to "moisturize and cool skin" and is ph-balanced, making it suitable for sensitive skin.
I like facial mists because in the middle of the day when I feel my skin is dry, as it was a few weeks ago during the amihan, I spray my face and feel the moisture entering my skin.
I used to use Evian and Avene, but since I ran out of both before quarantine, I was fortunate to get a can of BioScience during the launch a few weeks ago.
What I like about this is its sprayer is very fine and a few seconds of spritzing can moisturize the skin without drowning yourself like other mists are wont to do.
Looking at the ingredients, it has water (of course) on top of the ingredients list, with niacinamide second. Niacinamide is a form of vitamin B3, which keeps skin firm and helps keep the skin's moisture barrier healthy.
I have been loving niacinamide lately because it also reduces skin inflammation, which I get whenever my skin's sensitive. Therefore, I like this mist. It's been a constant companion of mine for weeks now.
BioScience is available in Watsons and Lazada.
MIJU GLOW NIACINAMIDE CREAM (P99/10G)
And since we're talking about Niacinamide, I discovered Miju Glow's Niacinamide cream, which I have been fortunate to have purchased before the lockdown.
Miju Glow is a local skincare brand with affordable items and, looking at BeautyMNL, it seems their Vitamin C serum is a bestseller.
Anyway, I got into Miju Glow when I was looking for an anti-aging cream for my mother a few months back. At the time the anti-aging (Glutathione-Kojic) cream was buy-one-take-one for P99 so I purchased it. She came back to me a few months later saying she liked the cream and had me repurchase it, and since I was on BeautyMNL anyway, I purchased the niacinamide cream and the vitamin e cream for myself.
I just finished the niacinamide cream and my skin is in probably its best state right now — I get fewer breakouts and my skin is glowing. But I also have to note that staying inside also protects my skin from pollution which leads to much of my breakouts.
Here's the thing though, it's a bit thick — but it spreads around nicely. If you don't like thick creams, combine it with a few drops of face oil (I used Kiehl's Midnight Concentrate) and warm it up in your hands for a few seconds before applying.
And the price is affordable enough that even if it didn't work, I won't shed copious tears over it. Once this quarantine is over, I'm buying more jars.
Miju Glow is available in BeautyMNL.com