BDO's net income down 10.6% in Q3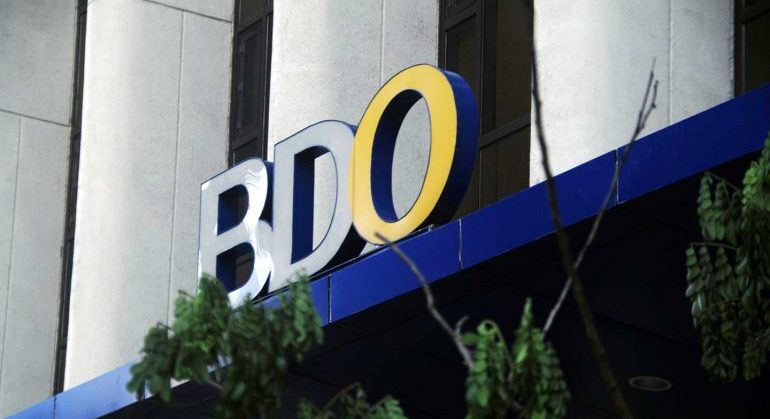 BDO Unibank, Inc. recorded a lower net profit in the third quarter due to increased expenses and as its net interest income slipped amid lower rates.
The bank's net earnings in the July to September period went down by 10.6% to P11.033 billion from P12.346 billion a year earlier, based on its quarterly financial report released on Monday.
This brought BDO's net income for the first nine months to P32.484 billion, jumping 95.7% from the P16.598 billion logged in the same period in 2020. The bank said in a statement that its profit for the period was back to its pre-pandemic level on the back of its "resilient business franchise and normalized provisions."
Return on average common equity improved to 10.72% as of end-September from 5.97% a year earlier. Return on assets also rose to 1.26% from 0.68%.
BDO's net interest income slipped by 0.96% to P33.108 billion in the third quarter from P33.43 billion in the same period a year ago, its financial statement showed.
The bank attributed the drop to the decline in lending rates as well as the cap on credit card fees. Net interest margin stood at 4.05% as of end-September from 4.36% a year earlier.
Interest income on loans and other receivables dropped by 8.18% to P31.192 billion in the third quarter from P33.972 billion a year earlier.
However, this was partially offset by its interest earnings from trading and investment securities, which improved by 31% to P5.067 billion from P3.86 billion.
Meanwhile, BDO's non-interest income in the July to September period increased by 20% to P14.778 billion from P12.332 billion. This was backed by higher commission fees, foreign exchange gains, and insurance premiums, which offset the bank's net loss from trading.
On the other hand, operating expenses rose 7% year on year to P29.914 billion in the third quarter from P27.951 billion, driven by higher compensation and occupancy expenses as well as the increase in costs related to its insurance business.
"The bank sustained investments in its IT/digital infrastructure and expanded its digital capabilities to further elevate customer experience and raise productivity," BDO said.
The bank set aside P3.659 billion for impairment losses in the third quarter, surging by 162% from the P1.392 billion a year ago. However, as of end-September, these provisions were 56% lower year on year at P10.44 billion from P23.826 billion.
Loans stood at P2.365 trillion as of end-September, with customer credit starting to pick up, BDO said. Its gross nonperforming loan (NPL) ratio was at 3.1% and its NPL coverage ratio was at 101% in the same period.
On the funding side, total deposits reached P2.734 trillion as of end-September. BDO said its current account, savings account deposits rose 14% year on year, making up 85% of the total.
The bank's capital base stood at P422.3 billion as of September, with its common equity Tier 1 well above the regulatory requirement at 13.8%. Capital adequacy ratio was also higher than the regulatory requirement at 14.87%, up from 14.34% a year prior, amid increased capital that outpaced growth in risk-weighted assets.
BDO has over 1,500 branches and 4,400 automated teller machines nationwide.
The Sy-led lender's shares went up by P1 or 0.78% to close at P129 apiece on Monday. — Luz Wendy T. Noble