Home
The Nation
Bayanihan II extension, military pension up for deliberations as House hybrid plenary sessions resume  
Bayanihan II extension, military pension up for deliberations as House hybrid plenary sessions resume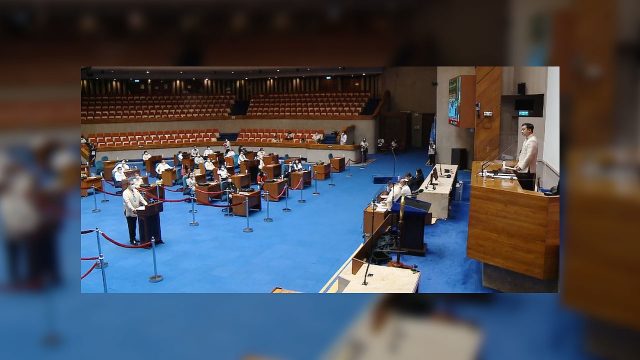 THE HOUSE of Representatives is set to resume plenary sessions under a hybrid set-up on Monday after a two-week suspension due to the imposition of enhanced community quarantine (ECQ), the strictest lockdown level, in Metro Manila.  
Sessions will be held from 2 to 5 p.m. with only House leaders and a limited number of secretariat personnel physically present inside the session hall, according to a memorandum issued by Secretary General Mark Llandro L. Mendoza.    
Other members will attend plenary sessions through video conferencing in Zoom.  
House Speaker Lord Allan Jay Q. Velasco said the lower chamber will have to "work double time" to pass pending measures.  
Among possible bills that could be tackled would be House Bill 9654, a priority measure of President Rodrigo R. Duterte providing for a unified system for the separation, retirement, and pension of military and uniformed services personnel.   
Other pending measures include House Bill 9538, which seeks to extend the validity of stimulus funds under the Bayanihan II law to Dec. 31, and the Hidilyn Diaz Act that would provide tax relief for winnings of local athletes who compete in international sports competitions.   
"We will tackle as many bills and resolutions as possible to make up for the time lost during the ECQ," Mr. Velasco said in a statement on Sunday.  
During the two-week suspension, committee hearings proceeded through videoconference.    
ACT-CIS Party-list Rep. Eric G. Yap, chair of the House appropriations committee, said in a phone interview on Saturday that hearings and deliberations on the 2022 national budget will also be held through a hybrid set-up.  
"Those who are in the province who cannot attend [physically] can join via Zoom and then the agencies who can come [to the hearings] will be physically present," he said in a mix of English and Filipino.  
Budget hearings are set to start on Aug. 26 once Congress receives the 2022 National Expenditure Program from the executive department.    
Mr. Yap also said that the recent audit reports by the Commission on Audit (CoA) will not have any effect on the speed of budget deliberations, adding that they will probe agencies on how their allocated 2022 budget will be utilized in light of these findings.  
This comes after the Department of Health, among other agencies, came under fire after state auditors flagged deficiencies worth over P67 billion in their handling of pandemic funds due to non-compliance of government procedures. — Russell Louis C. Ku