Yields on gov't debt drop on dovish Fed comments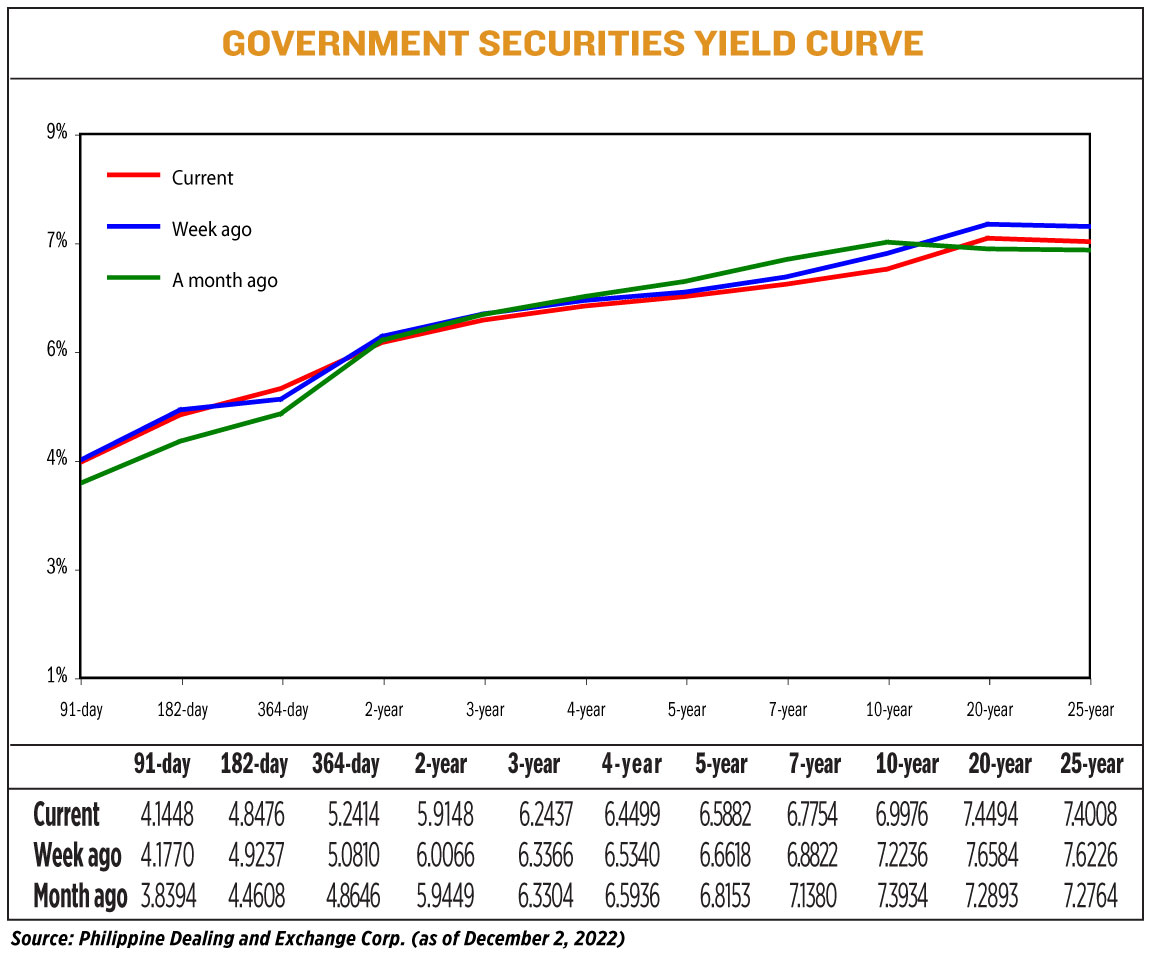 YIELDS on government securities (GS) dropped week on week after the US Federal Reserve hinted at slower rate hikes to help avoid a hard landing for the world's largest economy.
GS yields, which move opposite to prices, dropped by an average of 9.58 basis points (bps) at the secondary market week on week, according to the PHP Bloomberg Valuation Service Reference Rates as of Dec. 2 published on the Philippine Dealing System's website.
Short tenors mostly declined except for the 364-day Treasury bill (T-bill), which saw its rate go up by 16.04 basis points (bps) to 5.2414%. Meanwhile, yields on the 91-, and 182-day T-bills decreased by 3.22 bps and 7.61 bps to 4.1448% and 4.8476%, respectively. 
Likewise, at the belly, rates of the two-, three-, four-, five-, and seven-year Treasury bonds (T-bonds) decreased by 9.18 bps (to 5.9148%), 9.29 bps (6.2437%), 8.41 bps (6.4499%), 7.36 bps (6.5882%), and 10.68 bps (6.7754%), respectively.
At the long end of the curve, the 10-, 20-, and 25-year papers went down by 22.60 bps, 20.90 bps, and 22.18 bps to 6.9976%, 7.4494%, and 7.4008%, respectively.
Total GS volume dropped to P10.303 billion on Friday from the P12.858 billion seen on Nov. 25.
An analyst said yields rallied last week after the Fed Chair Jerome H. Powell hinted at slower rate hikes to help support the US economy.
"Yields continue to drop last week on slower BTr (Bureau of the Treasury) borrowing and as local GS track the drop in US Treasury yields," a trader said.
"There are also scheduled maturities for Dec. 4 and 6 that helped support buying momentum," the trader added.
Last week, the government partially awarded the T-bills it auctioned off even as bids reached P35.787 billion, higher than the P15-billion offer.
It also made a partial award of the reissued 20-year T-bonds it offered last week. The BTr raised just P22.969 billion from its offer of 20-year papers, less than the programmed P35 billion, even as total bids reached P65.514 billion.
For the week, the market will continue to price in the dovish comments of the Fed chief, the analyst said.
The analyst also expects investors to remain bullish on tenors at the belly amid expectations of faster November inflation.
A BusinessWorld poll of 15 analysts held last week yielded a median estimate of 7.8% for November headline inflation.
If realized, this would mark the eighth straight month that inflation breached the Bangko Sentral ng Pilipinas' (BSP) 2-4% target.
This is also quicker than the 3.7% print a year earlier and a tad faster than the 7.7% print in October. Still, it will be within the BSP's 7.4%-8.2% estimate for the month.
The Philippine Statistics Authority will release inflation data on Tuesday, Dec. 6. — B.T.M. Gadon