Debt yields rise ahead of CPI report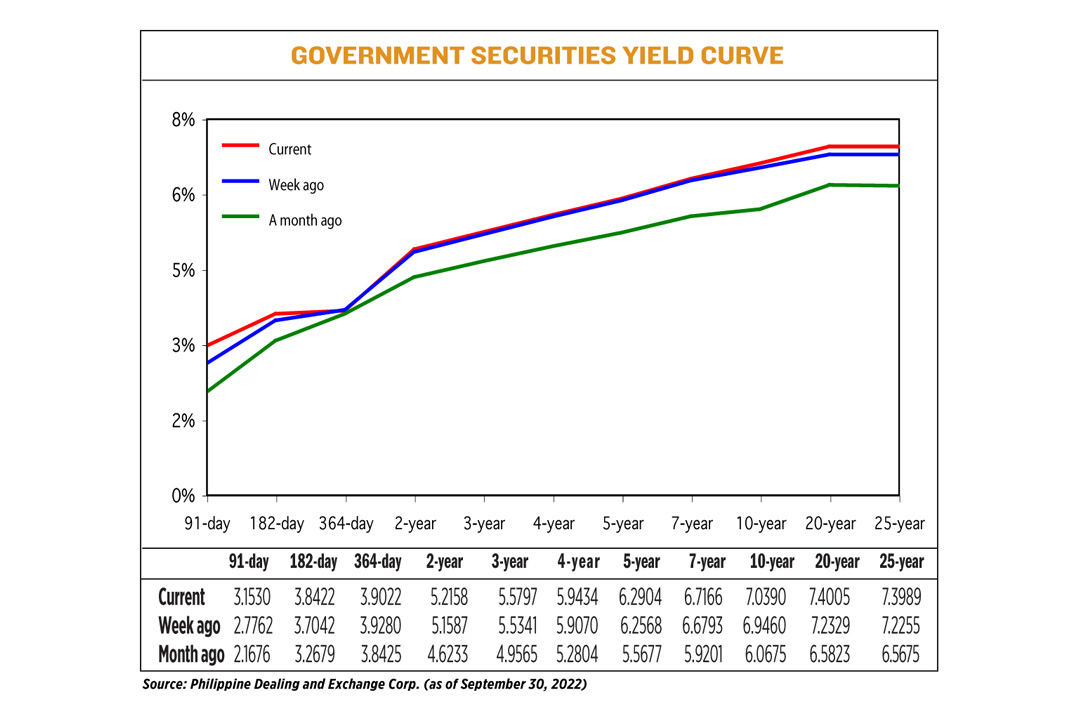 YIELDS on government securities (GS) continued to rise last week to track US debt movements and ahead of the release of latest Philippine consumer price index (CPI) data.
GS yields, which move opposite to prices, climbed by 10.30 basis points (bps) on average week on week, based on PHP Bloomberg Valuation Service Reference Rates as of Sept. 30, published on the Philippine Dealing System's website.
Rates climbed almost across the board except for the yield on the 364-day Treasury bill (T-bill), which dropped by 2.58 bps to 3.9022%.
Meanwhile, the 91- and 182-day papers rose by 37.68 bps and 13.80 bps, respectively, to yield 3.153% and 3.8422%.
At the belly of the curve, the rates of the two- and three-year Treasury bonds (T-bonds) climbed by 5.71 bps and 4.56 bps to 5.2158% and 5.5797%, respectively.
The four-, five- and seven-year papers also saw their yields increase by 3.64 bps, 3.36 bps, and 3.73 bps to 5.9434%, 6.2904%, and 6.7166%, respectively.
At the long end, rates of the 10-, 20-, and 25-year papers went up by 9.30 bps (7.039%), 16.76 bps (7.4005%), and 17.34 bps (7.3989%).
Total GS volume traded reached P7.117 billion on Friday, lower than the P11.839 billion recorded on Sept. 23.
Analysts said trading last week was muted due to a lack of catalysts, with yield movements mostly tracking global trends.
"Local yields were mainly driven by sentiment spill over from the US debt market as the 10-year yields reached an intraday high of 4%. Liquidity concerns in the local market were able to temper yields on long end, where the 10-year benchmark security played near the 7% level," FAMI added.
A bond trader said the results of last week's T-bill and T-bond auctions capped yields, especially those at the long end of the curve.
The Bureau of the Treasury (BTr) partially awarded the T-bills it auctioned off last week, raising just P3.35 billion versus its P15-billion program, even as bids reached P17.664 billion.
The government also rejected all bids for its P35-billion offer of reissued 20-year T-bonds with a remaining life of 16 years and four months last week despite tenders reaching P49.985 billion.
These auction results came as investors wanted higher returns as central banks continue to tighten policy amid inflation concerns.
The bond trader added that yields "ultimately closed sideways with an upward bias" ahead of the release of September Philippine inflation data on Wednesday, Oct. 5.
"Yields were still on the uptrend across the curve week-on-week due to the Bangko Sentral ng Pilipinas' (BSP) more hawkish statement to support the peso, except for the one-year bucket amid subsequent rejections in the Treasury bill auction," First Metro Asset Management, Inc. (FAMI) said in an e-mail.
"The BTr's decision to reject tenders further fueled liquidity concerns on the debt market, however, leaving investors wondering if they'll be able to satisfy the agency's financing requirements through other means," it said.
BSP Governor Felipe M. Medalla last month said the central bank may need to hike rates aggressively, with the peso hitting new lows due to a stronger dollar amid the US Federal Reserve's hawkish stance.
"Strong dollar is requiring us to have bigger policy rate increases," Mr. Medalla said in a Bloomberg Television interview. "Clearly the Fed's policies have affected our choices. We don't want to match the Fed, at the same time we have to respond."
The Philippine central bank on Sept. 22 raised benchmark interest rates by 50 bps for a second straight meeting, bringing its cumulative hikes since May to 225 bps. Meanwhile, the Fed has raised rates by 300 bps since March, with the latest move being a 75-bp increase last month.
The BSP sees inflation averaging 5.6% this year, well above its 2-4% target.
Headline inflation eased to 6.3% in August from the near four-year high of 6.4% a month earlier and 4.4% a year ago, bringing the eight-month average to 4.9%, faster than the 4% a year ago.
The central bank said the CPI may have peaked anew in September, giving an estimate of 6.6% to 7.4% for the month, driven by high prices of electricity and key food items, accompanied by the peso's depreciation.
For this week, FAMI expects trading to remain muted until the release of inflation data.
"This week, expect sideways with an upward bias and will depend on consumer price index figures," the bond trader also said separately. — A.O.A. Tirona