Yields on government debt rise as central bank hikes borrowing costs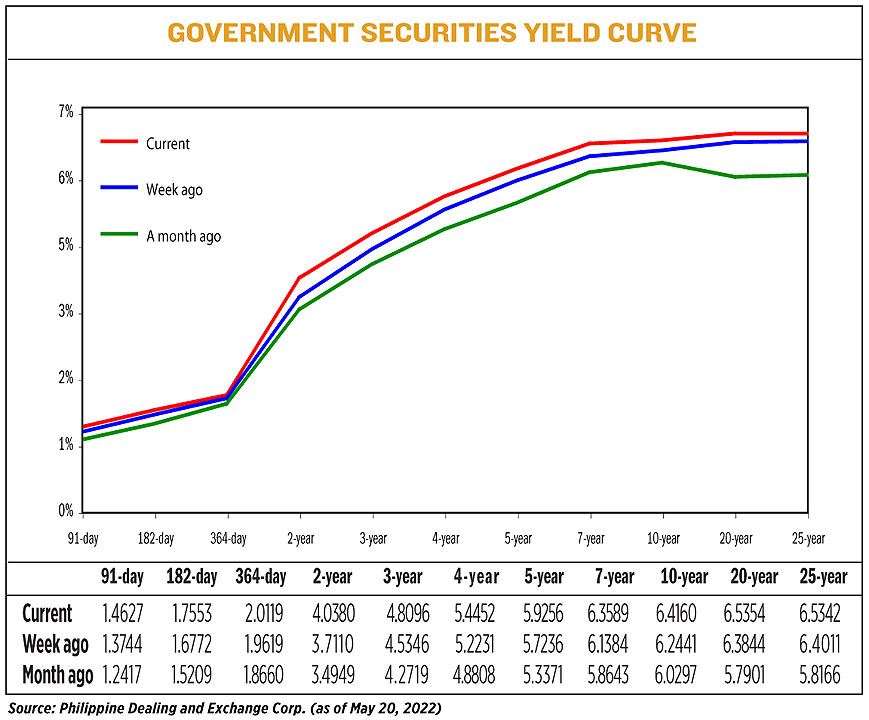 YIELDS on government securities (GS) rose across the board last week after the Bangko Sentral ng Pilipinas (BSP) hiked benchmark rates to contain rising inflation.
GS yields, which move opposite to prices, jumped by an average of 17.45 basis points (bps) week on week, based on the PHP Bloomberg Valuation (BVAL) Service Reference Rates as of May 20 published on the Philippine Dealing System's website.
Debt yields on all benchmark tenors climbed last week. Rates of the short-dated 91-, 182-, and 364-day Treasury bills went up by 8.83 bps, 7.81 bps, and 5 bps to end the week at 1.4627%, 1.7553%, and 2.0119% respectively. 
At the belly of the curve, yields on the two-, three-, four-, five, and seven-year Treasury bonds (T-bonds) rose by 32.7 bps, 27.5 bps, 22.21 bps, 20.2 bps, and 22.05 bps, respectively, to 4.0380%, 4.8096%, 5.4452%, 5.9256%, and 6.3589%.
At the long end, the rates of the 10-, 20-, and 25-year papers climbed by 17.19 bps (to 6.416%), 15.1 bps (6.5354%), and 13.31 bps (6.5342%), respectively.
Trading volume last week thinned to P7.105 billion from P10.705 billion previously.
First Metro Asset Management, Inc. (FAMI) said trading volume remained light last week with an upward bias in yields ahead of the anticipated rate hike from the BSP.
"Overall defensiveness ensues from higher inflation expectations and sustained level of debt supply," FAMI said in an e-mail.
"BSP moved policy rates higher to reduce demand and rein in inflation. Given the lag effects of monetary policy moves, central banks are challenged to strike a balance between controlling inflation and not dampening growth," FAMI added.
Security Bank Corp. Chief Investment Officer for Trust and Asset Management Group Noel S. Reyes said in an e-mail: "Market was anticipating higher yields [last] week at the onset given strong GDP (gross domestic product)…that made a move by the BSP during this week's meeting highly likely in order to contain coming inflation."
Mr. Reyes said trading last week was mostly end-user driven "as dealers try to remain light ahead of the increased uncertainty on where the yields will be capped."
As expected by eight out of 17 analysts polled by BusinessWorld, the central bank's Monetary Board on Thursday started unwinding its pandemic-era support for the economy as it raised benchmark rates by 25 bps to quell rising inflation.
The central bank will also reset its bond-buying into a regular liquidity facility that will ensure the sustainability of its balance sheet.
At last week's meeting, the BSP revised its inflation forecast this year to 4.6% from 4.3% previously, above the 2-4% target band. The central bank also hiked its 2023 inflation forecast to 3.9% from 3.6%.
"With inflation risks dominating the market, we think that the peso yield curve will join the bear-flattening trend (short-term rates rising faster than long-end) as the central bank poises to hike further and wind down GS purchases," FAMI said.
For the coming weeks, the trend for a flatter yield curve will remain in focus, tracking US Treasury yields, Mr. Reyes said.
"Note that curve inversion should not be in our picture given our strong GDP expected performance. Stagflation is not in our forecast for the Philippines and the slope of our curve should not be as flat as the US," he said.
Mr. Reyes added that the market will attempt to move higher after the average rate of the seven-year paper auctioned off last week breached 6%.
The Treasury raised just P20.1 billion out of the programmed P35 billion via the fresh seven-year T-bonds it offered last week despite tenders reaching P46.94 billion as investors asked for higher returns due to expectations of a BSP rate hike.
The tenor was partially awarded at 6.5%, 31.1 bps higher than 6.189% quoted for the seven-year paper at the secondary market prior to the auction. The government capped bids at 6.6%.
"Speculative talk of 7% on the 10-year (bonds) auction abound, but this will just be rejected by the BTr (Bureau of the Treasury), likely," Mr. Reyes said.
The Treasury is scheduled to offer reissued 10-year debt worth P35 billion on May 24. The paper has a remaining life of nine years and eight months. — A.O.A. Tirona