Peso may decline vs the dollar on expectations of weak GDP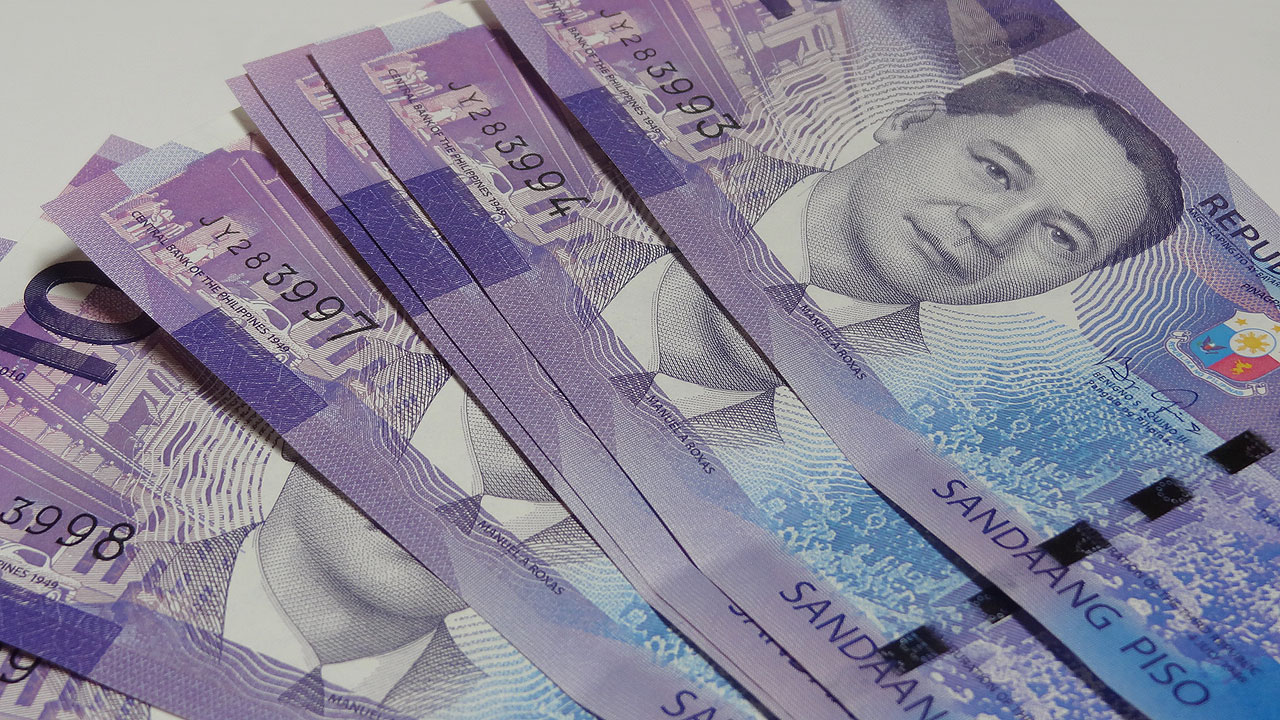 THE PESO may depreciate versus the greenback this week amid expectations of slower economic growth in the third quarter. 
The local unit closed at P50.33 per dollar on Friday, gaining 26.5 centavos from its P50.595 finish on Thursday, based on data from the Bankers Association of the Philippines.
The peso also appreciated by 8.5 centavos from its finish of P50.415 per dollar a week earlier.
The local unit's Friday close was its strongest since it ended at P50.27 on Sept. 22, Rizal Commercial Banking Corp. (RCBC) Chief Economist Michael L. Ricafort said in a Viber message.
Positive market sentiment on the back of improved external trade also supported the peso on Friday, Mr. Ricafort said.
Data released by the Philippine Statistics Authority (PSA) showed the trade deficit widened by 14% to $4 billion in September from the $3.51-billion gap in August and by 67% compared with the $2.27-billion deficit a year earlier.
That month, imports rose by 24.8% to $10.67 billion from a year earlier, while exports increased by 6.3% to $6.68 billion.
The widely expected decision of the US Federal Reserve to announce the start tapering its asset purchases while maintaining rates near zero also boosted the peso, UnionBank of the Philippines, Inc. Chief Economist Ruben Carlo O. Asuncion said.
The Fed, as widely expected, announced on Wednesday that it would begin reducing its $120 billion in monthly purchases of Treasuries and mortgage-backed securities at a pace of $15 billion per month, with a plan to end the purchases altogether in mid-2022, Reuters reported.
Fed Chairman Jerome H. Powell also said they could stay patient and keep rates low to support the economy as the job market remains weak.
Peso-dollar trading week could be affected by the third-quarter gross domestic product (GDP) data set to be released by the PSA on Nov. 9, RCBC's Mr. Ricafort said.
A BusinessWorld poll of 18 economists yielded a median estimate of 4.7% for third quarter GDP growth. If realized, this would be slower than the 11.8% expansion seen in the April to June period but still better than the 11.5% contraction a year earlier.
Analysts said the lockdown imposed amid the Delta variant surge last quarter likely dented growth.
Meanwhile, UnionBank's Mr. Asuncion said the market will also consider the US nonfarm payrolls data released last week.
Reuters reported Friday that US employment gains were better than expected in October as challenges caused by the infection surge during the summer season subsided.
The US Labor department said nonfarm payrolls rose by 531,000 jobs last month, higher than the 312,000 logged in September as well as the 450,000 jobs estimated by economists in a Reuters poll. 
For this week, Mr. Asuncion said he expects the local unit to move within P50.40 to P50.90, while Mr. Ricafort gave a stronger forecast range of P50.15 to P50.60 per dollar. — Luz Wendy T. Noble with Reuters