Peso to climb vs dollar on US firms' earnings, lower coronavirus cases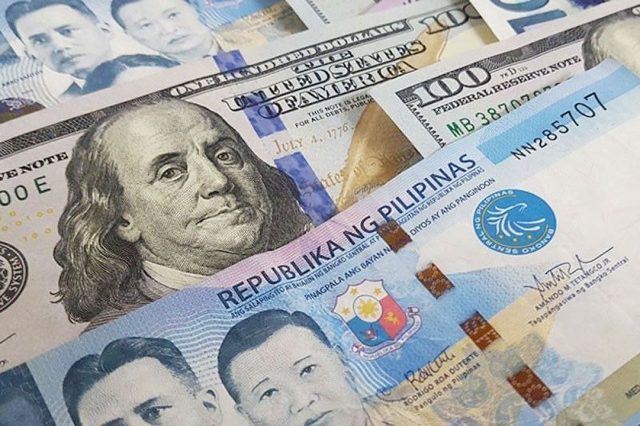 THE PESO is expected to appreciate versus the greenback this week on stronger US corporate earnings in the third quarter and the decline in coronavirus infections in the Philippines.
The local unit ended trading at P50.786 per dollar on Friday, appreciating by 2.4 centavos from its Thursday close of P50.81, data from the Bankers Association of the Philippines showed.
However, the peso shed 7.5 centavos from its P50.711-per-dollar finish a week earlier.
The peso strengthened versus the dollar on Friday as the market was assured that the Bangko Sentral ng Pilipinas (BSP) will keep its accommodative stance to support the economy, UnionBank of the Philippines, Inc. Chief Economist Ruben Carlo O. Asuncion said.
BSP Governor Benjamin E. Diokno said the economy is well-placed to recover despite tightening global monetary policy conditions, as it is shielded by ample dollar reserves and an external payments position supported by remittances, business process outsourcing earnings, and an expected recovery in export revenues.
"Continued monetary policy support remains crucial in supporting private demand and encouraging banks to lend and thereby allow the economic recovery to gain more traction," Mr. Diokno said.
Lower oil prices also supported the peso, Rizal Commercial Banking Corp. Chief Economist Michael L. Ricafort said.
Bloomberg reported on Thursday that oil prices saw their sharpest decline in two weeks due to concerns over global economic growth.
Oil futures in New York dropped 1.1% on Thursday after touching their highest levels since 2014 this week.
Fuel prices have been increasing in recent weeks due to supply issues, with major exporters yet to agree on further increasing production to meet growing demand.
Mr. Asuncion said this week, the market will continue to look for leads from US corporate earnings reports, as investors have already priced in a possible tapering of asset purchases by the US Federal Reserve by November.
At home, data showing local coronavirus infections continue to subside could also support the peso against the dollar, he added.
Active cases rose by 5,807 to 63,051 on Saturday, based on data from the Department of Health.
Meanwhile, Mr. Ricafort said the market will also monitor announcements related to restriction measures.
Metro Manila is under Alert Level 3 from Oct. 16 to 30, allowing for more relaxed restriction on economic activities. The alert level system was extended to other regions on Tuesday amid lower cases and healthcare utilization rate seen in some provinces.
For this week, Mr. Ricafort expects the local unit to move within P50.50 to P50.95, while Mr. Asuncion gave a forecast range of P50.60 to P50.90 per dollar. — L.W.T. Noble with Bloomberg