Banks fined P859M from 2018 to 2020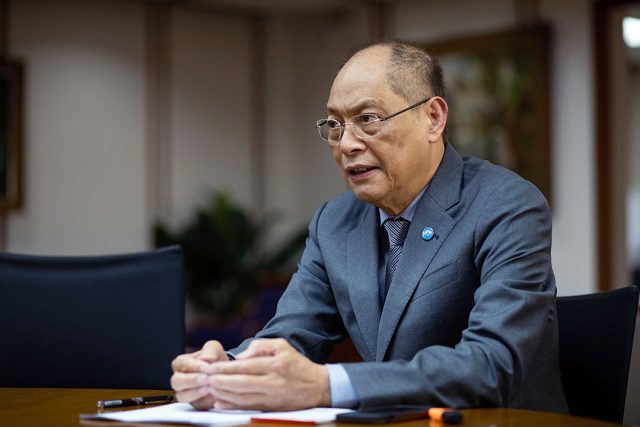 THE CENTRAL BANK slapped fines worth P859 million on financial institutions from 2018 to 2020, with noncompliance with mandated credit quotas among the top violations, Bangko Sentral ng Pilipinas (BSP) Governor Benjamin E. Diokno said on Thursday.
"Top violations include noncompliance with BSP issuances on mandatory credit and other BSP regulatory requirements," Mr. Diokno said in an online briefing.
Of the P859 million in penalties, P7.2 million were imposed on directors, trustees, officers or employees of BSP-supervised financial institutions, he said.
In the first quarter, banks lent P765.92 billion to the agriculture and agrarian reform sectors, equivalent to only 10.59% of their loanable funds. This was below the 25% mandated under Republic Act 10000 or the Agri-Agra Reform Credit Act of 2009, of which 10% must go to the agrarian reform sector and 15% to the agriculture sector.
Meanwhile, lenders extended credit worth P448.458 billion to micro-, small-, and medium-sized enterprises (MSMEs) in the same period, which was just 5.24% of their total loan portfolio. This was below the 10% mandated by the Republic Act 6977 or the Magna Carta for MSMEs, under which banks should allocate 8% of their loan book for micro and small enterprises and 2% for medium-sized enterprises.
The central bank said financial institutions and their officials can explain their side and submit supporting evidence to contest fines imposed on them.
"Violation of laws, rules, and regulations result in safety and soundness concerns and are rooted in issues in corporate governance, oversight and management or of the BSP-supervised financial institutions," Mr. Diokno said.
"Sound governance practices promote the stability of the Philippine banking system," he added.
The BSP in August also released updated guidelines on fines for banks' transactional violations of lenders aligned with the provisions of Republic Act 11211 or The New Central Bank Act, as amended.
BSP Director for Financial Supervision Department IX Dindo R. Santos said a heavier penalty regime for banks for their implementation of anti-money laundering (AML) measures could help the country exit the "gray list" of the Financial Action Task Force (FATF).
"The system is aimed to change the behavior so that the BSP-supervised financial institutions and the directors and officers can run the bank in a prudent manner," Mr. Santos said in the same briefing.
"This will [help us] achieve in terms of compliance with AML standards and the requirement, this will help us in exiting the list," he added.
In June, the country was included in the FATF's gray list or jurisdictions under increased monitoring for their implementation of tighter anti-money laundering and counter-terrorism financing rules.
Mr. Diokno, who is also the Anti-Money Laundering Council's chairman, said they expect the country to exit the gray list by January 2023. — LWTN