Yields mixed after Fed remarks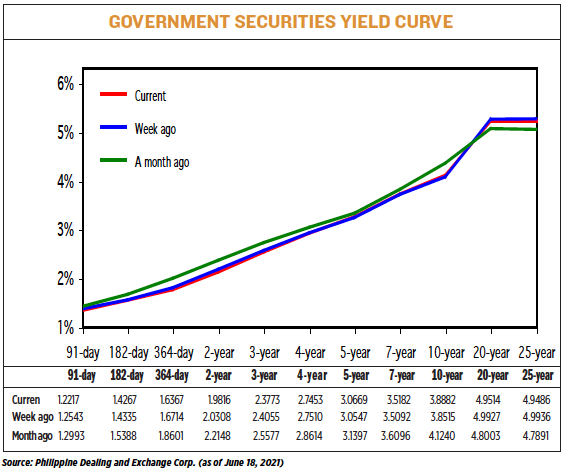 YIELDS ON government securities ended mixed last week as the US Federal Reserve signaled it was no longer guaranteeing its policies would be dovish.
The yields, which move opposite prices, fell by 1.69 basis points (bps) on average from a week earlier, based on the PHP Bloomberg Valuation Service Reference Rates posted on the Philippine Dealing System website.
At the short end of the yield curve, rates of the 91-, 182- and 364-day Treasury bills (T-bills) went down by 3.26 bps, 0.68 bps and 3.47 bps, respectively to 1.2217%, 1.4267% and 1.6367%.
The belly of the curve ended mixed as yields on the two-, three- and four-year Treasury bonds (T-bonds) fell by 4.92 bps to 1.9816%, 2.82 bps (2.3773%) and 0.57 bp (2.7453%), respectively. The rates of the five- and seven-year T-bonds rose by 1.22 bps and 0.9 bp to fetch 3.0669% and 3.5182%.
At the long end, 10-year notes rose by 3.67 bps to 3.8882%, while the 20- and 25-year debt paper dropped by 4.13 bps (4.9514%) and 4.5 bps (4.9486%), respectively.
"The initial catalyst had been the Bureau of the Treasury's 10-year bond auction," Jose Miguel B. Liboro, head of fixed income at ATRAM Trust Corp., said in an e-mail. Yields rose further toward the end of the week as hawkish comments from the US Fed caused a spike in US Treasury yields, he added.
The bond market was now more confident that runaway inflation would not occur, said Nicholas Antonio T. Mapa, a senior economist at ING Bank N.V. Manila. "Local bonds were also upbeat, with investors hopeful that inflation would slow in the coming months," he said in an e-mail.
The Bureau of the Treasury borrowed P35 billion through reissued 10-year T-bonds with a remaining life of nine years and 24 days on Tuesday, amid falling rates and supportive monetary policies here and overseas.  
Bids were oversubscribed 2.4 times at P84.24 billion, prompting the bureau to open its P10-billion tap facility amid strong demand.
Mr. Liboro expects yields to continue to move gradually lower. "Notwithstanding the upward pressure on global yields, the main driver locally will be inflation, which has shown signs of plateauing and will be likely to spur additional buying interest on local bonds over the coming months," he added.
This week, all eyes will be on the Philippine central bank's policy meeting on June 24.
BDO Unibank, Inc. Chief Market Strategist Jonathan L. Ravelas in a Viber message said he expects local benchmark interest rates to move sideways in the near term.
A BusinessWorld poll of 16 economists last week showed the BSP would probably keep its record-low policy rates to support economic recovery. — Lourdes O. Pilar