Average monthly pay of corporate executives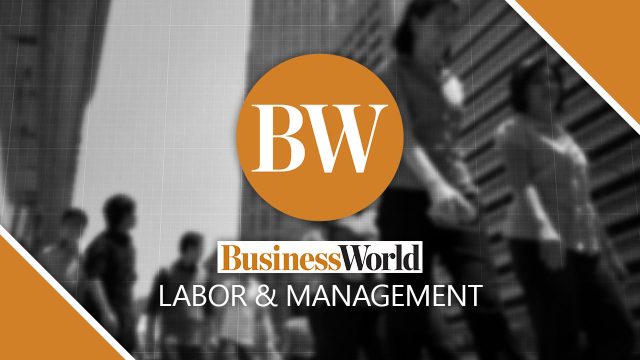 I'm working on my MBA thesis on management compensation. Unfortunately, the internet can't provide me any information that pertains to Filipino executives. I tried checking with two multinational consulting firms that are known to conduct annual compensation surveys. So far, they have not responded to my request. Could you please help me determine the average monthly salary of managers, directors, assistant vice-presidents, vice-presidents, first vice-presidents, and senior vice-presidents across all industries? — Pink Rose.
A man stopped at a coffee shop for a break to his road trip. He sat down to order a cup of coffee and a doughnut. He was looking for a bit of conversation with the waitress when she brought in what he ordered: "It sure looks like rain in few minutes, doesn't it?" The waitress smiled and replied: "I can't help but to tell you this. We love the rain as it helps us sell coffee and doughnuts."
It's the same thing. Scarcity of accurate and objective information like salary survey results is what makes them valuable. Making them scarce and confidential helps these consulting firms keep selling their salary surveys. To put it in another way, the lack of credible information about executive pay and perks makes these firms sell them at a minimum of $10,000 per report. So, how can you blame them for keeping it from you and the general public?
Business is business.
Indeed, compensation surveys are very important for any organization that wants to keep their executive pay and perks competitive. It's the best approach to attract and retain the best and the brightest workers and managers to help achieve corporate goals. Otherwise, you'll end up in a situation where your human resource (HR) department is preoccupied with the cyclical hiring of talent. And that's assuming there are takers out there.
In the meantime, who will handle the tasks vacated by the resigned workers?
In any situation, salaries and benefits are treated as confidential. Let me reiterate what I wrote in this space in 2015: "Consider the whale. Whenever he spouts off, he runs the risk of being harpooned. The same thing can happen in the workplace. If some people are receiving high pay and more benefits than you, you are likely to consider person as someone who is not worth that much."
To avoid this situation, organizations must keep compensation confidential in the same manner they should be proactive in ensuring their pay and perks for both their ordinary workers and managers are priced and valued according to industry standards, which can only be provided by the pay and perks survey.
AVERAGE EXECUTIVE PAY
Just like you, I tried checking with two prominent consulting firms known for their compensation surveys. I was thinking, unless we ask for something, the answer is always "no." So, that's what I did. As of this time, no reply yet from the two consultancies. That proves my point earlier. In the same manner, I ventured asking the Employers' Confederation of the Philippines (ECOP) and the People Management Association of the Philippines (PMAP) for their latest surveys. I was told by ECOP their latest survey was done more than five years ago. PMAP, on the other hand says it's planning to conduct a survey this year.
Just the same, I don't want to disappoint you. I talked to an executive headhunter, a talent rewards expert, and a seasoned HR professional who retired as senior vice-president of a multinational bank. And here's what I discovered for the latest average monthly basic pay of the following executives across all industries:
Managers are getting P80,000 to P120,000 a month. Senior managers, P150,000 to P250,000. Directors, P250,000 to P350,000. There's no data for assistant vice-presidents. For vice-presidents, P350,000 to P450,000. First vice-presidents, P350,000 to P400,000, and senior vice-presidents, P400,000 to around P500,000.
The salary ranges vary according to the length of employment and merit increases.
The retired "seasoned HR professional" I'm talking about earlier related the difficulty of hiring his replacement as interviewees were already receiving between P800,000 to P900,000 per month. That means he himself must have received that much money before his retirement.
In another major bank, I know of at least one senior vice-president who received more than one million a month until his retirement last year. That's an outlier. That's because he has spent close to 38 years in that bank, which gives us a good illustration on the advantages of staying in one company until retirement.
SUPPLY AND DEMAND
Executive compensation is a tricky issue for many organizations. That's because we're not only talking here of the monthly base pay but a lot more. It includes performance bonuses, stock options, deferred compensation for tax purposes, club memberships, representation expenses, short-term and long-term incentive plans, executive perks like a high-end car, housing allowance, medical and hospitalization coverage that includes family protection, retirement packages, and a lot more.
The economic principle of supply and demand also applies to executive compensation. If you don't pay what the market demands, you'll be left with monkeys willing to accept peanuts. In the long-term, these "monkeys" are more expensive as they can't deliver the company's expectations or are wreaking havoc on operations. In this competitive world, you can't afford to do that, especially during the pandemic.
The best approach is to pay executives according to what they can bring to an organization. They must be compensated well because they're bringing value to the shareholders. And we must understand that simple logic. Organizations must pay based on the executives' actual performance. Sometimes, it's best to overpay than underpay executives, who can be instantly kicked out of their jobs at the first sign of failure.
Send anonymous questions to elbonomics@gmail.com or via https://reyelbo.consulting