Evil Dead Rise, a horror sequel about motherly love gone awry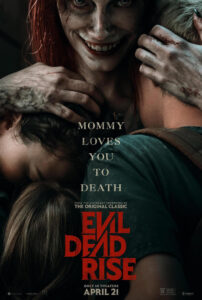 LOS ANGELES — Evil Dead, the popular zombie film franchise, is back for a fifth installment with a mother possessed by a parasitic demon that talks, taunts and devours souls.
This twist in Evil Dead Rise, from traditional mute zombies, is something that director Lee Cronin enjoys.
"It was kind of part of the creation of the family and the mother, that idea of being able to subvert a mother in a way and put her in a place where she could really get under the skin of the innocence in her children," Cronin said in an interview.
The film follows Ellie, played by Alyssa Sutherland, and her three young children in their Los Angeles apartment. Their lives are disrupted when her estranged sister Beth, played by Lily Sullivan, arrives.
In a dark comedic turn, an evil spirit possesses Ellie and turns her against her family.
The positive test audience response scored the New Line Cinema film an April 21 theatrical release rather than the originally planned HBO Max premiere.
"What could be scarier than your mother turning on you — the person that you would think you would find solace and security in?" said Ms. Sutherland.
The plot struck a chord with Ms. Sutherland who imagined a mother's fear of harming her child in any way. The film is daring for not holding back, she said, while admitting that the disturbing story may put some people off.
The original low budget 1981 Sam Raimi film launched the cult franchise, which now includes a remake, three sequels, a television series and a musical. — Reuters