NAMCYA's young virtuosos play in a virtual concert series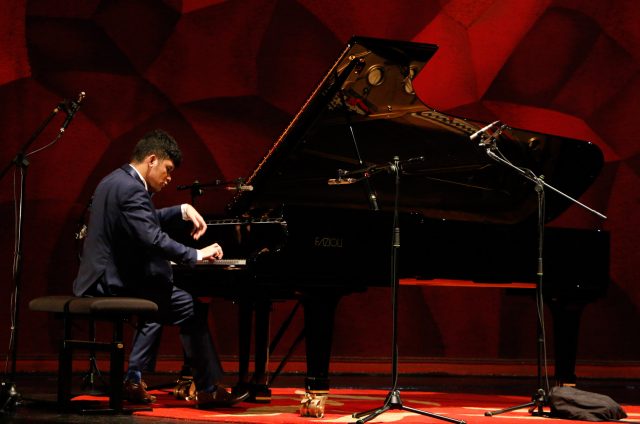 FIVE young pianists will showcase their talent in a special virtual concert series on Feb. 9-13. Their performances will be live streamed at the YouTube Channel and Facebook Page of the Cultural Center of the Philippines (CCP).
Nathan Samuel Gemina, Michael Angelo Valenciano, Aidan Ezra Baracol, Inna Montesclaros and Ella Gabrielle Gaw will each perform a classical piece in a 15-minute solo recital, showing their musicality and piano skills using the CCP Fazioli piano, one of the few in the country.
The concert series was organized by the National Music Competitions for Young Artists (NAMCYA) which has been producing outstanding young pianists through the Junior and Senior Piano categories of the competition since 1973.
A grade-10 scholar at the Philippine High School for the Arts, Mr. Baracol won first prize in 2020 NAMCYA Junior Piano category and Best Interpretation of the Contest Piece in the same competition, among other awards.
Nine-year-old Ms. Gaw enjoys playing Beethoven and Mozart and has won several awards. She is preparing for her solo concerts featuring Bach's intervention works, Beethoven sonata, and D. Shostakovich pieces.
A music degree graduate at the Royal College of Music in London, Ms. Montesclaros is known for her warm musical tone and in-depth understanding of musical pieces. In 2019, she completed a series of concerts in the Philippines to promote classical music and raise funds for advocacy projects for women.
Mr. Valenciano, a Piano Performance degree holder from the UST Conservatory of Music, is a 2018 NAMCYA 2nd place winner. He was a full scholar of the Friends for Cultural Concerns of the Philippines.
Also a graduate of the UST Conservatory of Music, Mr. Gemina won the 2nd prize in the 2019 NAMCYA Senior Piano category, and was a finalist in the 2016 Junior Piano category. He is currently a piano teacher in ACTS Manila and a member of the Piano Teacher's Guild of the Philippines.
The concert series — which was pre-recorded at the CCP's Tanghalang Nicanor Abelardo — will be hosted by pianist Raul Sunico. The pianists all performed on the cultural center's Fazioli piano.
Best described as perfectly balanced, the Fazioli pianos are highly regarded for their rich tone and feather-like touch. The CCP's has been used and played for concerts featuring Dr. Sunico, pianist Mary Anne Espina, and PPO's pianist/harpist Madeline Jane Banta.
For more updates, follow the CCP and NAMCYA Facebook Page.