Whether it be decorative pieces, uniquely designed dinnerware, fashion items which are handwoven with indigenous prints or printed with artworks, or art history books, uniquely designed are not only for aesthetics but also function, here are some art-sy gift suggestions.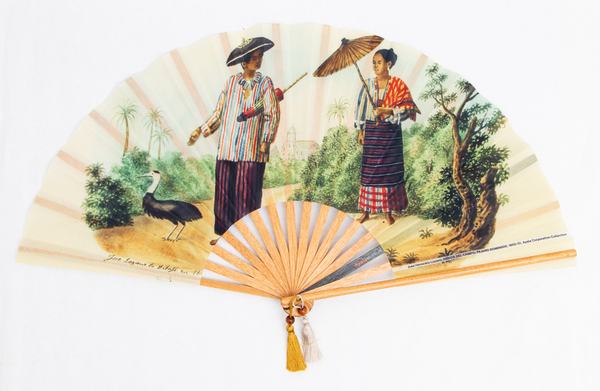 Ayala Museum Shop
Since its soft opening earlier this December, the Ayala Museum has also been welcoming guests to the Ayala Museum Shop. Its collection includes books, kitchenware, home décor, fashion items, and toys, many designs of which are based on items in the museum's collections.
Possible gift items include fans featuring reproductions from an album of watercolor paintings by Jose Honorato Lozano depicting inhabitants, costumes, traditions of 19th-century Philippines (P999) and fans made of the handwoven inabel cloth of the Ilocos region (P935). There are also pillowcases sporting prints of Juan Luna paintings (P1,999), a "Color Your Own Zobel" (horse, dog, carabao) kit (P1,999), Damian Domingo metal book ends (P999), museum collection umbrellas (P599), hand-painted serving trays (P949.75 to P1,199.75), T-shirts by Manuel Baldemor (P599), and canvas silkscreen printed eyeglass pouches (P599), among many other options.
There is also an Art and Care Kit (part of the proceeds of which will be donated to the museum's Art & Wellness program for frontliners) which includes a Jose Lozano art tote bag, face mask, stickers, and 12 activity sheets (P1,249.95).
Orders are processed daily from Tuesday to Saturday. Orders received before 3 p.m. (Manila time) from Tuesday through Saturday are processed on the same day while orders received after this time are processed on the next business day. If the order was placed after 3 p.m. on a Saturday, it will be processed on the next business day (Tuesday). Orders placed on a Sunday, Monday, or holiday will be processed on the next business day. Estimated delivery date will usually be within three to five business days in Metro Manila and up to 10 days for provincial orders (excluding Saturday, Sunday, and public holidays).
For more information, visit Ayala Museum Online Shop-Ayala Museum Online Shop, or e-mail: shop@ayalamuseum.org.
Ortigas Foundation Library
The Ortigas Foundation Library's souvenir and gift items all feature images from their rare Filipiniana collections — from images of 19th century Filipinos, to Philippine flora, to old photographs. Items include bags, shirts, books, paper products, and more.
Unique items include 20×30 inch poster map prints (P1,500) featuring the Murillo Velarde Philippine Map from 1734 which includes the shoal originally called Panacot, today known as Panatag, Scarborough, and Bajo de Masinloc, and a 1928 map of Fort McKinley, now known as Bonifacio Global City (available for pickup only). There are also mugs (P150) with images from the Boxer Codex among other prints, umbrellas (P450) with a famous photo of a Sangley Filipina in the 19th century, and an eco-straw (P130).
Paper products include calendars (P150), notebooks (P120 to P150), and cards (P50 to P150) with illustrations of Philippine fish, flowers, costumes, and archival photos.
Premium items include travel bags (P1,200), pocket net bags (P950), and a variety of scarf designs (P1,450) including one printed with a handwritten passage from Noli Me Tangere. T-shirts are printed with designs ranging from costumes, to fish, to vintage cigarette wrappers (P425). There are also tote bags (P350 to P490), and leatherette passport and luggage tags (P485).
The Ortigas Foundation Library located at 2nd Floor McKinley Building (Unimart), Greenhills Shopping Center, San Juan City. It is open on Mondays to Fridays (9 a.m. to 3 p.m.). It is closed on holidays. The collection is available online at the https://www.facebook.com/Ortigas.Foundation/shop/. For more information, visit the Ortigas Foundation Library Facebook page or contact 0977-728-5130 or 0947-426-1432.
Arts & Letters
Among other arts-focused items, Arts & Letters offers limited-edition boxed gift sets, inspired by Lewis Carroll's Alice in Wonderland and Antoine de Saint-Exupéry's The Little Prince. Sets come with a mug or a pair of mugs featuring characters from the literary inspirations and a 250-gram pack of barako blend coffee from Benguet. A Cinderella set, based on Charles Perrault's fairy tale, has a tote bag, a pouch and a mug. All sets come in eco-friendly packaging.
And then there is the new "Inspired by the Masters" sling bag collection. Made from canvas with a zipper and magnetic closure on flap, each bag highlights the iconic subject of a world-renowned artist: the Edgar Degas-inspired Ballerina (red), and the Vincent Van Gogh-inspired Iris (blue) and Sunflower (yellow).
Check out more art-based gifts on the artsandlettersmanila page on Facebook or Instagram or e-mail artsandlettersmanila@gmail.com.
Artbooks.ph
If you are looking for a gift item for an art enthusiast, Artbooks.ph is the place to go. The online bookstore has a wide range of tomes to choose from.
Here are 12 books under P1,000: Walk Manila (P680), a guidebook which identifies 100 historic sites and structures, including those deemed as heritage-at-risk in the different districts of Manila; Poster/ity: 50 Years of Art & Culture at the CCP (P750), which documents a selection of over 200 posters of exhibitions, performances, and other events held at the Cultural Center of the Philippines (CCP) from its opening in 1969 to the present; Drawings by Chabet (P245.54), reproductions of 10 posters from the archive of the CCP; Czar Kristoff: To Destroy Is To Build (P335), an examination of a series of videos of building demolitions found on Instagram; Botika Bituka (P500), a limited edition book based on Cesar Hernando's first experimental short film Botika Bituka documenting the state-sanctioned violence and murder during the administration of Ferdinand Marcos; Myself, Elsewhere (P600), the first volume of a three-book memoir by historian and journalist Carmen Guerrero Nakpil covering the period between 1922 and 1945; Culture and History (P795), a collection of 15 essays by National Artist for Literature Nick Joaquin; Pacita Abad: Door to Life (P750), documentation of an exhibition featuring Pacita Abad's mixed-media paintings based on a trip to Yemen in 1998; Bahay Kubo (P360), a picture book based on the beloved Filipino children's song; First Around the Globe: The Story of Enrique (P245), takes readers to the world of Ferdinand Magellan's Age of Discovery and introduces them to Enrique, Magellan's servant and interpreter and the accidental balikbayan who was an extraordinary witness to history; and, Mangled Mornings (P340), a poetry collection of Aida Santo which spans more than half a century.
While the cut off on deliveries for provincial and international orders and for orders within Metro Manila has passed, they can still be placed for later deliver. Artbooks.ph will go on holiday break from Dec. 22 to Jan. 3. Orders made within that period will be processed when they resume operations.
Tesoros Philippine Handicrafts
The famous Philippine handicrafts and retail store offers a selection of gift items for men, women, children, as well as decorations, and souvenirs.
Items for men include wallets printed with artworks (P379) and card holders (P319), and pouch bags printed with Philippine landscapes (P199). Items for women include Fashion Bundle Sets (P999 to P1,499), a bamboo bag with indigenous patterns (P3,980), "everyday" zippered bags (P1,350), and abaca slip-ons (P1,599). Items for children include models of the Philippine jeepney (P143 to P1,327) and turo-turo plushie toys (P369 to P739).
Christmas items include the mini Filipino Santa Claus (P319 to P749), capiz star décor (P99), and a variety of nativity sets (P999 to P3,919).
New arrival items include the Icoño Fan (P750), bullion embroidered face masks (P329), and a four-piece set of embroidered ramie placemats and napkins (P2,999).
Cash on delivery transactions are accepted for orders within Metro Manila only. Shipping is free within Metro Manila for a minimum purchase worth P3,000. Shop online at www.tesoros.ph or drop by Tesoros Makati at 1016 A. Arnaiz Ave., Makati from Mondays to Saturdays (9 a.m. to 6 p.m.).