A closer look at Super Tuscans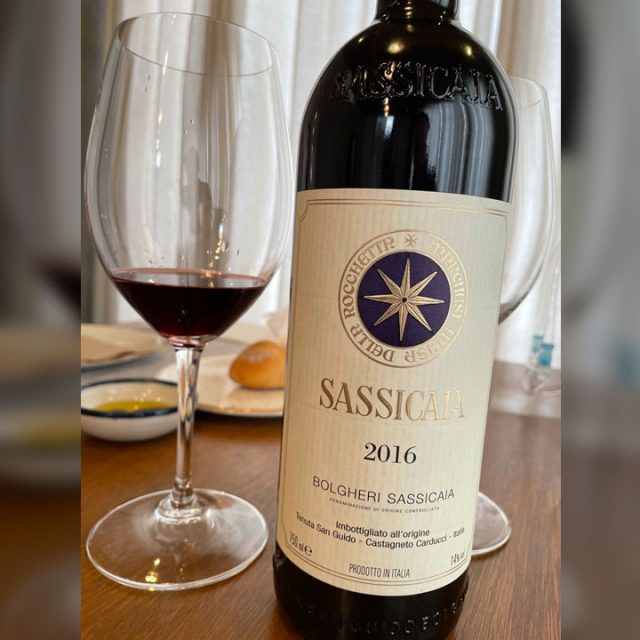 SUPER Tuscans sound so hyperbolized — really… what makes any wine SUPER??!
When I first heard this term in the mid-1990s around the time I started my wine career, I did not know how to wrap my head around this wine concept. Back then, my limited knowledge of Tuscan wines covered the Chiantis and the Brunellos (di Montalcino) and that Sangiovese was the main grape varietal of any interest in that region. But then Sassicaia happened!
Wine was already flourishing in Hong Kong, even prior to the Handover of 1997, and I was a Pinoy expat covering the Asia-Pacific market based in Hong Kong. Being there and selling wines as a job was a blessing for any eager wine student like myself. Because I was part of the wine industry, I got to attend various wine events, tastings, seminars, exhibitions, and hang out with wine buddies, especially F&B Managers of hotels. This unforgettable experience catapulted my wine knowledge and fed my voracious thirst for genuine wine appreciation. Nothing substitutes for wine tasting!
During that period, on the more premium spectrum of wine, Grand Cru Bordeaux were already huge, both Napa and Australia's Penfolds were also gaining ground, and Italian wines were the usual Brunello, Barolo, Barbaresco (the 3 Bs), but the Super Tuscans were also starting to surface.
Hong Kong always is a trend-setter, and what's hot in the wine and spirits world, Hong Kong gets it first in the Asian region. Solaia and Sassicaia were the first two Super Tuscans I ever tasted. Sadly, I can't recall the vintages nor the prices, and even my tasting notes, written on a paper coaster, are long lost — but these wines were not very Italian-like at all in my vivid recollection. In fact, they were not even Bordeaux-like, but more like crossbreed between a Napa Cabernet Sauvignon and a Brunello di Montalcino.
ORIGIN OF SUPER TUSCANS
Nobody really knows who coined the term "Super Tuscan" except that every wine critic, from Robert Parker to Jancis Robinson to James Suckling to the Wine Spectator, have been using this term since the 1980s to describe Tuscan wines that do not the meet the strict conditions of Italy's highest wine classification of Denominazione di Origine Controllata e Garantita (DOCG), and yet are wines of good quality.
To be accredited as a DOCG, producers have to abide by strict rules governing the production of their wines, including the allowed grape varietals, the yield limits, grape ripeness, acceptable winemaking process, barrel usage and maturation, up to bottle aging before release. The biggest reason why the Super Tuscan term came to fruition was because some Tuscan wine producers used unsanctioned grape varietals, in particular varietals of French origin including Bordeaux luminaries cabernet sauvignon, merlot, and cabernet franc, and rhone royalty syrah in their wines. This was started by a few in the late 1960s/early 1970s but really caught on in the 1980s. The Italian wine authorities back then were very adamant about using only grape varietals indigenous to the Tuscan region and these were red grapes sangiovese, canaiolo, and corolino, and green grapes malvasia and trebbiano. 
Adding the prefix "Super" to Tuscan was then viewed as appropriate because prior to 1992, wines made outside of the rules of the DOC/DOCG could only get a generic and most basic classification of Vino da Tavola ("table wine," VdT), and highly acclaimed wines like pioneers Sassicaia (whose first commercial vintage came out in 1968) and Tignanello (first vintage in 1971) were obviously mislabeled as just VdTs. These two brands were among the earliest Tuscan wines made from French varietals and they were, over time, viewed to have been equal or even better — with matching high prices — when compared to their DOC/DOCG Tuscan counterparts.
Eventually a 4th Classification (after VdT, DOC, DOCG) was created, the more wide-encompassing Indicazione Geografica Tipica (IGT). So, wines that did not make the cut of their DOC/DOCG set standards all fall under this more lenient IGT classification. Tuscany by itself has 41 DOC and 11 DOCG classifications, so technically, Super Tuscans can be IGTs that come from any of these 52 DOC/DOCG zones and sub-zones.
Even with the advent of the IGT classification, the term "Super Tuscan" persisted, as it does sound better and more marketable.
GETTING RECOGNITION AS DOC CLASSIFICATION
Super Tuscans got a big boost in legitimacy when the Bolgheri wine region got its DOC classification in 1994. DOC or Denominazione di Origine Controllata (without the "G") is the second highest wine classification just behind DOCG. Bolgheri is like the de facto home of Super Tuscans because it is the DOC with the biggest percentage of plantings of cabernet sauvignon and merlot. Bolgheri DOC also happened to be the home of both Tenuta San Guido, makers of Sassicaia, and Tenuta dell'Ornellaia, makers of Ornellaia and presently, the hottest Super Tuscan now, the 100% Merlot Masseto.
To get a classification of Bolgheri DOC, the wines produced in this sub-zone need to contain 10-80% of cabernet sauvignon, up to 80% of merlot, and up to 30% of other red varietals. However, under the Bolgheri DOC rule, Masseto being 100% merlot does not qualify, so despite its skyrocketing price, Masseto is only classified as an IGT.
A more recent DOC that also emanated from the Super Tuscan movement is the Maremma Toscana DOC, created in 2011. In this DOC, for red wines, the requirement is 60% or more of ccabernet ssauvignon, ssangiovese, mmerlot, and/or ssyrah, and a maximum 40% of any other allowed red varietals in the region. Varietal labeling is also allowed in Maremma Toscana DOC, which is not a common sight for a Tuscan DOC/DOCG wine.
And lastly, Sassicaia got its own sub-zone within the Bolgheri DOC, when the Bolgheri Sassicaia DOC was created in 2013. This is the ultimate recognition of Sassicaia as no other wine estate ever had their own Italian wine denomination.
The DOC classification recognizing the Super Tuscans in these sub-zones made these Tuscan treasures mainstream wines.
The Super Tuscan phenomenon in the late 1990s/2000s created a bandwagon of "me-too" wines using primarily popular French Bordeaux varietals and syrah all over Tuscany. The price of these wannabee "Super Tuscans" range from sub-€10 to highs of over €100 per bottle, but quality of these wines has sadly been all over the place.
I remembered my visit to Florence to attend the Italian Buy Wine Fair in 2013. Since the Chianti wine region is super accessible to Florence, I saw several Tuscan wine producers in the exhibition. And in this wine fair, I got to taste a lot of good, decent — but also many forgettable — IGT/Super Tuscan wines. A good number, in fact, tasted kind of like simple New World-style Cabernet Sauvignon and Merlot.
Being still more of a wine purist, I prefer Tuscan classics, namely: Chianti Classico Riserva, Vino Nobile di Montepulciano, and, of course, the Brunello di Montalcino. I also think of Sangiovese as the only authentic Tuscan varietal as opposed to the French imported varietals. But regardless of my "purist" preference, I still got seduced by the Super Tuscans. Who honestly wouldn't? This came from the amazing Super Tuscan wines I experienced personally.
I fortunately had tasted in the past some of the most successful Super Tuscans, including the likes of Sassicaia, Antinori's Tignanello & Solaia, Masseto & Ornellaia (under the Frescolbaldi group since 2005), Ruffino's Modus, and Banfi's Execelsus. My favorite in this elite list is the Sassicaia. I was very fortunate to be able buy one from a friend — the Sassicaia 2016 vintage, which also got a perfect score of 100 points from wine demigod Robert Parker. This wine, made from majority cabernet sauvignon with cabernet franc, was oozing with fragrances of black currant, ripe berries, lavender. It was very expressive, medium bodied with silky texture, and a long lingering explosion of flavors from nutmeg to delicious flambe berries. While the price of Sassicaia is quite prohibitive, this wine is still worth the occasional spending  splurge when we are celebrating something special.
Which Super Tuscan is your favorite wine? Let me know.
The author is the only Filipino member of the UK-based Circle of Wine Writers. For comments, inquiries, wine event coverage, wine consultancy and other wine related concerns, e-mail the author at protegeinc@yahoo.com or via Twitter at www.twitter.com/sherwinlao.