For a bit of kilig, play a romantic audiobook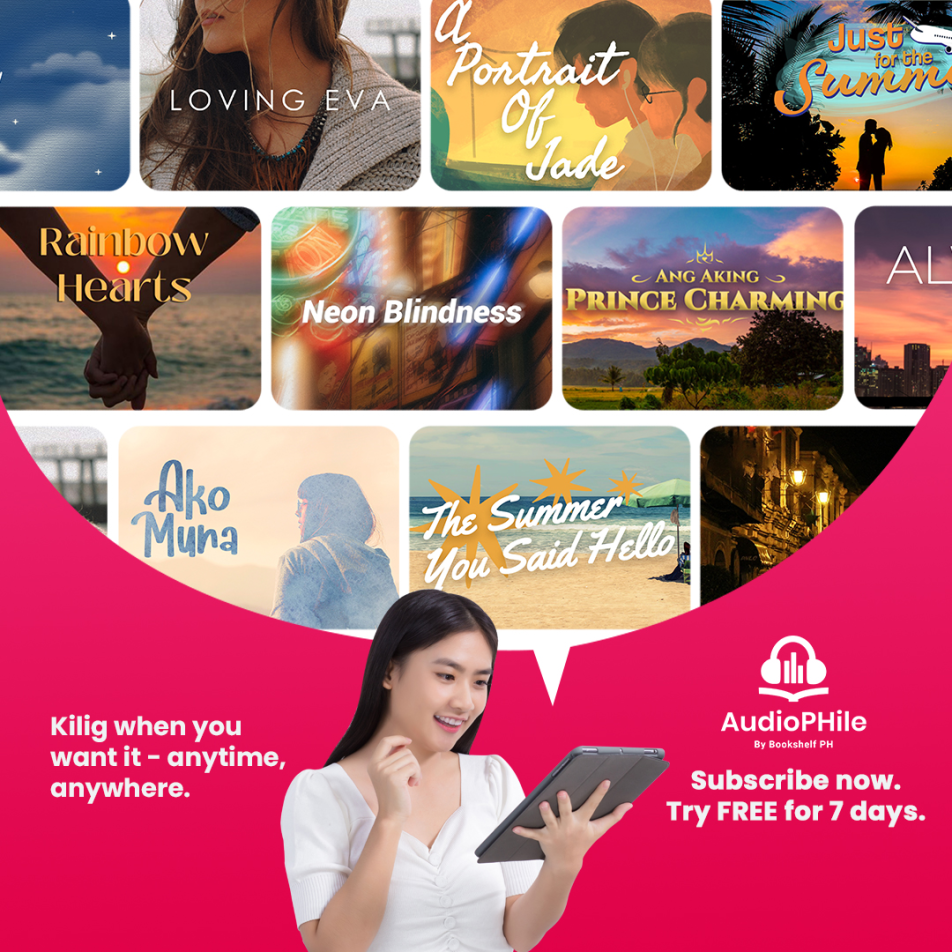 WHILE binge watching or tuning in to the next episode of a favorite romantic drama, or anticipating a favorite love team's new film are a few ways that people experience kilig*, Filipino publisher Bookshelf PH is adding another way as it introduces Audiophile, a new audiobook platform with romance titles.
As Filipinos continue to multitask indoors, Bookshelf PH considered ways to help them continue to immerse themselves in storytelling and help non-reading learners. They decided that the way to do this was by recording audiobooks of love stories.
The Audiophile platform aims "to elevate the Pinoy audiobook industry to the level it has achieved in other literary markets," according to a press release.
At the platform's online press launch on Sept. 13, Audiophile co-founder Ada Ortega said that the platform "seeks to help authors grow and re-engage with their audience," "support voice actors," and "help publishers jumpstart their publishing prowess by publishing stories by Filipino authors."
"We've been able to produce audiobooks that achieve world-class standards for the medium. Beyond the tech, we're most excited for what this means for listeners: They get to experience content like never before, as though the narrator is right there beside them, documenting the story as it unfolds," Audiophile's co-founder and executive producer Gloryen Limbo said in a statement.
Now available on Early Access, Audiophile's initial catalog includes contemporary, Filipino, and LGBTQIA+ love stories by Filipino authors Adrian Carl Pescador, Ami Granda, Ines Bautista-Yao, Christian Ryan Ram Malli, Jessica Larsen, Jhoanna Lynn B. Cruz, Justine Tajonera, Jessica Suelen, and Roland Tolentino.
"There's a certain intimacy with audiobooks that marries well with romance fiction. When you listen to a story, the world melts away, and it becomes just you and the narrator. It's easy to get lost in their love life, — and yes, all the kilig — in this format," Audiophile's co-founder and executive creative director Monette Quiogue said in a statement.
All of Audiophile's audiobooks are exclusive to the platform. The titles were produced in-house, supervised by a lead audio engineer. Each audiobook has undergone extensive production work, from the selection of the manuscript, coordinating with the authors, auditioning the voice actors, the audio recording, and then editing and mastering.
"We review the manuscripts, and we see if it's something that will translate into the platform, because certain books might be more successful being read as opposed to being heard," Ms. Quiogue said of the pre-production process.
The members of their team, which are from various age groups, review the manuscripts "so that it can reach a wider audience."
Ms. Limbo said that the team looks for more descriptive manuscripts rather than dialogue heavy stories to make it listener friendly. "An audiobook is something being read to you. It's not like a movie that is being played in your ear," Ms. Limbo explained.
In the future, the Audiophile team plans to work on other genres such as non-fiction and children's books.
Upcoming Bookshelf PH audiobook titles include: The E-Hustle: What the Country's Best Digital Leaders Can Teach You About Launching and Growing Your Online Business which features tips and stories from top players in Philippine e-commerce; and the Fearless Filipinas anthology on success stories of outstanding women.
Listeners who subscribe to the platform before Oct. 4 will be granted a special rate of $3.99 per month (a 20% discount over the regular rate of $4.99). A seven-day free trial is also available. Audiophile is accessible on over 1,000 devices including iOS devices, Android devices, and streaming media boxes such as Roku, Apple TV, Chromecast, and Nexus Player.
Authors and publishers interested in collaborating with Audiophile may e-mail them at hello@bookshelf.com.ph. To listen to Audiophile's library, visit www.audiophile.bookshelf.com.ph. — Michelle Anne P. Soliman
*Kilig is a Filipino word that has entered the Oxford English Dictionary, meaning "exhilaration or elation caused by an exciting or romantic experience; an instance of this, a thrill."