Quick fix cooking keeps things simple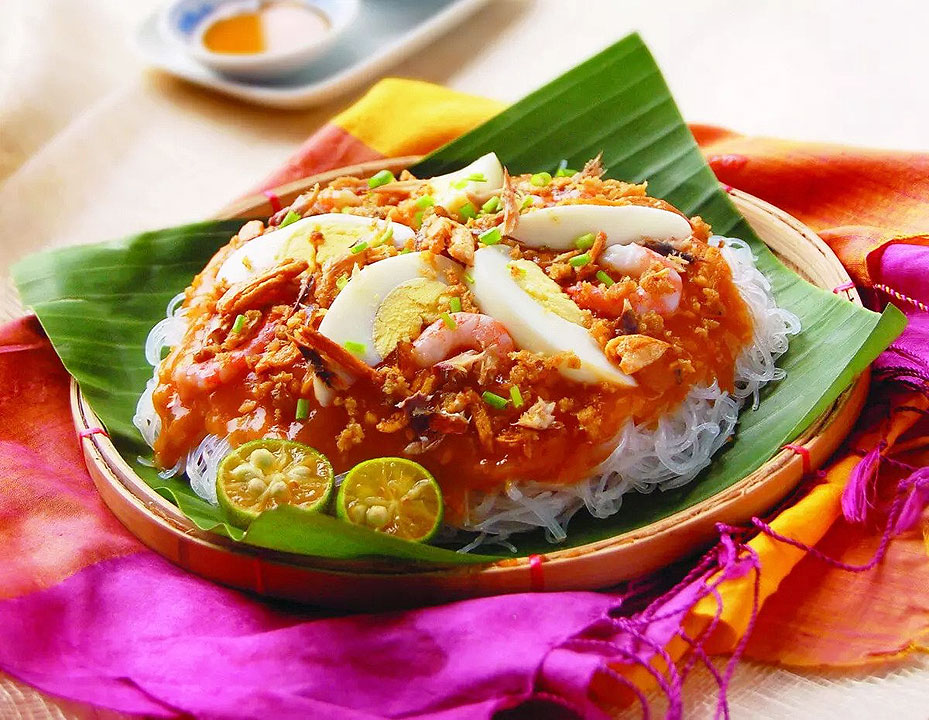 A LOT of Filipino households depend on quick fixes for their favorite Filipino dishes. This is especially true for the many Filipinos who live abroad, who do not always have the luxury of having ingredients to familiar recipes at hand.
One of these dishes is palabok – a noodle dish, covered in a sauce of shrimp stock and pork, which for many people is a source of fond memories of parties and family dinners.
The Mama Sita Foundation joined forces with the Philippine Consulate in Toronto, Canada on a cooking demonstration to show expat Pinoys how to make palabok (with the help of Mama Sita products).
The Philippine Ambassador to Canada Rodolfo Robles, opened the first episode last month by saying, "We hope that this combination of technology and culture will happily deepen the encounter between Filipino food and the people encountering our culinary flavors and our country… I am happy that this program will promote culinary heritage and a better understanding of the Philippines and its people."
The cooking demo by Nina Daza-Puyat — editor, food columnist, and daughter of late Filipino grande dame of cuisine Nora Daza — was the third and last installment of a series of webinars called Mama Sita's "Mga Kuwentong Pagkain: Filipino Food Online Cook Along," which was held on Zoom on Aug. 21. Previous episodes included segments about rice, and heritage food.
Ms. Daza-Puyat began by introducing her mother's cookbook, Let's Cook with Nora, a guide for many Filipinos starting their journeys in the kitchen. It was first published in the 1960s, with a reissue 50 years later. She said that when she edited her mother's book, she added some ingredients that were previously not accessible to Filipinos at that time; as well as providing more detailed cooking procedures.
She shared her mother's recipe for Pancit Palabok, along with a few twists of her own (but also using a Mama Sita quick fix annatto — achuete – powder). She then demonstrated a second palabok recipe using Mama Sita's Palabox sauce mix.
She fried garlic in oil, and then, when the garlic was crispy, she strained that and reused the oil, now infused with the flavor of garlic. The garlic was to be used for the topping later. She sautéed onions, then some ground pork, and then added shrimp stock and annatto powder. The shrimp stock was an extra step, which she says one can do a day before preparing the palabok. She toasted some shrimp heads and shells in oil (a technique she learned from chef Reggie Aspiras), to remove the fishy smell and to make the stock more expressive. She topped that with six cups of water, and let it reduce by about half. This she added to the sauté, along with some chicharon (pork crackling) and tinapa (smoked fish) flakes; after which she let it simmer and reduce, and thickened it with cornstarch.
As one would expect, making the palabok sauce using the Mama Sita mix was a lot more straightforward. She made more garlic oil, adding the annatto powder to it; then poured in the Mama Sita mix, dissolved in water. This she simmered for a few minutes; after which she assembled the palabok, with generous toppings of pork, shrimp, chicharon, tinapa, tofu, the fried garlic, hard-boiled eggs, and spring onions.
"Be generous with the sauce —  remember, the noodles are bland," she reminded the viewers.
"It's like a surf-and-turf pancit."
This episode, along with the rest of the series, can be viewed on the Kusina ni Mama Sita YouTube channel, https://www.youtube.com/channel/UCvc-j7TEq0bHnUCLrKBtiLw. —  JLG