Seizing the moment (and knowing where to draw the line)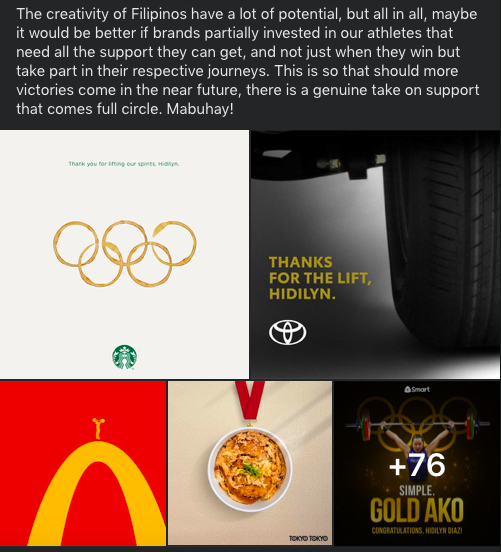 By Brontë H. Lacsamana 
Riding on the high of historical wins by weightlifter Hidilyn F. Diaz and boxer Nesthy A. Petecio, brands took the opportunity to congratulate the athletes behind the Philippines' Olympic medal haul. 
Exhibiting wit and creativity befitting the essence of moment marketing — pushing out social media content that links a brand to a trending moment — these types of releases must also take care not to cross a line. 
"When it comes to 'publicity rights,' what would appear to be vital is the misappropriation or misuse by one party of a 'celebrity's' image, name, or any indicator of their personal identity, without the latter's consent, for commercial benefit," said Augusto R. Bundang, head of copyright practice and the litigation of intellectual property and labor cases at the Sapalo Velez Bundang & Bulilan law firm, via e-mail.   
BEST PRACTICES
Martin N. Cervantes, brand manager for Smart Prepaid Home Wifi, compiled in several Facebook posts the cleverest congratulatory messages that brands circulated immediately following the wins of Ms. Diaz and Ms. Petecio.  
"They were prepared for it since the Tokyo Olympics is current and there was expectation that some of our athletes would deliver something," said Mr. Cervantes, a marketing veteran with 18 years of experience. "And a lot of people also had this line of thinking that there would be an opportunity for gold."  
The brands that reacted well to the wins, according to Mr. Cervantes, were the ones that linked their promise, moniker, or tagline to the athletes' victories. This included the National Archives of the Philippines' material, which showed the archive stamps forming the Olympic rings with words below thanking Ms. Diaz for leaving a mark in Philippine history.   
Netizens, meanwhile, clamored for Nestea's material (owing to the obvious pun on Ms. Petecio's first name). The beverage brand came through with an image of hands holding up glasses of iced tea with words of congratulations. Nestlé, owner of Nestea, also pledged to donate products to the boxer's hometown of Santa Cruz, Davao Del Sur.  
With the image, name, or indicator akin to a trademark, Mr. Bundang said: "It is rather difficult to say if a congratulatory post may be construed as misappropriation, more so if the post expresses only praises and, on its face, does not create an impression that the celebrity is already endorsing the company or the product of the greeter."  
He added that the wordings of the post, and the image, name, or indicator utilized, are critical in determining if the celebrity's publicity rights have been violated or not. This explains why many promotional materials went the route of simple and concise thanks or congratulations, with very few using the athletes' images.  
Those that did, meanwhile, were within their rights. "Smart used image and likeness because they have that capability being part of the MVP Group, which has been supporting athletes through the MVP Sports Foundation," said Mr. Cervantes, referring to Smart Communication Inc.'s use Ms. Diaz's photo as she made her final, 127-kg. lift with the words "Simple. Gold ako."   
PLASTIC?
Brands with no affiliation with the athletes — yet used their name, image, and indicator — came off as riding on their coattails, and were called out by Orocan, a plastic product manufacturing company, for their inauthenticity. 
"They're the only one who pointed out how brands jumped onto the bandwagon after the win, even though the athletes were given little attention while training," said Mr. Cervantes.   
He concluded that most of the ads showcased Filipino wit and creativity, though it would be much better if brands and companies also invested in athletes.