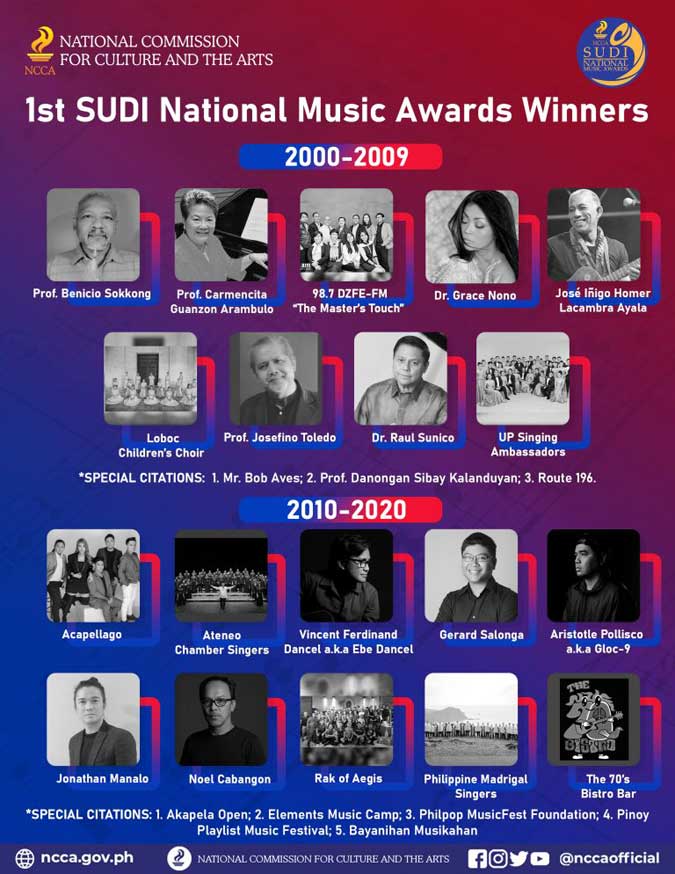 A VERY diverse group of people received the same message via e-mail – that they were among the recipients of an award that honors 19 people and organizations whose work across two decades has enriched the world of Philippine music.
They will be receiving the SUDI Award, a National Music award that aims "to recognize outstanding contributions of Filipino musical works, creators, institutions, and researchers across genres and modes of productions with the highest standard and artistic excellence."
Those honored for their work between 2000 to 2009 are teacher, researcher, instrument maker and performer Prof. Benicio Sokkong; music educator Prof. Carmencita Guanzon Arambulo; the classical music radio station 98.7 DZFE-FM "The Master's Touch"; singer and ethnomusicologist Dr. Grace Nono; singer-songwriter José Iñigo Homer Lacambra Ayala (better known as Joey Ayala); the Loboc Children's Choir; composer and conductor Prof. Josefino "Chino" Toledo; concert pianist Dr. Raul Sunico; and the UP Singing Ambassadors.
"We just weren't sure that it was really for us," said 98.7 DZFE station manager Tiffany Liong-Gabuya at a During an online press conference on Aug. 2 via Zoom, about receiving the e-mail. "I shared it with my staff, and everybody read it twice before we started jumping up and down."
"Nagulat ako… hindi ko akalain na  ganito pala kalaki itong award (I was surprised. I did not expect that the award was this prestigious)," Ms. Arambulo said at the same Zoom event.
Meanwhile, those honored for their work between 2010 to 2020, are pop a cappella group Acapellago; the Ateneo Chamber Singers; pop rock musician and songwriter Vincent Ferdinand Dancel (a.k.a Ebe Dancel); conductor Gerard Salonga; rapper-songwriter Aristotle Pollisco (a.k.a Gloc-9); songwriter Jonathan Manalo; folk singer and composer Noel Cabangon; the PETA musical Rak of Aegis; the Philippine Madrigal Singers; and The 70's Bistro Bar.
His reaction upon reading the e-mail was "At last," said Jonathan Velasco, the conductor and music director of the Ateneo Chamber Singers.
Meanwhile, Mr. Pollisco, who is not used to formal e-mails, had a companion tell him about its contents. "Sanay lang po ako tumingin ng e-mails for files or kapag ka mga related sa kanta (I am used to look through e-mails for files or those related to songs)," he said.
Eight special citations will be given to the competition Akapela Open, the Elements Music Camp, the Philpop MusicFest Foundation, the Pinoy Playlist Music Festival; the non-profit organization Bayanihan Musikahan; guitarist, jazz musician, and composer Bob Aves; Filipino-American kulintang player, educator, and National Endowment of the Arts National Heritage Fellow, Prof. Danongan Sibay Kalanduyan; and the bar and music venue Route 196.
WHAT IS SUDI?
The SUDI Award was launched in 2020 by the National Commission for Culture and the Arts (NCCA) through its Plan/Policy Formulation and Programming Division (P/PFPD)-Arts Section, headed by Ferdinand Isleta.
The award's name "SUDI" refers to the Ilokano adjective meaning "illustrious, renowned, celebrated, or famous." The name was proposed by Dr. Felipe M. De Leon, Jr., a member of the SUDI's technical working group and incumbent head of the NCCA National Committee on Music.
Aside from Mr. De Leon, the technical working group's members are film producer Noel Ferrer, who chairs the  technical working group, National Artist for Music Ryan Cayabyab, Organisasyon Ng Pilipinong Mang-aawit and Philpop executive director Dinah Remolacio, Elements Music Camp founder Twinky Lagdameo, Homonym founder and managing director Mike Constantino, and Filipino world music artist Bayang Barrios.
The technical working group was aided by the NCCA Committee on Music in the deliberation and selection of the awardees. The 2020 NCCA SUDI Awards jury was composed of Bobby Barreiro, Andre Allan Alvarez, Maria Rachelle Gerodias, Francis Reyes, Lutgardo Labad, Christian Bautista, Dr. De Leon, Dr. Elena Mirano, Melchor Villena, Dr. Jose Buenconsejo, and was chaired by Mr. Cayabyab.
While the original idea was to have one awardee a year, said Mr. Cayabyab, for its launch year, 2020, it was decided that the SUDI Awards would recognize and honor outstanding musical achievements that defined the last 20 years.
The first NCCA SUDI Awards awarding ceremony will be livestreamed via the NCCA's official Facebook page and YouTube channel in two parts on Aug. 21 and Aug. 28 at 7 p.m.
"These choral groups, they don't perform for awards, except for competing internationally. But locally, kanta lang kami nang kanta (We just continue singing) … We just spread the good vibes of choral singing everywhere," Ateneo Chamber Singers' Mr. Velasco said during the press conference. "So, every time we receive an award, it is so special for us in the choral industry."
Ms. Arambulo, who has had over 50 years of teaching experience, said she is delighted when she hears of the success of her former students. "Tuloy pa rin ang aking pagtuturo hanggang ngayon (I continue teaching to this day)."
"If we have music luminaries surprised and grateful for the award, how much more for us? We don't receive music awards. So, I suppose the first thought that came to my head was [that] I'm just so grateful that what we're doing is seen as a music contribution," DZFE's Ms. Gabuya said.
"I'm very honored. Na-prove ko sa sarili ko na… hindi mo kailangang sumakay sa alon ng iba. Pwede ka gumawa ng sarili mong alon para maramdaman ka ng ibang tao (I proved to myself that you do not have to ride the wave of others. You can create your own wave to be felt by others)," said Gloc-9.
In succeeding years, excellence and significant musical contributions shall be recognized triennially. — MAPS