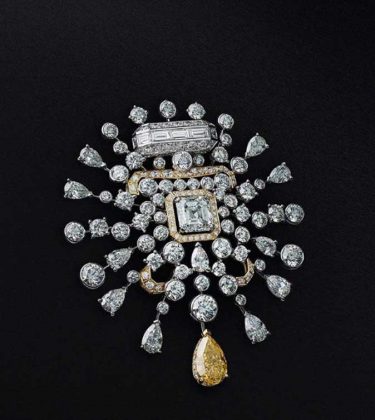 Fashion, in the form of costumes, is an important aspect of films – think of how much the clothes on films like Sabrina and The Grand Budapest Hotel helped set the mood or the personalities of characters. But while fashion is part of film, there are also, occasionally, films about fashion. Sometimes they are fiction like The Devil Wear Prada, biopics like Coco Before Chanel, or documentaries like Halston and The September Issue. And some are created by the fashion houses themselves to celebrate a special occasion.
In the latter category is a series of films created to celebrate 100 years of Chanel No. 5 perfume.
To mark the occasion, Chanel High Jewelry crafted a jewelry collection reflecting the aspects of the perfume, from its bottle, stopper, to its scent. The collection is crowned by the 55.55 necklace, which has as its centerpiece a 55.55-carat emerald-cut D Flawless Type IIa diamond. Other pieces include a ring of diamond Jasmine blossoms (paying homage to a backbone of the perfume's scent) and a magnificent Golden Sillage brooch, in yellow gold and diamonds, reflecting the spread of No. 5 as it is sprayed.
While the collection was formally unveiled in March, Chanel released a series of films detailing the collections' craftsmanship that can be seen at Chanel's channel on YouTube.
Then there is the biopic, one of which, The House of Gucci, has inspired controversy even before its release with a criticism that is very in keeping with the image of the fashion world.
MGM released the trailer of the society and crime drama House of Gucci on July 30. The film stars Lady Gaga as Patrizia Reggiani, the socialite who had married into the prestigious fashion house through one of its scions, Maurizio, a grandson of Gucci founder Guccio Gucci. The couple divorced in 1991, and Maurizio was shot by a hitman in 1995. Ms. Reggiani was sentenced to 29 years in prison for ordering her husband's murder.
House of Gucci is set to be released by November this year.
The Gucci family has had some troubles with the casting. According to an article from The Guardian, Patrizia Gucci (a cousin of the late Maurizio) told the AP, "My grandfather was a very handsome man, like all the Guccis, and very tall, blue eyes and very elegant. He is being played by Al Pacino, who is not very tall already, and this photo shows him as fat, short, with sideburns, really ugly. Shameful, because he doesn't resemble him at all."  — JLG