Callboys, masks, and beauty queens: Cinemalaya's shorts run the gamut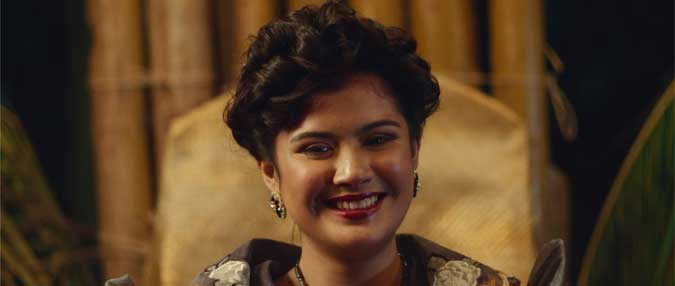 WHILE Cinemalaya sticks to streaming for its 17th edition, it is still taking aggressive thrusts behind the scenes to continue to nurture independent films.
In an online press conference via Zoom earlier this month, National Commission of Culture and the Arts (NCCA) Arsenio Nick Lizaso said, "I am still impressed and proud of what this year's indie filmmakers of the short feature have achieved." This is in light of the health protocols taken on sets as well as the general difficulties of shooting during the lockdowns. Cultural Center of the Philippines (CCP) Artistic Director Chris MiIlado agreed, saying, "One very significant thing about these entries is that they were created; produced in the very challenging lockdown period."
All of the entries are shorts, with director and Cinemalaya Foundation, Inc. President Laurice Guillen saying, "The shorts take the limelight as the full-length filmmakers are given more time to continue filming their entries during these challenging times." A return to judging full-length features is hoped for next year in 2022, "When we hope to hold the festival live once again," she said.
The festival will run from Aug. 6 to Sept. 5 via streaming platform KTX.ph, and announcements and some activities will be held via Facebook and the CCP's Vimeo page. Mr. Millado reports that last year, they exceeded their target of P2 million thanks to streaming, having sold 8,427 units online.
OF CALLBOYS AND MASKS
The short films competing for the Balanghai trophies this year are: An Sadit Na Planeta (The Little Planet) by Arjanmar H. Rebeta; Ang Mga Nawalang Pag-asa At Panlasa (The Lost Hopes And Flavors) by Kevin Jay Ayson; Ang Pagdadalaga Ni Lola Mayumi by Shiri De Leon; Ate O.G. by Kevin Mayuga; Beauty Queen by Myra Aquino; Crossing by Marc Misa; Kawatan Sa Salog (A Toy In The River) by Alphie Velasco; Kids On Fire by Kyle Nieva; Looking For Rafflesias and Other Fleeting Things by James Fajardo; Maski Papano (I Mask Go On) by Che Tagyamon And Glenn Barit; Namnama En Lolang (Grandmother's Hope) by Jonnie Lyn P. Dasalla; Out Of Body by Enrico Po; and The Dust In Your Place by David Olson.
An Sadit na Planeta follows the adventure of a young man as he explores a little planet. Ang Mga Nawalang Pag-Asa at Panlasa, meanwhile, is a documentary on the quest of finding "pagkaing Iloco" (Ilocano food) in the midst of a pandemic. In Ang Pagdadalaga Ni Lola Mayumi, a virginal old woman hires a callboy to change her perspective about men. Ate O.G. tells about a struggling, aging house helper who finds herself going through an unexpected and uplifting experience. A young woman struggles to find herself after losing her father during World War II in Beauty Queen. On the other hand, a desperate robber is forced to choose whether he should become a hero to his victims or fall victim to a robbery himself in Crossing. Kawatan sa Ilog is about a mischievous child who learns the value of time and life as he finds his way back home to his father. Kids on Fire tells of a prepubescent boy who discovers the power of his sexuality during a religious camp. Looking For Rafflesias and Other Fleeting Things narrates how a tikbalang (a Philippine mythical monster) transforms into a teenage boy to disprove the rumor that horse demons are killing civilians in the mountain. A disposed facemask turns into a humanoid and starts an adventure looking for its previous owner in Maski Papano, while a grandmother and her baby grandson find solace in each other and face the harsh reality of the pandemic together in Namnama En Lolang. Out Of Body takes the audience to a macabre commercial shoot with a young model. Meanwhile, careers and friendships are on the line when a comic strip artist tells her writer the truths about his relationships in The Dust In Your Place.
Meanwhile, Mr. Millado outlined other components which will take place during the festival: there's "Visions of Asia," showing films from India, Iraq, Japan, and Kazakhstan; "Dokyu" (showing documentaries), "Indie Nation," "Gawad Alternatibo," as well as a tribute to director Mel Chionglo, former head of the Cinemalaya Competition and Monitoring Committee with the screenings of three of his films.  The CCP also plans to have a hybrid drive-in cinema, dubbed "Cinema Under the Stars," where audiences can watch a film in the hybrid drive-in cinema at the CCP's Liwasang Ullalim. A statement reads: "The first audience-centered on-site event since the lockdown, the hybrid outdoor cinema welcomes everyone, whether they are riding their cars or bikes, or even just walking and jogging."
NEW CINEMALAYA PROGRAMS
On another note, Ms. Guillen also announced the development of new programs under the Cinemalaya foundation, which will all be launched this year.
There's the Film Lab, where experts and film practitioners can guide young filmmakers "towards Cinemalaya's new vision." There's also an Intensive Scriptwriting Workshop with veteran writer Ricky Lee, a Production Management Workshop with John Paul Su, Writing the Continuing Narrative for Broadcast and Web-based Platforms with veteran director Jose Javier Reyes, and an Assistant Directors' Workshop with Jay Abello. "We believe and sincerely hope that they will be of significant help when our new filmmakers begin to film in the new normal," said Ms. Guillen. — JL Garcia