Reworked South Pacific song urges people to be taught love not hate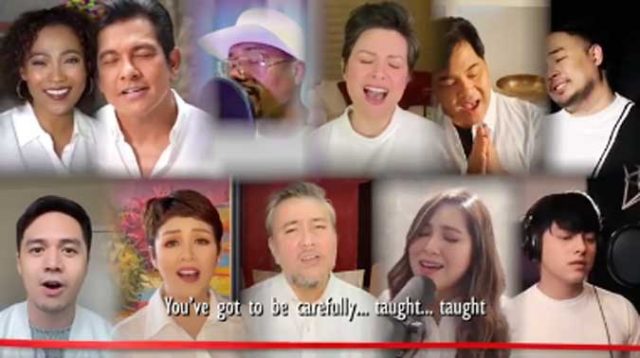 IN 1949, Richard Rodgers, Oscar Hammerstein II, and Joshua Logan worked on a musical whose basic premise was the effect of bigotry. It was called South Pacific.
Set during World War II in a US Marine base in an island in the Pacific, the musical focuses on an American nurse who falls in love with a French expat plantation owner, but finds accepting his mixed-race children difficult. Meanwhile, a Marine lieutenant falls in love with a Tonkinese woman and worries about what would happen if they marry. One song in particular, "You've Got to Be Carefully Taught," explicitly tackles racism.
"You've got to be taught before it's too late,
Before you are six or seven or eight,
To hate all the people your relatives hate,
You've got to be carefully taught!
You've got to be carefully taught!"
Seventy-two years later, in the midst of an explosion of anti-Asian hate in the United States of America, a group of Filipino musicians have come together to take this Rodgers and Hammerstein song and give it a 21st-century spin, with an important message for America and the world.
"You've got to believe, before it's too late
Before we are six or seven or eight
To love all the people your relatives may hate
That kindness and love are what's great
You've got to be carefully taught."
The original lyrics reflected on "how hate is not a natural instinct, but something that is actively taught and therefore must be rooted out," said the Asia Society Philippines a statement. "Asia Society leaders thought, what if the song were to be recast from a perspective of positivity and hope?"
An all-star cast was gathered by the Asia Society Philippines in line with a global Asia Society campaign to #StopAsianHate. The performers in the music video are: Broadway star Lea Salonga, the Black Eyed Peas' Apl.de.Ap, Martin Nievera, Gary Valenciano, Jed Madela, Daniel Padilla, Jaya, Cris Villonco, Moira Dela Torre, and Sam Concepcion. Mon Faustino provided musical and vocal arrangement, with Miguel Miñana as Concept and Production Head, and Gina Tabuena Godinez as Associate Producer.
Watch the video on Facebook and Instagram: https://fb.watch/6gpTphDV0i/ and https://www.instagram.com/tv/CQYxsu-hhQE/?utm_medium=copy_link
"We are so grateful to this dream team for so generously giving their time and talent to support the campaign," said Doris Magsaysay Ho, Chairperson of Asia Society Philippines, in a statement.
Tony award-winning playwright David Henry Hwang helped the Asia Society Hong Kong secure permission to tweak the lyrics and made a version with HK-based artists.
Apart from the music video, broadcasters Korina Sanchez and Karen Davila also contributed to the #StopAsianHate campaign with their own messages to support the Filipino-American community.  The videos can be seen on Facebook (https://www.facebook.com/152846088121821/posts/5581913438548365/?sfnsn=mo) and Instagram (https://www.instagram.com/tv/CQYxMU-Bf0h/?utm_medium=copy_link).
Asia Society Philippines also partnered with CANVAS, Art Fair Philippines 2021, and the Ramon Magsaysay Award Foundation, for artwork with the same theme by visual artist Elmer Borlongan which is featured at the opening of the music video.
The global Asia Society campaign includes a series on "Asian Americans Building America," with Asia Society President Kevin Rudd interviewing successful Asian Americans. Asia Society New York has also organized an ongoing Triennial that celebrates Asian art and culture.