On social media, it's better to be a skeptic 
By Mariel Alison L. Aguinaldo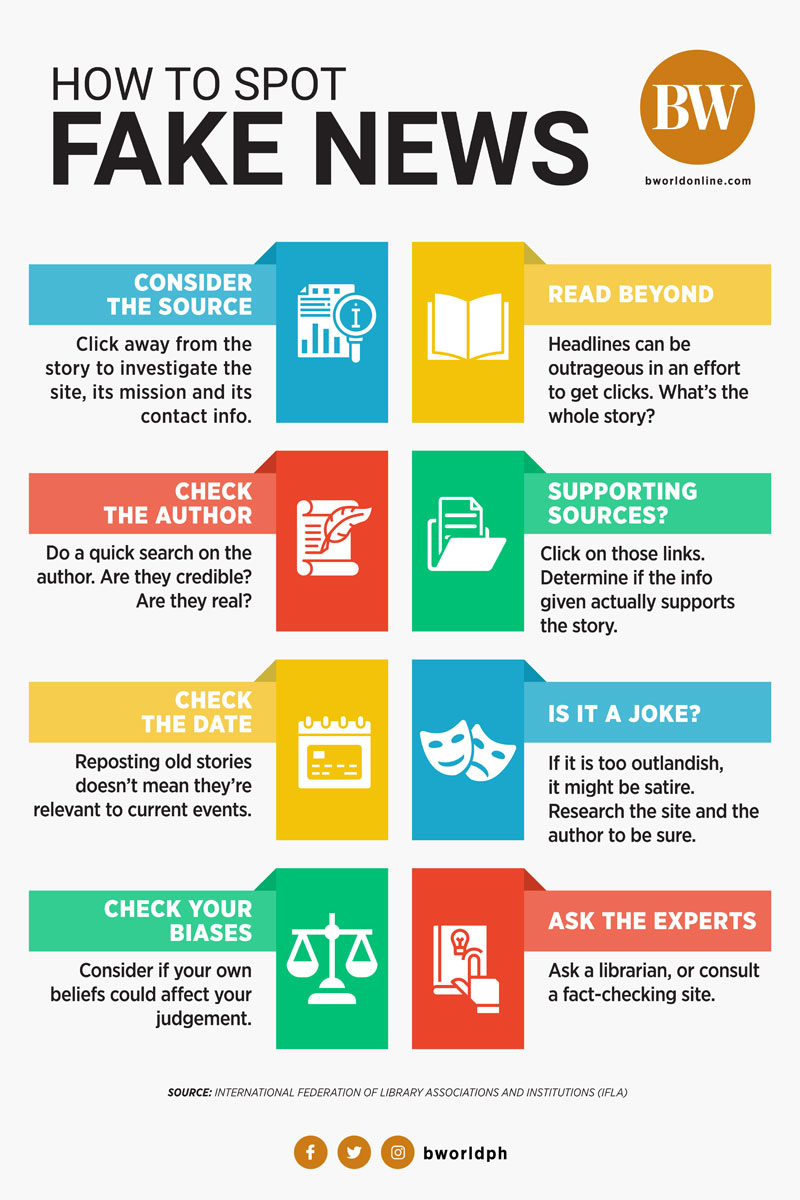 Social media users should take responsibility for what they post and share online, just like any media outlet or publication, according to experts in the field.
"One status written is already us being producers of information. The articles that we choose to read online is us already being critical consumers of information. When we click that 'share' button on a specific story or status, that's us being distributors of information," said Val Vestil, executive director of non-profit organization Association of Young Environmental Journalists (AYEJ), during the opening of Media Civics Lab 2020–21.
To promote media literacy, netizens should adopt an attitude of skepticism as a baseline. They must learn to genuinely listen to other people's opinions, engage with them in a critical manner, and identify questionable accounts from there. "Normally… [fake news] perpetrators hide behind fake names or they won't cite their source," said Justin Joyas, head of social media for news at GMA Network.
Skepticism should be accompanied by fact-checking. "Learn to triangulate information, and this applies even if it validates what you already think—perhaps even more so—because confirmation bias is real," said Sharmila Parmanand, a debate educator and analyst.
UNFOUNDED ON FACT
The spread of misinformation can sometimes start without ill intent. In times such as the COVID-19 pandemic where fear and uncertainty are widespread, people will sometimes resort to fabricating theories which are unfounded on fact. This tendency, said Ms. Parmanand, is an attempt to draw comfort from the feeling of asserting control.
 Unfortunately, these theories can be misconstrued as fact by others. Citing the latest Program for International Student Assessment (PISA) results, Roby Alampay, founder and chief executive officer of non-music audio production house Puma Public Productions, pointed out that students have a hard time distinguishing fact from opinion.
Poor media literacy is even more problematic considering that people rely on their social media feed for news without double-checking if they come from credible sources. Social media dictates 70% to 90% of traffic to online publications—this means that most people only consume what is pushed to them by the platforms' algorithms, creating an "echo chamber" based on their biases and preferences, said Mr. Alampay.  
While poor media literacy is certainly a problem among citizens, some media experts also do not discount the accountability of the government and social media companies. Richard Heydarian, a public educator and academic, said that the government must exert more pressure on social networks to crack down on fake news perpetrators, even when it may benefit their political agenda through tools such as troll farms. 
"I'm not a fan of the Trump administration, but I think it's a good thing that the Americans are following through… to check, for instance, the monopolistic practices of Google and other big platforms," he said.