Analysts cite lack of change after Duterte promise 5 years ago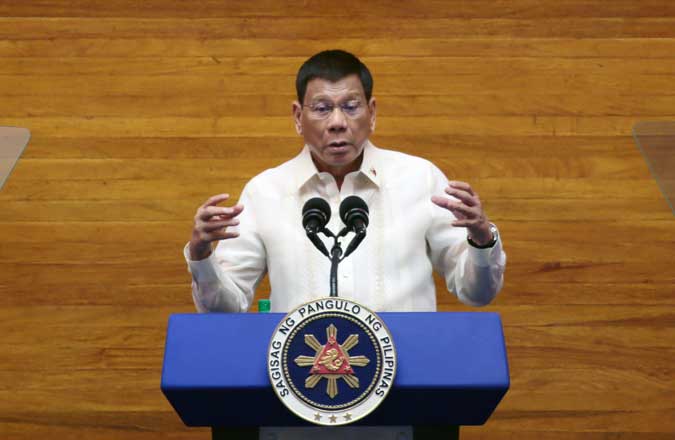 PRESIDENT Rodrigo R. Duterte failed to reform the country's dynastic political system after promising to bring about change five years ago, analysts said.
The tough-talking leader instead weakened democracy by trying to stifle dissent, they said.
The Duterte administration failed to push bills against political dynasties and turncoats, contrary to his campaign promise of "bringing significant change to our political system," said Michael Henry Ll. Yusingco, a senior research fellow at the Ateneo de Manila University Policy Center.
"His unprecedented popularity and his super coalition in Congress would have been a big boost in enacting these groundbreaking bills," he said in a Facebook Messenger chat.
Mr. Duterte, who is barred by law from running for reelection, is considering running for vice president once his six-year term ends in 2022.
A Duterte-Duterte ticket also looms given hints by his daughter, Davao City Mayor Sara Duterte-Carpio, of a presidential run.
The Duterte administration, which ousted a chief justice appointed by his predecessor also disregarded separation of powers "when he accepted the role of referee in the speakership fight last year," Mr. Yusingco said.
Mr. Duterte in 2019 brokered a term-sharing deal between his two allies, Taguig Rep. Alan Peter S. Cayetano and Marinduque Rep. Lord Allan Q. Velasco. He met with them inside the presidential palace months before Mr. Cayetano was ousted in a rogue session held outside the Batasang Pambansa.
Mr. Duterte in 2018 said his daughter, Davao City Mayor Sara Duterte-Carpio,  was also involved in a plot that ousted former Speaker Pantaleon D. Alvarez.
"There are bills on anti-political dynasties and even campaign finance reforms but they are gathering dust in the archives of both Houses," said Gerardo A. Eusebio, a political science professor at De La Salle University. 
Mr. Yusingco said the country has no real political parties and politics remains driven by personalities and not issues. "President Duterte has not deviated from this practice at all, despite his campaign slogan that change has come."
The political analysts said the President would be remembered for his deadly war on drugs that has killed thousands.
"This is his signature program, so this will certainly be one of the defining factors of his administration," Mr. Yusingco said. "The high number of unsolved killings will definitely be a stain in the overall assessment."
The International Criminal Court's (ICC) Office of the Prosecutor earlier asked the Hague-based tribunal's pre-trial chamber to probe alleged crimes against humanity committed in Mr. Duterte's war on drugs.
Mr. Duterte in his last address to Congress on Monday spent more than two hours talking about how he defeated the Maoist rebellion and expressing disappointment about how he failed to solve the country's drug problem.
"While we have made strides in ending rebellion and insurgency in various parts of the country, we still have long way in our fight against the proliferation of drugs," Mr. Duterte said. — Kyle Aristophere T. Atienza