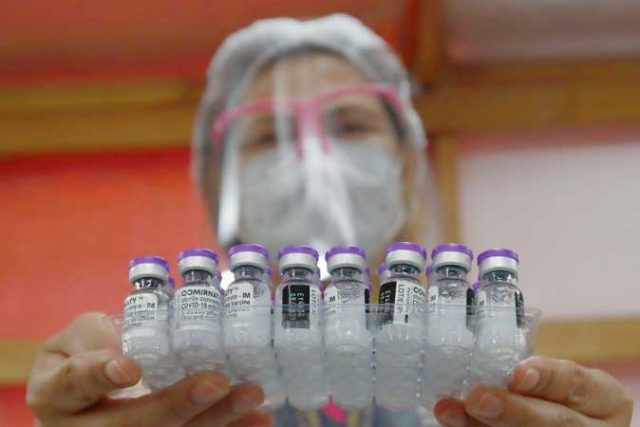 The massive effort to develop and manufacture coronavirus disease 2019 (COVID-19) vaccines is succeeding. A number of vaccines have been given Emergency Use Approval by the World Health Organization (WHO) and more are undergoing clinical trials.
Following more than 200 clinical trials and nearly 300 partnerships and collaborations among manufacturers worldwide, COVID-19 vaccine production has increased in just a few months from zero to 2.2 billion doses in May. By the end of the year, the estimate is that 11 billion vaccine doses would be produced to protect people from the pandemic.
As of this time, however, COVID-19 vaccines are not equally reaching all priority populations worldwide. With this, collaborations among manufacturers, governments. and non-government organizations must center on addressing this inequity to help protect vulnerable populations including frontliners and the elderly, among others.
The International Federation of Pharmaceutical Manufacturers and Associations (IFPMA), which represents research-based pharmaceutical companies and associations across the globe, is among the stakeholders that are taking steps to urgently advance COVID-19 vaccine equity. The Pharmaceutical and Healthcare Association of the Philippines (PHAP) is a member of the IFPMA which recently put forward "Five steps to urgently advance COVID-19 vaccine equity." Critical among these steps are responsible dose sharing and maximizing production without compromising quality or safety.
First, vaccine manufacturers and biotech companies must commit to immediately work with governments that have significant domestic supplies of COVID-19 vaccine doses to share a meaningful proportion of their doses with low- and lower-middle-income countries. The dose sharing must be both responsible and timely through COVAX or other efficient established mechanisms.
COVAX, a global pooled procurement mechanism for COVID-19 vaccines, is co-led by the Global Vaccine Alliance (GAVI), the Coalition for Epidemic Preparedness Innovations (CEPI), and the WHO. The goal of COVAX is to accelerate the development and manufacture of COVID-19 vaccines, and to guarantee fair and equitable access of the vaccine doses. It commits to providing doses for at least 20% of countries' populations, manage a portfolio of vaccines, and deliver them as soon as possible.
As of May 27, COVAX has delivered about 70 million doses of vaccines to 126 countries. It is, on the other hand, projecting a shortfall of 190 million doses in June due to the surge of cases in India and its impact on COVAX supply.
In a joint statement by WHO, GAVI, CEPI and UNICEF, proponents are calling for further funding and sharing of doses immediately. They said that at least one billion doses could be shared by wealthy countries in 2021.
"COVAX's need for doses is greatest right now. Countries with higher coverage rates, which are due to receive doses soon should swap their places in supply queues with COVAX so that doses can be equitably distributed as quickly as possible," the statement said.
The second urgent action to equity is to continue optimizing production. Vaccine manufacturers must commit to work with governments and individual suppliers of raw materials and components to determine how to quickly and safely facilitate scale up needed for COVID-19 vaccine manufacturing.
The third action is to call for the immediate elimination of trade barriers. The IFPMA said that there is a need to eliminate all trade and regulatory barriers to export and to adopt policies that facilitate and expedite the cross-border supply of key raw materials, essential manufacturing materials, vaccines along with the prioritized movement of skilled workforce needed for COVID-19 vaccine manufacturing.
Fourth, vaccine manufacturers and biotech companies must support country readiness and help governments deploy available COVID-19 vaccine doses within their shelf life — this, while mitigating the risks to the production and deployment of other vaccines.
Lastly, vaccine manufacturers and biotech companies have to drive further innovation and prioritize the development of new COVID-19 vaccines, including vaccines effective against variants of concern.
The US Centers for Disease Control and Prevention (CDC) has three SARS-CoV-2 variant classifications, namely, variant of interest, variant of concern, and variant of high consequence.
A variant of interest has "specific genetic markers that have been associated with changes to receptor binding, reduced neutralization by antibodies generated against previous infection or vaccination, reduced efficacy of treatments," and may have increase in transmissibility or disease severity.
A variant of concern, according to the CDC, is one "which there is evidence of an increase in transmissibility, more severe disease, significant reduction in neutralization by antibodies generated during previous infection or vaccination, reduced effectiveness of treatments or vaccines, or diagnostic detection failures."
A variant of high consequence, finally, has "clear evidence that prevention measures or medical countermeasures have significantly reduced effectiveness relative to previously circulating variants."
PHAP fully supports the five steps to urgently advance COVID-19 vaccine equity. Only through the equitable distribution of COVID-19 vaccines to priority populations can we reach worldwide herd immunity and curb the rise of variants as quickly as possible. Indeed, "no one is safe until everyone is safe."
Teodoro B. Padilla is the executive director of the Pharmaceutical and Healthcare Association of the Philippines (PHAP). PHAP represents the biopharmaceutical medicines and vaccines industry in the country. Its Members are in the forefront of research and development efforts for COVID-19 and other diseases that affect Filipinos.