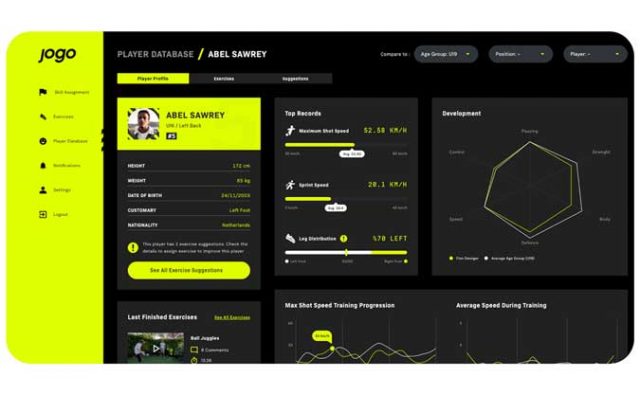 A NEWLY developed talent development software was recently launched in the country by its Dutch makers through a local football foundation.
JOGO, a football talent development app, has made its way to the Philippines and is being angled to augment the development of the sport here especially during this time of the pandemic.
The app, which can be downloaded for free on the Apple App Store (iOS) or Google Play (Android), provides an entire database of proven, tested, and optimized skill assignments, training, and development videos.
The platform allows trainers to select and assign exercises to their players quickly. The players can check their assignments directly on the app, perform them and send them back to their club or trainer. This process, its makers said, ensures a better optimization of their development and more efficient training.
While general for free, those looking to add more features in their app can choose to do so but for a certain fee.
The app had been up and running for a year before the actual product launched in November last year and has seen steady pickup in different parts of the world.
In the country, the first to test the app is Football for Humanity Foundation, a sport for peace and development charity established in 2017.
"When JOGO reached out to me and offered free use of the app to our beneficiaries, it was an exciting opportunity for our young players who had been prevented from practicing and playing due to the pandemic. Now, in the comfort of their own backyard, and armed with a mobile phone, they can follow a program that I've set and they can upload their progress and get feedback," said Chris Thomas, Football for Humanity founder and president, in the app's online launch.
"Our players instantly upgraded their skills, and tried harder each time. It's really like having your own trainer every day," added Mr. Thomas, who is currently in the United Kingdom.
It is precisely what the makers of the JOGO app hope to bring to those who want to experience what the software can do.
"With JOGO we want to change the way football develops young footballers; it should become more data-driven and tech-savvy, and accessible to anyone who wants it, as we strive for the perfect design for our users. The Philippines is a great market for JOGO. We see so many football fans and players and we think that our technology, due to its accessibility, can really help ambitious young players reach their goals," said JOGO CEO David Dwinger, who was joined in the launch by JOGO COO Frank Zaal in the Netherlands.
The JOGO officials said more innovations are in store for their company and the app, including "sensors" that are embedded in the player's football boots which will supply a more detailed reading of a player's development curve and improvement needs.
For more information on the JOGO app and company, check jogo.ai. — Michael Angelo S. Murillo