DPWH's Luzon Spine Expressway Program in progress to improve existing highways and expressways inside and outside Metro Manila
When urban roads get congested due to traffic, commuters and motorists lose valuable time. A recent study by the Japan International Cooperation Agency shows that traffic congestion in Metro Manila causes the Philippines loses P3.5 billion a day, pertaining to vehicle operating costs and time costs spent by drivers and passengers along the metropolitan road network. This apparently translates to hampered economic development.
Seeing how traffic congestion in Metro Manila can hurdle development on both cities and provinces, the Department of Public Works and Highways (DPWH) is addressing this long-lying problem with the Luzon Spine Expressway Network Program.  "The objective of the Luzon Spine Expressway is to connect the north to the south via a high-speed highway network. Once this high-speed highway network is completed, the travel time from La Union to Bicol will be cut from almost 18 hours to only 8 to 9 hours," DPWH Secretary Mark A. Villar shared in an economic briefing in Malacañang back in January.
The high-speed network not only aims to decongest existing roads already burdened by heavy traffic. As DPWH shared in a statement, the Luzon Spine Expressway Network is also expected to hasten the economic development of regional cities, avoid over-concentration of socio-economic activities in Metro Manila, and eventually diminish the economic disparities across the country.
The P633 billion masterplan consists of a total of 905-kilometer of High Standard Highways/Expressways, more than twice the length of existing expressways. The expressway network starts with the Tarlac-Pangasinan-La Union Expressway (TPLEX). The 89.21-km expressway reduces travel time between Tarlac City to Rosario, La Union from 3.5 hours to 1 hour and will benefit 20,000 travelers per day. TPLEX's Section 3, from Urdaneta City to Rosario, La Union was opened to traffic last July 15, 2020. An extension, meanwhile, is planned to be constructed from the end of TPLEX to San Juan, La Union.
The 30-km four-lane Central Luzon Expressway, spanning from Tarlac City to Cabanatuan City in Nueva Ecija, aims to reduce travel time from 70 minutes to 20 minutes. It is 89.63% complete and will benefit 11,200 motorists per day once it is finished.
At Plaridel, Bulacan, the widening of the 24.61 km Arterial Bypass Road from two lanes to four lanes is nearing completion, currently at 89.97%. The P5.26 billion project is expected to reduce average travel time between Burol, Balagtas and Maasim, San Rafael in Bulacan from 69 minutes to 24 minutes.
The NLEX Harbor Link Segment 10, a 5.58-km expressway connecting McArthur Highway and C-3, is already complete. The expressway reduces travel time from Valenzuela City to Caloocan City from more than an hour to five minutes, and it benefits 20,000 motorists per day.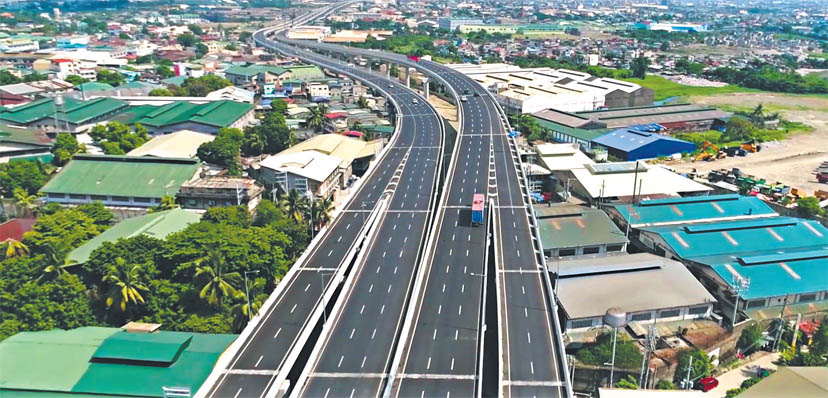 Another section of the Harbor Link, the C3-R10 Section, is also complete. Traversing from C3 Road in Caloocan and Radial Road 10 in Navotas, this 2.6 km, six-lane all-elevated portion of the Harbor Link enables 30,000 motorists per day to reach NLEX from Port Area (or vice-versa) in just 10 minutes.
Adding to these sections is a proposed 8.35-km four-lane segment that aims to reduce travel time from Minadanao Ave. to Commonwealth Ave. in Quezon City to 10 minutes. It is expected to be completed by 2024.
Built to further reduce travel time between north and south, the 8-km four-lane NLEX-SLEX Connector Road is 11% complete. The elevated expressway extends the NLEX southward from the end of Segment 10 in C3 Road, Caloocan City to PUP Sta. Mesa, Manila and connects to Skyway Stage 3. Once complete, it will cut travel time from two hours to 20 minutes and will benefit 35,000 motorists per day.
The P44.86-billion Metro Manila Skyway Stage 3, meanwhile, is 90% complete. The 18.83-km elevated expressway, spanning from Buendia, Makati City to the North Luzon Expressway in Balintawak, Quezon City, aims to reduce travel time from two hours to 15-20 minutes, as well as decongest roads in Metro Manila by as much as 55,000 vehicles per day.
The second phase of NAIA Expressway, 14.85-km long and with four lanes, was completed by 2017, providing access to NAIA Terminals 1, 2, and 3, as well as an interface with the Skyway and CAVITEX.
At the P45.29-billion Southeast Metro Manila Expressway, C-6, the Skyway/FTI – C-5/Diego Silang section is 12% complete. The 32.66-km toll road from Skyway/FTI in Taguig City to Batasan Complex in Quezon City aims to reduce travel time from almost two hours to 26 minutes, and will benefit a maximum of over 88,000 motorists per day.
The Alabang-Sucat Skyway Connection and Ramp Extension, on the other hand, is 47% complete. The P10-billion project consists of two additional lanes along northbound and southbound, plus an additional at-grade roadway along northbound—all of which are targeted to be complete by July 2021.
At the 7.70-km six-lane Manila Cavite Toll Expressway Project, C-5 South Link Expressway, the segment from Merville to C5/SLEX was opened to traffic on July 23, 2019, while the groudbreaking for two other segments were held last July 10. The project aims to cut travel time from R-1 Expressway to SLEX/C5 to 10 minutes.
Further south, along the 45.29-km Cavite-Laguna Expressway (CALAX), the construction at Laguna segment reached 78.03% accomplishment. The P35.68-billion CALAX connects CAVITEX in Kawit, Cavite and SLEX-Mamplasan interchange in Biñan, Laguna. It will reduce travel time from 1 hour and 30 minutes to 45 minutes.
Along SLEX, a 66.74-km toll road from Sto. Tomas, Batangas to Tayabas/Lucena City, Quezon starts constructions Tiaong, Quezon and Alaminos, Laguna. Once completed, the toll road is expected to cut travel time from Sto. Tomas to Lucena from 4 hours to an hour while benefitting 17,000 travelers per day.
The 15.21-km 4-lane Camarines Sur Expressway, meanwhile, progresses at 13%, and is expected to be finished by 2022. The high-speed highway will connect the municipalities of San Fernando and Pili in the province of Camarines Sur, and it targets to reduce travel time in those areas from 51 minutes to 11 minutes.
Two more expressways are expected on the southbound segment of DPWH's high-speed highway network. The 50.43 km Cavite-Tagaytay-Batangas Expressway will traverse Silang, Tagaytay, Amadeo, Mendez, Alfonso, and Magallanes in Cavite, as well as Nasugbu, Batangas. The Quezon-Bicol Expressway, meanwhile, spans 220 km and aims to cut travel time from Tayabas, Quezon to San Fernando, Camarines Sur by two hours.